A One-Day Menu Of Hearty Meals That Fight Chronic Inflammation
Most of us are familiar with the inflammation on the surface of our bodies that appears as redness, heat, swelling, and pain, but there is another kind of chronic inflammation that lingers within us.
This kind of internal inflammation is incredibly destructive to our health, particularly when it extends beyond the boundaries of a localized area or continues for long periods of time. Stress, exposure to environmental toxins, and poor diet can all contribute to it.
The good news is that we have the power to control much of the body's inflammatory response with our food choices. Here's a day's worth of anti-inflammatory recipes that can improve your overall health:
Breakfast: Refreshing Green Juice
Think healthy fats like avocados and coconut oil, vegetables, low-glycemic fruits, and fresh juices.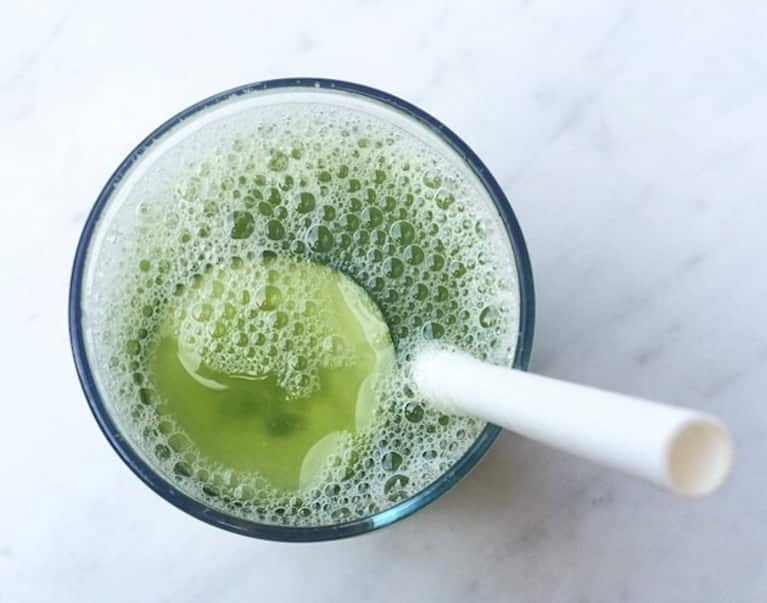 3 stalks kale
4 stalks celery
1 whole cucumber
½ lemon
1 small piece fresh ginger
Preparation
Combine ingredients in a blender and enjoy.
Lunch: Tempeh Macro Bowl With Miso Sauce
For lunch, load up on veggies and proteins like omega-rich wild salmon or hearty tempeh. Balanced soups and salads are great options as well.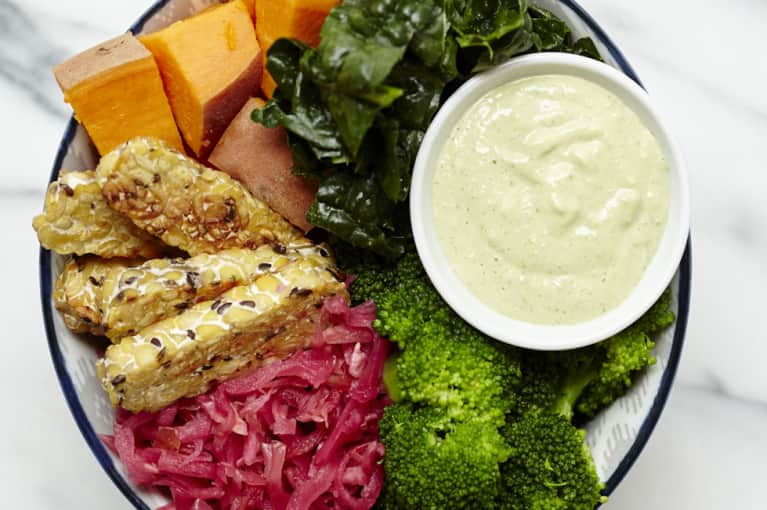 1 sweet potato, peeled and cubed
1 bunch of kale, de-stemmed and roughly chopped
1 cup of chopped baby bok choy
½ cup dried wakame, soaked (rehydrated) in water for 5 minutes or hijiki
½ cup kimchi or sauerkraut
2 cups cooked brown rice (or grain of choice)
2 cups cooked adzuki beans (or legume of choice)
½ English cucumber, spiralized or chopped
½ avocado, sliced
Diced Lotus root (optional)
1 package tempeh, sliced and tossed (optional)
1 large piece baked wild-caught cod or wild fish of choice (optional)
Preparation
1. Prepare your grains.
2. Prepare your tempeh or fish on the stovetop.
3. Steam or bake chopped sweet potato.
4. Slightly steam your kale and steam or sauté your bok choy.
5. Fill serving bowl with about ½ to 1 cup of cooked rice. Top with the above and serve with miso sauce.
½ cup tahini
3 tablespoons lemon juice
1 small knob fresh ginger, chopped
3 tablespoons white miso
1 tablespoon maple syrup
2 to 4 tablespoons water (depending on desired consistency)
Preparation
Place all ingredients in food processor and blend until smooth.
Snack: "Cheesy" Kale Chips
Once midday cravings hit, reach for anti-inflammatory superfoods like fruits and healthy fats. Grain-free muffins also provide a satisfying way to settle a sweet tooth, while herb-loaded pesto is the perfect savory complement to veggies.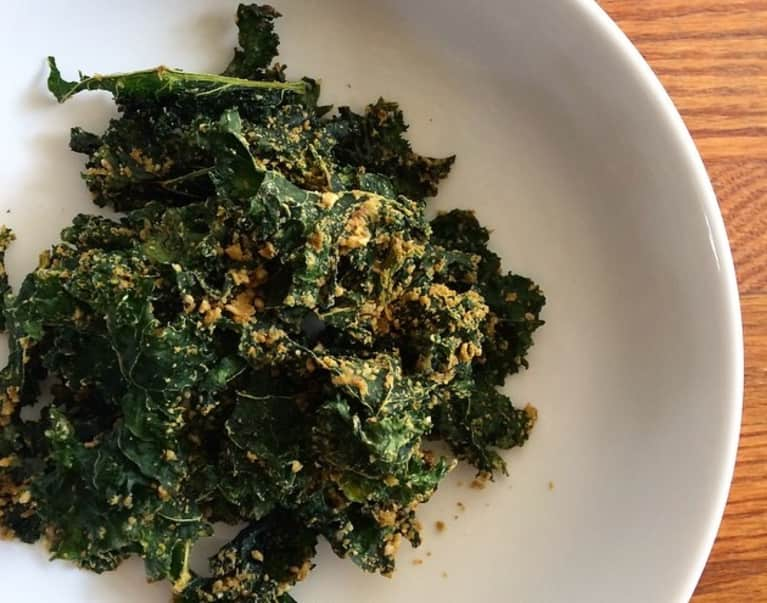 1 head kale, rinsed and massaged
5 tablespoons nutritional yeast
½ cup walnuts
¼ cup sunflower seeds
¼ cup hemp seeds
Pinch or 2 of Himalayan pink salt
2 tablespoons olive oil
Juice of ½ a lemon (optional)
Blend mixture in food processor and use it to thoroughly coat the kale. Dehydrate overnight at 115 degrees or bake at 300 for 25 minutes (rotating in between).
At the end of the day, shoot for healing meals with lots of protein, greens, and balanced soups or grain dishes.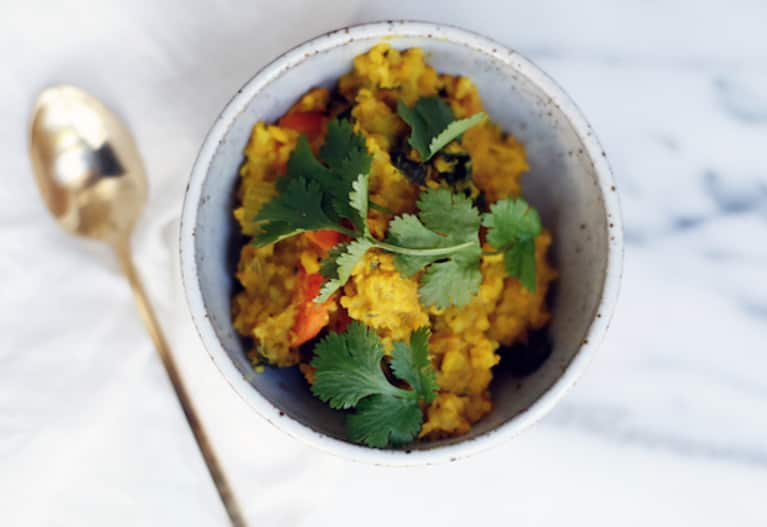 1 cup organic split mung beans
1 cup organic basmati rice
2 tablespoons coconut oil or ghee
1 (heaping) tablespoon of each spice: organic turmeric/coriander/cumin/ginger powder or fresh root
½ to 1 teaspoon each of fennel seeds, fenugreek seeds, and cinnamon
1 to 1½ teaspoons ground mustard seed
4 cups chopped vegetables (I usually use 3 or more of following: bok choy, kale, broccoli, carrots, celery)
2 to 3 teaspoon Himalayan salt to taste
Lime to garnish (optional)
Chopped cilantro to garnish (optional)
Preparation
1. Wash the rice and mung beans well. If you have time, let them soak for several hours before cooking or overnight. This will aid your digestion later on.
2. Heat about 2 tablespoons coconut oil (or ghee) in a pot. Sauté all spices including salt for a few minutes until spices release aroma, but be careful not to burn them.
3. Add the rice and lentils until everything is mixed and well-blended with spices and coconut oil/ghee.
4. Add 6 to 8 cups of water (or vegetable stock) and chopped vegetables and bring to a boil uncovered for 5 minutes. Cover and simmer for 30 to 40 minutes. Adjust water to your liking. It should have a soupy or stewlike consistency.
5. Salt to taste.
6. Garnish with a good squeeze of lemon and some cilantro.
Note: If you have a rice cooker, just combine rice, mung beans, vegetables, and water or stock in the cooker and squeeze of lemon or lime. Gently simmer the spices in coconut oil, pour into the rice cooker, stir, and start!