Travel Diaries: The Best Oysters, Hike & Lookout Point In Inverness, California
mbg Contributor
By Phoebe Lapine
mbg Contributor
Phoebe Lapine is a food and health writer, gluten-free chef, wellness personality, culinary instructor, and speaker, born and raised in New York City, where she continues to live and eat. She holds a B.A. from Brown University.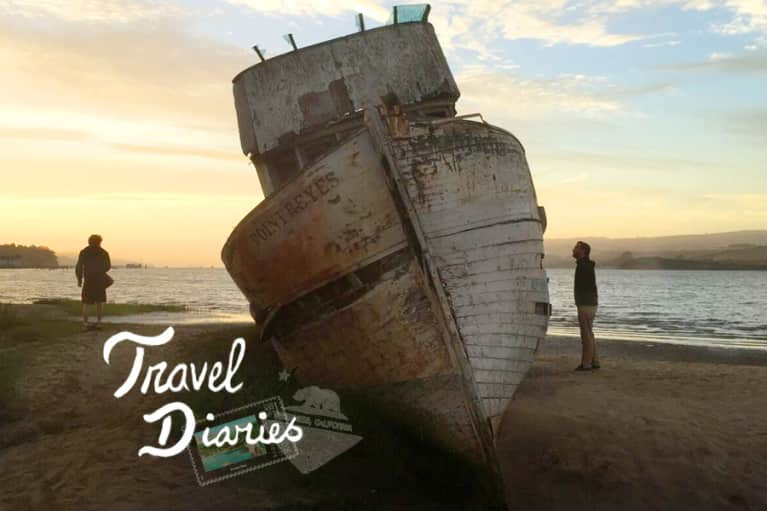 Consider our new Travel Diaries series your digital passport this summer. Follow along as we give you a sneak peek into where our wellness-centric contributors are headed for some R&R. This week, we're tagging along with gluten-free chef and author Phoebe Lapine on her West Coast weekend getaway.
By way of having a lot of friends who live in San Francisco, wedding season inevitably brings me to Napa at least once a year. It's such a breathtaking part of the country, and one I'm grateful for an excuse to visit so often.
But by the end of the weekend, thanks to the heavy wine pours, late nights of dancing, and over-feasting on dessert petit fours (not to mention the 3,000 miles of travel to get there from NYC), I end up feeling strung out and exhausted. Literal champagne problems.
So my boyfriend, Charlie, and I have developed a little travel tradition when in this part of the world. And that's to follow up the tiered fondant and Shout floor slaps with a few days of rest, relaxation, and oysters by the bay in Inverness.
California has some pretty impressive scenery (the vine-covered hills of Napa being toward the top of that list), but we've fallen particularly hard for the wild elk roaming the dunned plains of Point Reyes National Seashore and the glassy mollusk-filled bay on the other side.
Inverness and the larger town of Point Reyes Station, which sits at the foot of Tomales Bay, is only an hour from both Napa Valley and San Francisco. Charlie, who is from the Bay Area, grew up going there for long weekends with his family. Needless to say, it's a special place for him, and one that I've happily adopted as we make new memories there together.
For anyone who's looking to spend a few days surrounded by natural beauty, with equal parts outdoor activities and cozy relaxation, it's the perfect getaway. And the tranquil Marin vibe, clean local cuisine, and small-town feel make it a great place to detox after the tourist hustle, bustle, and hedonism of wine country.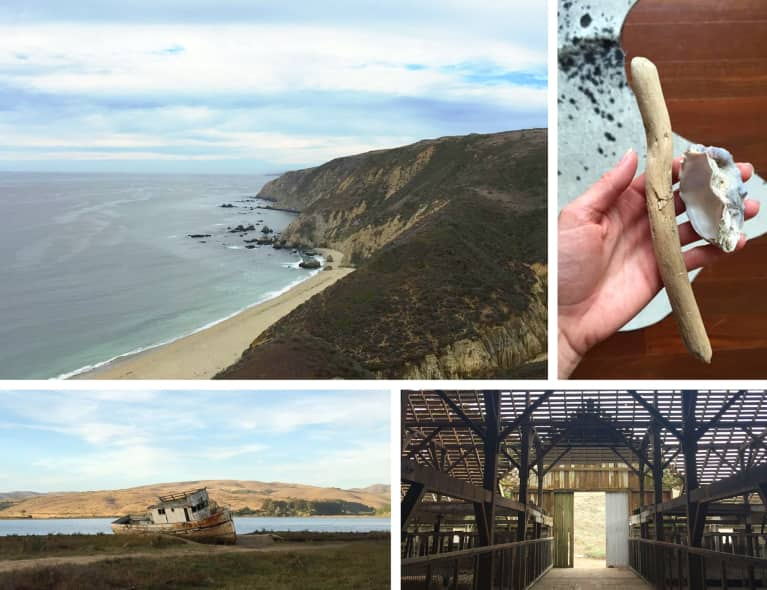 1. Go for a hike at Point Reyes National Seashore.
There are so many great trails in this 150-mile expanse of preserved seaside land, but the Tomales Point Trail is my absolutely favorite. It takes you through an elk preserve, which makes you feel like you're hiking surrounded by Santa's fleet. If you reach the end, you get an equally magical view of the bay. The trailhead is at the end of Pierce Point Road, a bit of a drive from town, but you'll be greeted by some very happy Clover Organics cows on the way.
2. Catch some rays at Limantour Beach.
If you like a good long beach walk followed by a picnic lunch in the dunes, this is the perfect setting. It's also a great place to camp out for the evening if you're looking for more adventurous accommodations.
One of my favorite ways to see the scenery of any beautiful place is at 30 miles per hour on the back of a pony! There are a few ranches on your way into town and in the neighboring area of Olema that offer day rides.
The waters of Tomales Bay, which separate Point Reyes Station town from the seashore around the bend, are perfectly calm and ideal for all manner of paddle sports. If you take a boat out a few hours before sunset, you'll see magic hour at its finest.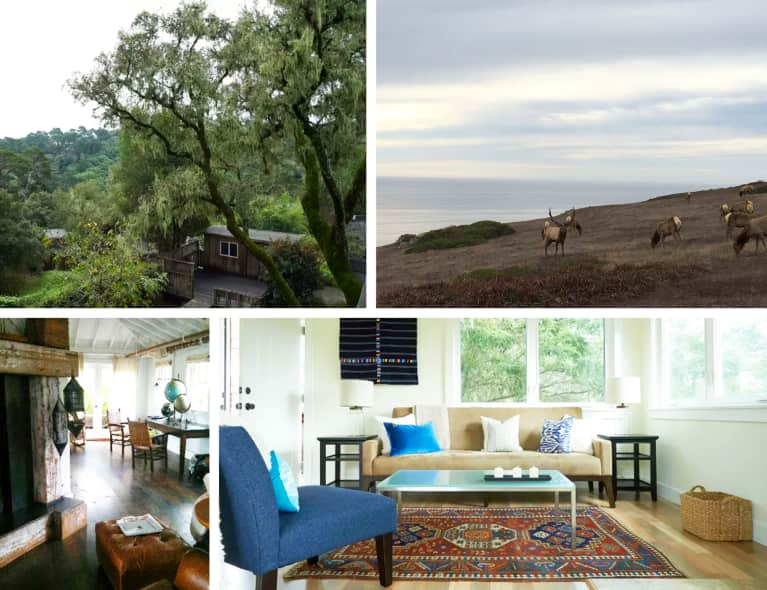 Our most recent trip included a few nights in one of Mankas' amazing cabins. The rooms are outfitted with working fireplaces and big sleigh beds that will make you feel like you're staying in the guest quarters of some Northern castle on Game of Thrones. The main lodge burned down a few years ago, which led the owners to move check-in to a chrome RV out front. It only adds to the charm.
It didn't hurt that we were greeted every morning with a breakfast crate on our doorstep. The box contained a covetable hipster metal thermos of coffee, mason jars of sugar and cream, and two bowls laden with fresh strawberries and homemade yogurt so smooth and fluffy it might as well have been whipped cream. Heaven.
There are also some great Airbnbs in the area that allow you to take advantage of all the fresh Marin County produce and buy wholesale oysters to shuck yourself. I stayed in this cute studio on one trip and loved it.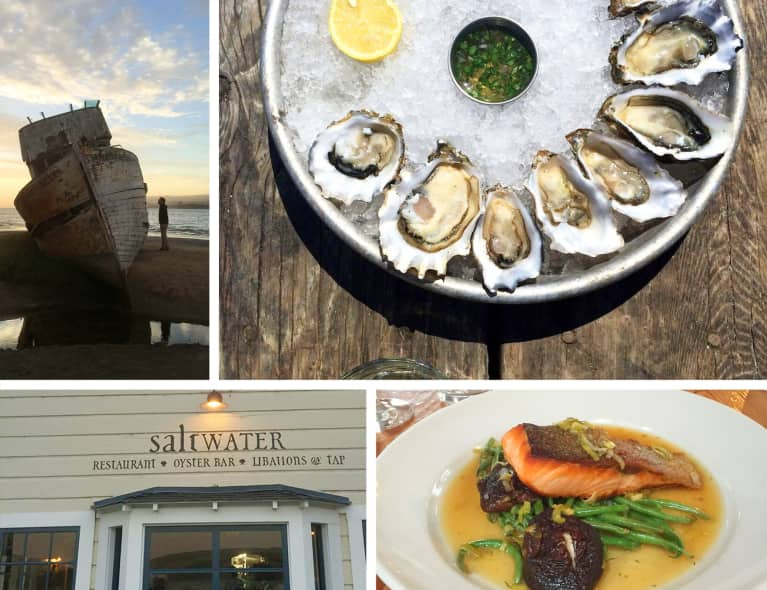 1. Sir and Star at the Olema
For a more upscale meal in a cozy yet casual California setting, this restaurant was perfect. I ate local duck with frizzled broccoli, and they were incredibly accommodating with my strange request to have a fresh little gem salad as my dessert.
The theme of everywhere you eat in Inverness is oysters, and they don't get better than at this neighborhood restaurant right by the bay. We had them broiled two ways: one slathered with bottarga butter and thyme, the other with house-fermented chili butter. The seared steelhead didn't disappoint either.
3. Hog Island Oyster Company
One of the more well-known oyster farms on the West Coast, Hog Island has a beautiful picnic area and serves out-of-this-world grilled oysters with their signature chipotle-bourbon butter. It's also very fun to watch them process the oysters straight from the sea as you enjoy a plate of their comrades!
Cheese on cheese on cheese. You can peer through the glass and see all of Cowgirl Creamery's signature cheeses being aged, and of course pick up a few rounds of Mt. Tam for the road.
The Park Market is a great place to do a little organic grocery shopping or pick up a healthy sandwich for your beach picnic. They have gluten-free bread and lots of other options, too.