The One Thing You Should Be Adding To Your Coffee For All-Day Energy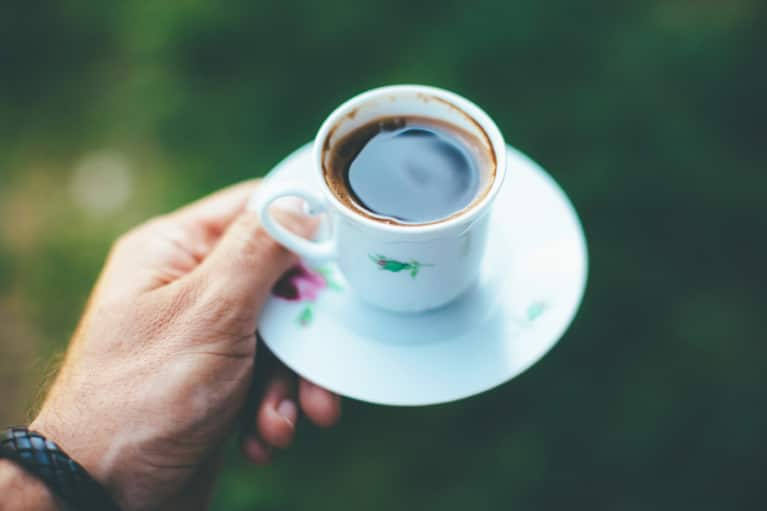 Who doesn't love coffee? It's like a warm hug that makes everything better. It also has numerous proven health benefits, so you can indulge without feeling guilty.
However, despite its impressive qualities, coffee does have one downside: It lacks nutrients. Aside from its antioxidants and vitamin B2, the beverage doesn't have a whole lot going for it from a nutritional standpoint.
Coconut oil to the rescue. When combined with raw cocoa powder and natural sweetener, the oil essentially turns your cup of joe into an energy-boosting, hunger-curbing superfood drink packed with micronutrients. Here's the breakdown of its health benefits:
1. Provides micronutrients
Cacao is made by cold-pressing unroasted cocoa beans—a process that preserves the enzymes and nutrients in the beans more than traditional roasting techniques. The powder that comes from these beans is one of the few foods that can actually claim the title of a superfood.
Cacao powder is a nutritional powerhouse rich in iron, copper, magnesium, manganese, potassium, phosphorus, zinc, and selenium. It also has one of the highest antioxidant counts of any food.
We all know that coffee's high-caffeine content can increase our energy levels, but it can also lead to jitters and crashes. However, when you mix a saturated fat such as coconut oil in coffee, it slows down the digestion of the caffeine and reduces its unfavorable effects. That's because coconut oil is rich in MCTs—fatty acids that are easily broken down and converted into energy relatively quickly in the body. I've noticed that this fat and caffeine combination reduces the dramatic highs and lows of the caffeine and gives me long-lasting, steadier energy.
The cocoa powder gives this beverage another energy boost since it contains a significant amount of theobromine, a stimulant.
A small study found that, on average, those who consume MCTs for breakfast tend to eat lunch later than those who do not. They also reportedly eat significantly less food.
This delayed hunger and reduced appetite is an effect that I also have personally noticed after adding this recipe to my coffee. My hunger pangs throughout the morning significantly decreased, resulting in a smaller lunch.
If coffee is a focal point of your mornings, this is the perfect recipe for you. And having it premade in a jar makes it incredibly easy to add to your daily routine.
A nutrient-packed coconut oil coffee
1 cup melted coconut oil
1 cup raw cacao powder
3 tablespoons Erythritol (a natural sugar alcohol)
Preparation
1. Add all ingredients to a blender, and blend until smooth.
2. Place the mixture in a jar and place it in fridge until it becomes a solid again. Store the jar in your cupboard or on the counter next to your coffee.
3. Add a heaping spoonful to your coffee, and stir until it dissolves.
Related reads:
For more tips on healthy breakfast habits, check out my free guide complete with recipes from some of the world's leading health experts.