11 Things You Need To Know Today (July 14)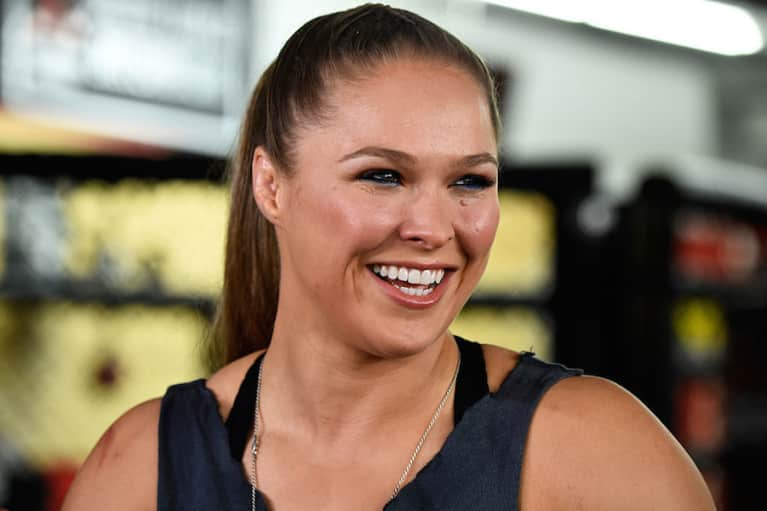 1. Ronda Rousey isn't interested in being perfect.
In an ad for Reebok's #PerfectNever campaign, UFC champion Ronda Rousey has some surprising words for her haters: "Here's the thing about being perfect. Perfect never gets truly tested. Perfect never gets to silence its critics. Perfect never has a shot at redemption." Oh yeah, we can definitely get behind that. (Reebok)
2. Do artificial sweeteners make you hungrier?
In an animal study, researchers found that artificial sweeteners boosted appetite by activating hunger pathways in the body. Still, scientists aren't yet sure whether they have the same effect in humans. (BBC)
3. Is Jennifer Aniston pregnant? No. Is she fed up with the rumors? Yes.
"I'm fed up with the sport-like scrutiny and body shaming that occurs daily under the guise of 'journalism,' the 'First Amendment,' and 'celebrity news,'" she writes in a blog post for the Huffington Post. She calls out the tabloid media for the way that it objectifies women and defines a woman's value based on her marital and maternal status. As her husband, Justin Theroux, wrote in an Instagram post, #gogirl. (mindbodygreen)
4. When all is said and done, nearly half of the food we produce is thrown away.
Not only are consumers throwing away produce at home, but farmers, packers, wholesalers, truckers, food academics, and campaigners are throwing away a huge amount of "flawed" produce before it even hits shelves to save the expense and labor involved in harvest. (The Guardian)
5. Running might make you smarter.
According to a new study involving mice and monkeys, running isn't just good for the body—it's good for the brain. The study found that after running, mice became faster learners. So if you're really looking to improve your intelligence, you might want to put down that boring textbook and go for a run instead. (NYT)
6. It's official: Chemicals in plastic are nearly impossible to avoid.
In a first-of-its-kind study, a family of five completely rid their home of plastic for several months to see if doing so would reduce the chemical burden in their bodies. The results show that it did not and in their case, "It was impossible to achieve any further lasting reduction in the concentration of these ever-present substances." (ScienceDaily)
7. More women over 40 are having babies than women under 20.
For the first time in 70 years, women in the UK who are post-40 have a higher fertility rate than teenagers. Plus, the average age of giving birth is now 30.3, a stat that has been increasing every year since 1975. (BBC)
8. Climate change deniers are dropping like flies.
A recent poll found that the number of Americans who are alarmed about the potential effects of climate change has climbed 5 percent in the last year alone. (Inside Climate News)
9. Olympic medalist April Ross says going vegan actually made her stronger.
The Olympic volleyball player never thought she could go vegan because of how much physical activity she does. But then, during her last off-season, she started experimenting with a plant-based diet, and she found that she didn't miss meat at all—and neither did her body. "I'm at my strongest," she said in a promo video for Beyond Meat. "My power-to-weight ratio is the highest it's ever been." (mindbodygreen)
10. Your response to coffee might depend on your genes.
Ever wondered why coffee makes some people thrive while it leaves others jittery and anxious? New research suggests it's because of variants in one of our genes that determines how quickly our bodies are able to break down caffeine. (NYT)
11. Slowly back away from the 50-pound weights.
As it turns out, you barre instructor who has you lifting 2-pound weights may be on to something. According to new research, lifting light weights is just as effective as lifting heavy ones when it comes to building muscle—just make sure you're doing more repetitions. (ScienceDaily)