Why I'm Going To Meditate Every Day For A Year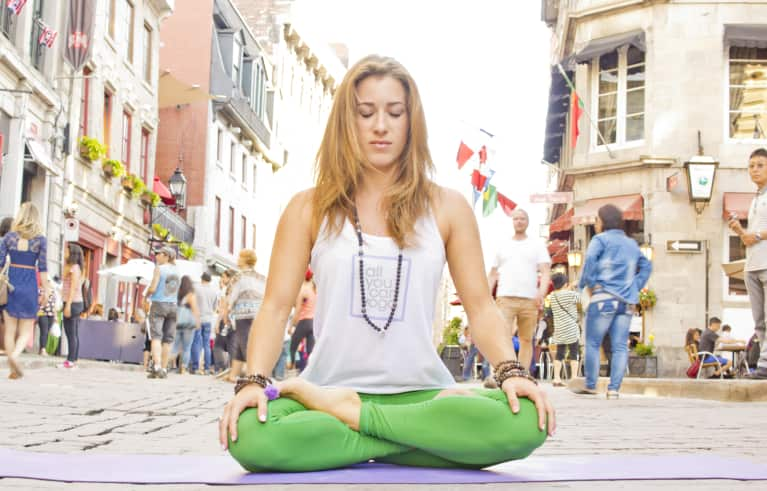 Some monks believe that meditation can change the global frequency of the world. By meditating and chanting for peace and compassion, the global energy of our interactions may change, and the people of our planet will in turn become gentler and kinder individuals.
A few years ago I decided to do a handstand every day for a year and share the experience using #handstand365. I put a call-to-action out on various social media channels and online publications. Before long, it went viral. One year turned into two, and soon enough there were hundreds of thousands joining in, flipping upside down and taking the challenge. It was fun, playful, and empowering and created a community of loony characters who banded together to join in on some lighthearted cohesion.
As the yoga teacher who started the challenge, I rose to a tiny drop of yogalebrity and was soon traveling around the world giving handstand workshops so that our #handstand365 community could grow and others could take part in the craze.
After over 700 days of handstanding, a tired rotator cuff, tendonitis in the shoulder, and a feeling of small accomplishment, I felt that more could be done. If handstanding every day and leading by example could ignite such a spark, how could we move further to something more life-changing, something that could actually create real shift in the world while still maintaining the challenge aspect, feeling of accomplishment, measurable goal, and experience of community through social media?
Without further ado, I'm here to introduce Meditate365.
The world needs more mindfulness. We need more peace. We need more people who are capable of sitting still, remaining calm, and bringing objectivity to life, and meditation seems to be the answer. Additionally, meditators report higher levels of happiness and overall life satisfaction in study after study.
Guess what? Happy people don't commit as many violent crimes. Happy people don't start wars. Happy people don't live with nearly as much racism, classism, bigotry, or separation either.
Meditators also have more gray matter in their brains than non-meditators. This means that after sustained, regular meditation practice, the brain actually works better. Synapses move faster, short-term memory improves, and the brain can assimilate new information more effectively.
Meditators have lower heart rates, cholesterol levels, stress levels, and blood pressure than non-meditators too.
The scientific jury is in on meditation: It's all good. No one has ever injured themselves from meditation. In fact, regular short meditation practice has only ever improved health and quality of life.
So if meditation is a magical answer to life's tough problems why doesn't everyone do it? Because it's hard.
Forget sitting still, it is hard even to find 10 minutes to take out of our busy days to do "nothing." Sitting comfortably is an even bigger challenge. In order to meditate we must first learn to find a comfortable seat to allow a steady flow of prana, blood, and breath through the body. And finally, calming the mind is a challenge. New meditators so often get caught up in their inability to meditate that they stop the practice completely.
I myself have tried to meditate every day for a year over and over again, and I've failed. I have failed at starting this challenge seven times already. But I'm starting again, and this time I'm inviting you to join as well. The hope is that we can once again join forces globally and unite in the betterment of ourselves and our immediate surroundings through a community project: meditating every day for one year.
Share your experiences with meditation, stay encouraged and connected, or simply find inspiration from others. Use #meditate365 on social media to join the challenge.
Today can be your day one. Today can be the day your entire life changes for the better. Follow me @laurenrudick to see how it all goes. Let's do this. One year of meditation. Every day. It takes only a few quiet deep breaths to start.