Pokémon Go Is Making Some Unexpected Waves In The Exercise World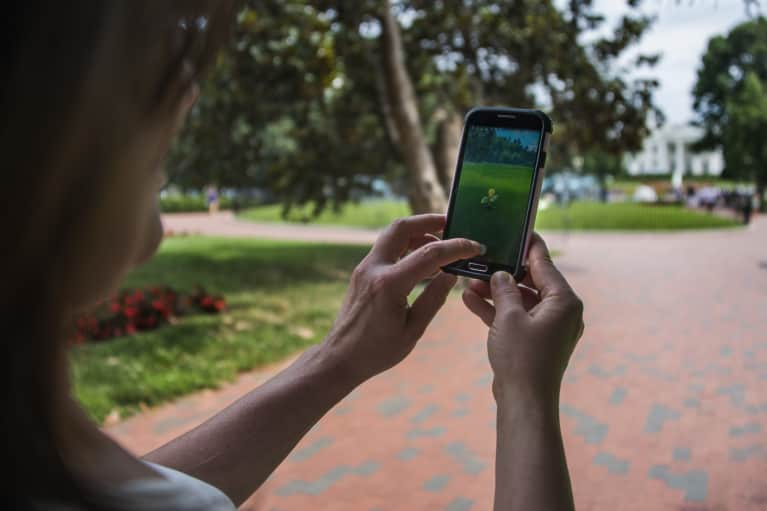 In case you haven't noticed, something strange has been happening over the past week or so.
People have been walking around their suburban neighborhoods with their phones with a look of extreme determination on their faces. City-dwellers have been spending quite a bit of time speed-walking around the busy streets, and full-grown men and women are jumping up on tables at work and screaming "gotcha!"
Yep, it's pretty safe to say we've all become totally obsessed with the new video game Pokémon Go, which sends its users on a mission to find and catch little creatures that are showing up on their Smartphones and perching on a nearby park bench. In fact, people are using their Pokémon Go app more than they're using Facebook, Instagram, and Snapchat.
But there's a silver lining to all of this, for once: People are moving more.
Yep, all those trips to catch Pokémon at your local park seem to responsible for some shocking new data from Jawbone UP, which found that its users logged 62.5 percent more steps than usual over the weekend.
So, is Pokémon Go the cure for obesity we've all been waiting for? Not exactly.
"If someone is just sitting there and watching TV and surfing the web—this is definitely better. It's better to exercise than not exercise," Bruce Y. Lee, executive director of the Johns Hopkins Global Obesity Prevention Center, told Fast CoExist. "It's not necessarily a replacement for other types of physical activity. It may not have the same benefits [for teens] of playing sports."
Still—all hail the power of the Pokémon.