12 Things You Need To Know Today (July 13)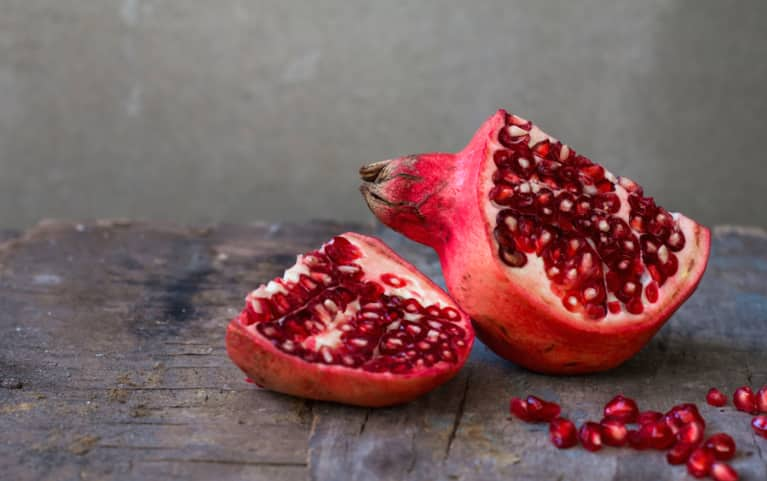 1. Scientists might've finally figured out what makes pomegranate a "superfood."
Apparently, a molecule in pomegranates is transformed by gut microbiomes in such a way that it enables muscle cells to protect themselves against a cause of aging. Tests in animals have had impressive results. Clinical trials for humans are under way. Stay tuned. (ScienceDaily)
2. Sorry, no, your breakfast is just dessert.
Your yogurt has as much sugar as your ice cream. Your stack of pancakes has more sugar than a slice of chocolate cake. Oh, and that bowl of natural granola has more sugar in it than five Oreos. We need to take back breakfast! (Vox)
3. The British spa industry is thriving because of Brexit.
In the wake of Britain's decision to leave the European Union, the group of spa-goers looking to de-stress has increased exponentially. The spike in bookings from anxious swathes of London professionals who are hunting for rest and recuperation show no signs of abating. "Brexit has very much been the topic of conversation," said Eilidh Smith, the spokeswoman for Face Place at the Rosewood Hotel in High Holborn. "And we saw a big increase in bookings come in from the Sunday after the referendum, particularly for additional massage for greater relaxation." (NYT)
4. A new fitness fad requires you to do nothing but watch Netflix.
The workout of your dreams is now a reality with L.A.'s Shape House, an "urban sweat lodge" where you literally just lie there...under a 160-degree blanket. To take your mind off the heat, though, you can watch anything on Netflix. The benefits of FAR-infrared heat range from better sleep to glowing skin to burned calories to cured hangovers, but it's mostly praised for its therapeutic effects. You're like a little zen burrito. (mindbodygreen)
5. All hail the salad kit.
There's been a recent boom in the sale of lettuce, and it's safe to say that bagged salad kits are behind it. Their convenient packaging offers shoppers an easier way to enjoy their greens fast, and sales of these kits are projected to reach $7 billion this year. (NPR)
6. Do pregnant women need multivitamins?
A new study finds that most vitamins and supplements women take during pregnancy may be unnecessary. The researchers found that folic acid supplementation—which is known to reduce the risk of neural tube defects—had the strongest evidence in support of its use, while vitamin D might also be helpful. Others may not be proven to improve health. (The Guardian)
7. Starbucks knows the best way to boost morale is to pay more, so they are.
The surprise pay raise comes in response to complaints from employees and was a pleasant surprise to them. Most employees will get a bump of at least 5 percent, and employees who have been there over two years will get new and better stock options. Nice one, guys. (BuzzFeed)
8. Drinking water might be the answer to maintaining a healthy weight.
According to a study of 10,000 adults, people who don't drink enough water are 50 percent more likely to be obese than people who stay hydrated, whether they're getting their water through food or drinking it. So next time you consider leaving your water bottle at home, you might want to think again. (Health Day)
9. Amid new legislation, uncertainties about GMOs remain.
Though the vast majority of Americans support legislation to label genetically modified organisms in food, a lot of people don't understand what these labels would actually look like on shelves. (NYT)
10. Many Americans would probably be healthier drinking nothing but protein shakes.
An investigation into Soylent—the vegan meal-replacement beverage that packs 35 essential nutrients—found that the drink is actually healthier than the majority of meals Americans are eating today. "North Americans are simultaneously overweight and malnourished, and a diet like Soylent, for all of its flaws, provides less of the problem ingredients like sugar and cholesterol and more of the nutrients," writes Jessa Gamble. (The Atlantic)
11. A hidden red-hair gene might increase your cancer risk.
Even if you don't look like an "easy burner" with freckles, light hair, and fair skin, there's a chance you carry a version of a gene that increases your risk for melanoma. Health experts are calling it a "silent" red-hair gene and say it's comparable to two decades of sun exposure in terms of cancer risk. It's estimated that one in four people in the UK are a carrier. (BBC)
12. Preventing obesity in kids might start before birth.
Research suggests that parents who want healthy children should work on obesity prevention as early as possible—in some cases, even before they try for a baby. For example, a mom's and dad's weights before pregnancy can affect a child's future weight, as can factors during early childhood, such as breastfeeding, antibiotic use, and how parents model eating behaviors. (NYT)