A Professional Runner's Top 5 Tips For Making It To The Finish Line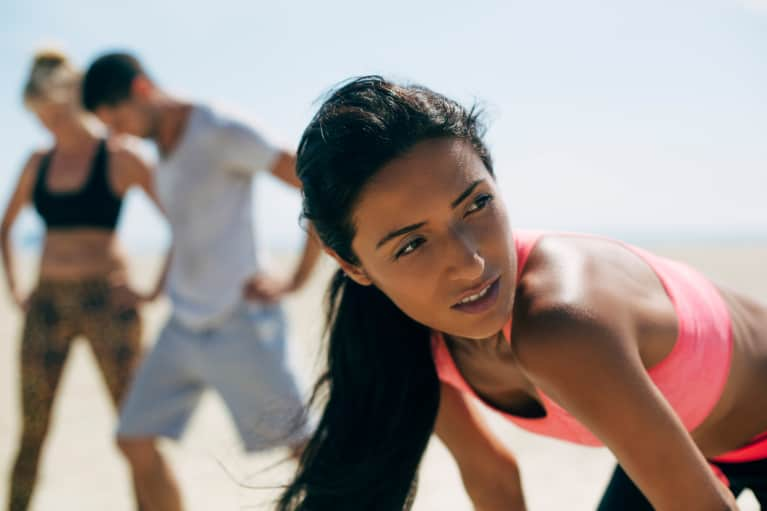 Our editors have independently chosen the products listed on this page. If you purchase something mentioned in this article, we may
earn a small commission
.
A common belief in the marathon world is that "getting to the starting line is half the battle." While there is some truth to that—namely, if you make it through a full marathon buildup in one piece, you're better off than many—I'd like to revise that sentence. "Getting to the starting line with confidence is half the battle" to me, better captures the importance of both doing the work and believing in it. Successful races are contingent upon both pieces.
Here's my advice for making it happen:
You don't have to be a serious runner to enlist the help of a coach. In fact, beginning and developing runners can benefit just as much from guidance as elites while they experiment with different styles of training, test the waters over various distances, and improve their mental and physical games.
A couple of good places to start are RunningintheUSA.com/club and RRCA.org, hubs for running groups across the country, many of which are headed by experienced coaches and offer programs for a range of ability levels. You can also visit your local running store, which may offer group training plans, and reach out to well-connected runners in the area. If you don't feel ready to commit to a face-to- face coaching situation, I encourage you to at least check out a reputable self-coached running book such as Al Lawrence and Mark Scheid's The Self-Coached Runner; Run Faster from the 5K to the Marathon: How to Be Your Own Best Coach by Brad Hudson and Matt Fitzgerald; or Daniels' Running Formula by Jack Daniels.
2. Do the work—and record it.
In running, like most other endeavors, hard work is the foundation on which confidence grows. Every workout you complete, long run you log, and sacrifice you make to improve as a runner should make you feel good about the progress you're making. Before you toe any starting line, you should reflect on the work you've put in to get to that point and derive confidence from the sweat, suffering, and commitment that has gone into your preparation.
Better yet, keep a training log so you can keep track of every run, cross-training workout, strength session, and exercise class, and remember them when you're getting ready to put them all together in a race. I've been keeping training logs since my first cross-country season in high school (2007), and I love to flip through them all, reminiscing on breakthrough workouts, character-building slumps, and especially memorable races.
If you're not the pen-and-paper type like me, an Excel spreadsheet does the trick, as do online logs like Strava and Running2Win.
3. Control what's controllable.
There are about a million variables in every single race—the temperature, the wind, the crowd support, and the fitness and strategy of each competitor, to name a few—and the vast majority of them are beyond your control.
Go ahead and identify those that are (like your pre-race meal, your flats or spikes, your warm-up, and your race plan) and do your best to get them right. For me, that means eating my pre-marathon bagel with peanut butter, banana, and honey three hours in advance; double-knotting the Asics Hyperspeed racing flats that I wear for every workout and race; and following the warm-up routine that I've been performing for years.
As for the other variables you can't influence? Try your hardest to let them go, recognizing that our task as athletes is not to predict exactly how the race (or game) will unfold but to get the most out of ourselves no matter the situation.
4. Stage a dress rehearsal.
A race can be intimidating, especially if it's your first one ever or on the heels of a big layoff. To set yourself up for the smoothest possible race day, I highly recommend a planned dress rehearsal, beginning with your pre-race shake-out run the day before and extending through the finish line of a challenging workout.
Be intentional about what you eat the day prior (aim for normalcy, with plenty of fluids and perhaps less fiber and a few more carbs), how early you get in bed, what time you wake up, and how you time your meals and warm-up.
I go so far as to wear my full uniform—racing flats or spikes included—at least once before I race in it. It's OK if you feel a few extra nerves during this race simulation. In fact, consider it a positive because those feelings indicate that what you're doing is something you really care about.
All of that said, the best way to get better at racing is by doing exactly that: racing! Competition brings out emotions and efforts that often go untapped in training while also serving as a test of fitness at different points of the year. Not every race needs to be super serious or a PR (personal record) attack, but each race deserves its own purpose and goal. Whether you set out to finish in the top five of your age group, to negative split a race (run the second half faster than the first), or to keep up with your usually speedier friend, be deliberate about challenging yourself in a new way each time you line up to race.
And spend a little time afterward evaluating your execution and considering how you might improve for the next one.