Meet The Wellness Rockstar Who Introduced Beyoncé's Band To Yoga & Essential Oils
mbg Sustainability Editor
By Emma Loewe
mbg Sustainability Editor
Emma Loewe is the Sustainability Editor at mindbodygreen and the author of "The Spirit Almanac: A Modern Guide To Ancient Self Care."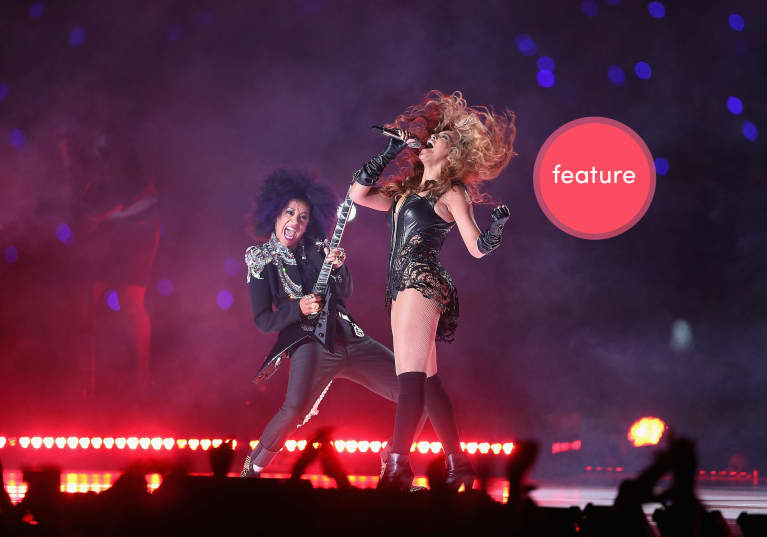 Bibi McGill kicked off her career like scores of hardworking musicians before her: She packed up her guitar and moved from Denver to L.A. to pursue a career in the biz. Spirited performances at local venues garnered the attention of big names, and she soon found herself on tour with industry trailblazers like Pink and Paulina Rubio.
And that's when she broke away from the typical-rock-star track. A self-described empath who was never one to ignore her feelings, McGill was troubled by the stress and chaos that came along with life on the road. In the early 2000s, she decided to call it quits to focus on her other passions: yoga, meditation, and plant medicine.
But the fates had other plans for her, and in 2006, serendipity led her to one of the most powerful musicians of our time. McGill's father — a barber who had been singing his daughter's praises to everyone who settled into his chair — had been cutting the hair of a certain young man since the client was a toddler. That man went on to work for Beyoncé's team, and he called on the McGill family when Queen Bey held tryouts for a 10-piece, all-female band for her first world tour, The Beyoncé Experience.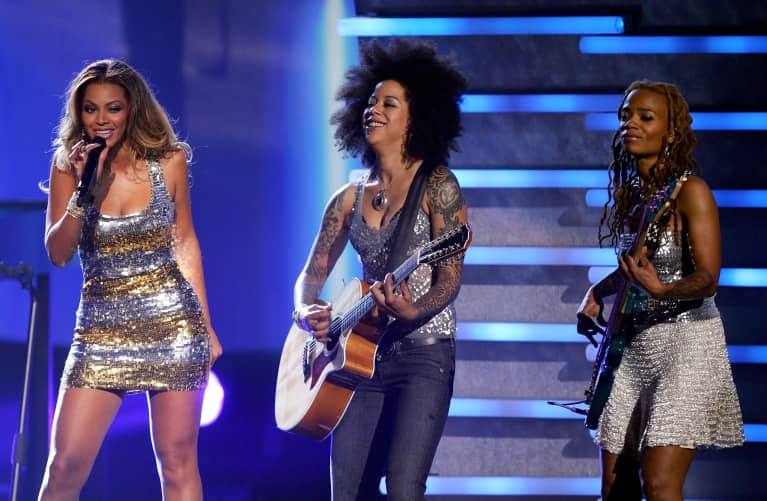 Initially, McGill was hesitant to return to life on the road. "I loved Beyoncé's music, and I love how she encourages young girls and women to have a voice," she recalls, "but I just wasn't interested in going back to the world of the mainstream music industry." Her father cajoled her into auditioning, though, and she was named the musical director of The Suga Mamas.
Cue eight exhilarating — and exhausting — years on the road, heading up three über-successful tours. McGill was center stage at more than 300 shows spanning six continents, busting out stunning electric guitar solos (Super Bowl 2013, anyone?) and proving her musical chops night after night.
So how did she do it? McGill called on her yoga lifestyle to power through a grueling performance schedule. "You have to take care of yourself if you want to feel good and show up offering your very best," she says. While the rest of the crew headed to dance clubs post-curtain-call, she'd often head to her mat. An early morning meditation practice made her hit the sheets earlier than most, and a peek into her travel luggage revealed a holistic arsenal of essential oils, smudge sticks, and crystals.
"My bandmates and I each had a shelf in a makeup trunk that would be set up for us in our dressing room each night," McGill recalls. "They would always make fun of me because mine had all my superfoods — and almost no makeup. Priorities!"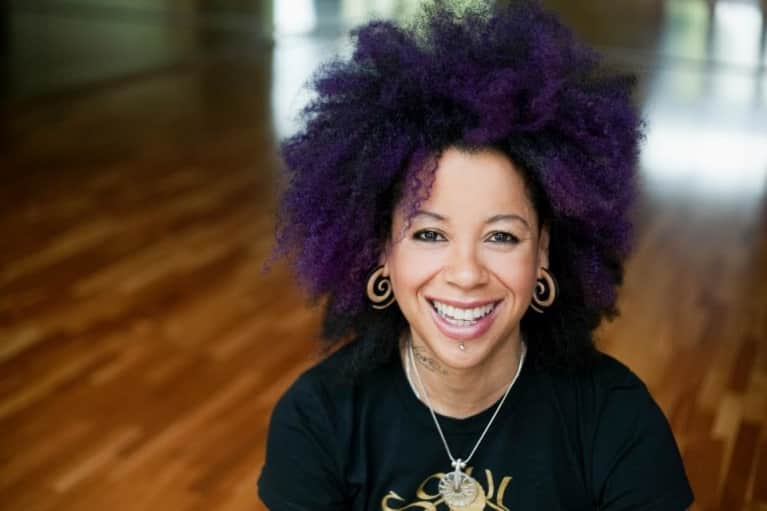 Nature also served as a grounding presence on the road. "My guitar tech would have a fold-up bicycle waiting for me in my dressing room on show days," she says. "So after sound check, I would find a park or lake close to the venue to have some quiet time to myself. One time I rode my bike almost 40 miles from Bratislava to Austria and back."
Come show time, after gathering with Beyoncé and the band in prayer, McGill would perform a grounding Native American call-upon ceremony for added clarity. Her steady sense of calm and focus were so tangible, in fact, that others on the tour began asking how they could adopt it themselves.
After six years on the road with Beyoncé, Bey's team asked McGill to return for another round, this time the Mrs. Carter Show World Tour, but with one significant addition to her duties: They wanted her to share her restorative routines with the rest of the crew.
McGill set out to transform life on the road into a traveling wellness retreat.
"I was hesitant until we got to rehearsal and everyone in our entourage was asked if they were interested in learning more about my lifestyle," she explains. "I looked around and everyone's hands went up immediately." What they'd sensed, she suspects, was her even-keeled temperament — even in the face of stress, sleeplessness, and pressure. "I think people just noticed I was consistent and remained polite," she says.
Elated that the group wanted a taste of her routines, McGill set out to transform life on the road into a traveling wellness retreat. That tour, she made sure that every dressing room and catering area had a full juice and smoothie station loaded with "kale, spinach, cucumber, celery, apples, ginger, and just about every fresh fruit and vegetable you can imagine," she says. As soon as she arrived at a venue, she'd start preparing fresh juices for everyone, and the team eventually grew to love them so much that they embarked on cleanses together.
McGill also became the troupe's ad hoc medicine woman. When crew members asked for natural remedies for their aches and pains, she turned to a medicine case filled with what she calls her superfoods: powerful healers such as sage, sweet grass, hibiscus flowers, and green algae, as well as dozens of essential oils. McGill also carried around multiple yoga mats, offering lessons to curious band members.
"That was the best tour I ever had with Beyoncé," McGill says. Sure, the pressures of the job caught up with everyone now and then, but she loved sharing her wellness tips and working toward better health as a unit.
When the tour came to a close in 2014, she knew it was time to move on to the next phase of her life — one in which she could share her wellness approach with more than just her bandmates. She settled in Portland, Oregon, where she now spreads her love of yoga, healthy eating, and, of course, music, with the masses.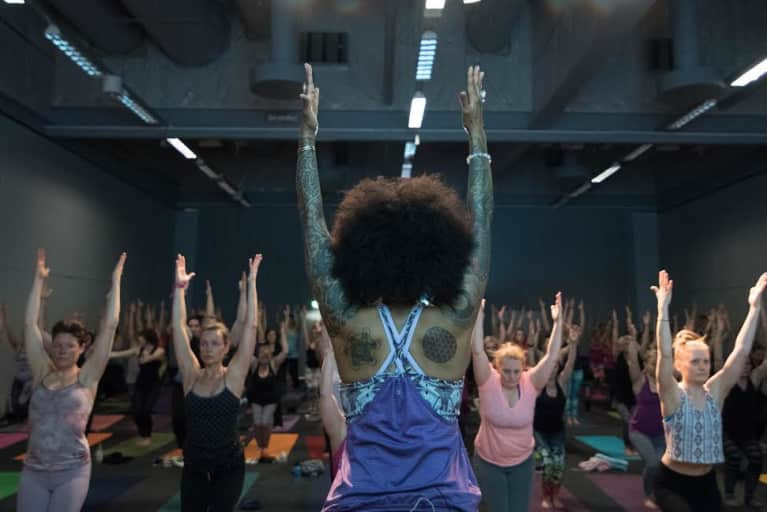 She incorporates the guitar into her yoga classes, and she travels the world leading workshops and DJing "ecstatic dance" parties — drug- and alcohol-free celebrations of music and movement. A rising star in the international wellness world, she has appeared on the cover of Yoga Journal and is gearing up for a yoga art festival in Geneva, Switzerland a spiritual wellness retreat in Cuba, a wildlife festival in Borneo, and an awakened women's conference in Bali. McGill also volunteers with Peace in Schools, a nonprofit that offers mindfulness classes to teens with anxiety and depression.
Her advice for anyone looking to adopt more of a Zen rocker mentality? Start small. "Try eating less meat, drinking less alcohol, and adding more fresh veggies and fruits to you diet," she advises. "Drink more water. Get outside in nature more. Go for long walks. Light some candles and take a bath. Of course take a yoga class. If you start small, you'll start to notice that you feel better — and you can always add on." Wise words from a woman who proves that a well-rounded self-care routine can bring balance to even the most hectic of schedules. Rock on.