What 30 Days Of Yoga Helped Me Discover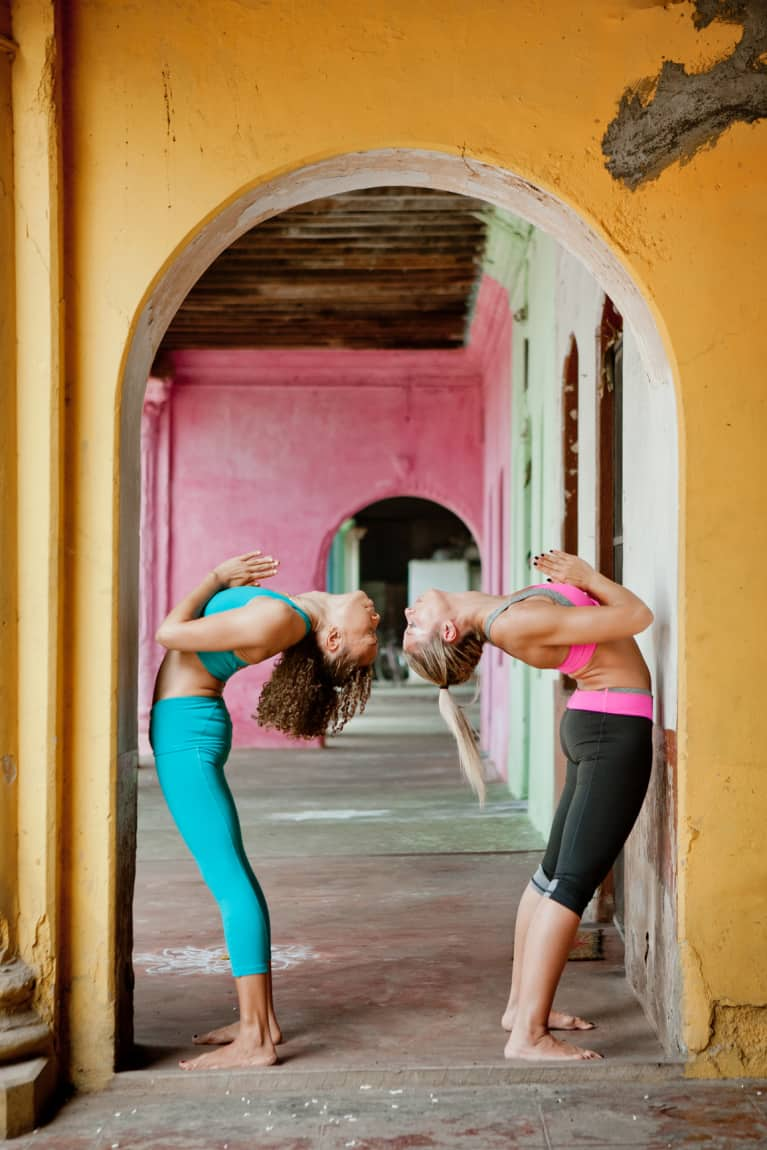 I love the art and practice of yoga. Everything about it is beautiful to me. While I have been practicing yoga for about 12 years now, this past month was the first time I made a commitment to practice every day for 30 days.
I expected to improve flexibility and gain a bit more upper-body strength, but what I wasn't expecting was the emotional upheaval and deeper inner awareness I experienced.
I first started practicing yoga while undergoing treatment for an eating disorder in my teens. Since then I've been dabbling in yoga, committing to some kind of practice about once a week. I have always been aware of the importance of mind-body practices, and this 30-day commitment has turned this awareness into a deep understanding of just how important a regular practice such as yoga can be for all aspects of life.
So, what did I learn over the past 30 days?
1. I'm not perfect, nor will I ever be.
And that's the beauty of it. There's no such thing as the "perfect pose" or the "perfect form." Yes, proper form is important to prevent injury and truly experience a pose, but there's a difference between correct and perfect.
This 30-day yoga challenge has taught me that growth lives in the in-between and has nothing to do with others. Working through progress is more rewarding than achieving the perfect pose, and whether I'm practicing in a class or on my own, I'm not there to judge myself or have others judge me for how good I may or may not be that day in a flow.
A challenge for me has been to take a break when my body asks for it. Overexertion doesn't equal perfection, and just because I may take a brief pause to answer a signal my body is giving me doesn't mean I've failed at the practice.
2. I can get angry, just like anyone.
I get it—expressing negative emotions can make others (admittedly even myself) uncomfortable.
While I certainly know what it's like to be angry, I haven't had much practice in being present with anger. Those feelings of anger and irritability usually show up when I'm holding a pose for longer than I'd like. Normally I would step out of the pose and come back into it when I was ready but I have learned that staying with those feelings and breathing through them has helped me gain an inner awareness of what it's like to feel an emotion I don't usually allow myself to experience.
Coming to terms with feeling an emotion that may have previously made me uncomfortable has helped in my daily life—I've noticed I'm more aware of how I'm actually feeling in a situation, which has led me to reassess what I actually do and don't enjoy doing with my time. Even my relationships with people in my life have changed. Being more emotionally in tune with how I feel about something has allowed me to become more comfortable with saying no to certain requests of me without that people-pleasing side of me getting as worked up as it normally would.
In the past, I've had a tendency to make decisions based on what I think other people would want and not exactly what I would want. Getting more comfortable with my emotions has been a wonderful way for me to learn how to make more effective decisions for myself in both my personal and professional life.
3. Being patient isn't all that bad.
Patience is not a strong quality of mine—I'm always wanting fast results or to get things done quickly.
However, lack of patience in a yoga practice can not only lead to physical injury but also defeat the whole idea of what it means to practice yoga. There's a fine line between effortful advancement in a practice and accepting the flow of growth. Some days are better than others. Sometimes I feel powerful and graceful in my practice; sometimes I feel stiff and clunky. The challenge is being patient on the days when practice doesn't feel as amazing and learning to embrace progress.
Not every day is going to flow smoothly, and that's OK. Just as in life we can't always expect immediate results. Integrating this newfound understanding of myself is not an overnight process, and I have learned the hard way that patience is incredibly important in personal development.
After all, you can't simply read a self-help book and expect to be completely transformed. If you're anything like me, you have to read a few dozen of these kinds of books just to start walking down that road of self-exploration. As I have learned over the past 30 days, a yoga practice embraces this same reasoning. Lasting change is never going to happen in an instant; you've got to work for it and learn as you go.
It only took 30 days for me to feel more like myself than I ever have—to get to know myself better, identify my physical and emotional "weak spots" and embrace them as opposed to pretending they don't exist.
Now, I can't help but wonder: What will happen in the next 30 days?