Like her Sex, Drugs, and Rock & Roll line of body oils and upcoming botanical perfumes, holistic beauty expert and mbg contributor Victorine Deych's look is both Zen and edgy. "I aim for casual sexy with a touch of mystery," the Brooklyn native says.
"My sweat style is bohemian-warrior-woman-meets-urban-athlete. Danica Patrick has always been my favorite girl boss along with Norma Kamali." Ease of movement is a must for all clothing, and she selects silhouettes that highlight her physique. "We're not all created equal, so I look for clothes that make me feel even better in the body I have," Deych says.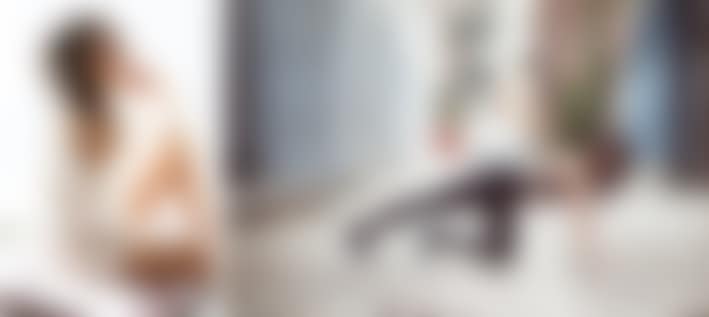 She also dresses to transition seamlessly from street to exercise studio (she loves boxing, Pilates, hot yoga, NUFit with Natalie Uhling, and specialized strength training). "It all starts with the perfect legging and layering around that," Deych says. "For example, a flat boot and a light long sweater will easily cover your fitness clothes and slip off right into your sweat session. I love covering up with an unexpected jacket—like a moto or bomber—too."
Here's what she's loving right now.
Comfy tops
"My philosophy is the easier the better! I love Enza Costa (pricey but amazing feel and wears well), Under Armour (especially sports bras), Sundry (I like how they start to look vintage), INA (easy and long-lasting), vintage tees (I collect these all around the world), Current/Elliot (these guys just get it right every time, very much my style), Reebok (super-sexy workout designs and comfort), Zadig & Voltaire (they last forever and have great layering pieces so I can move from lifestyle to workout and back), Kit and Ace (great fit, quality and allows me to move)."
Featured above: Splits59 Aerin Layering Tank (a) + Kit and Ace Surf N Turf Tunic (d)
Fun, flexible pants
Lululemon still rules, while K-DEER and Under Armour tie for second. I mix color and always invest in great black options as they are the most flexible between life and sweat sessions.
Featured above: K-DEER leggings in Fierce (e)
Affordable, chic footwear
"Nike wins here. I call it affordable chic as I haven't been bitten by the luxury sneaker bug. I always search for styles that aren't mass produced, and they easily take me from hard-core movement back to the streets. I mix and match classic Reeboks and Converse on casual days."
Featured Above: Nike Air Force 1 Flyknit Low (f)
Supportive sports bras
"Hands down, Under Armour. It's like second skin."
Featured above: Under Armour Breathe (c)
Signature accessories
"I can't live without my tiny firefly necklace that never gets in the way of my workout, and my signature bangles that all have a special meaning commemorating special moments in my life. And I like to wear polka dot socks for a splash of personality. As for trackers, I keep it basic with my Polar heart monitor and watch."
Featured above: VIM & VIGR Women's Polka Dots in Cream & Grey (b)
Go-to colors
"Nude, red, black, white."