Olivia Munn's Wellness Routine Includes Anti-Aging Japanese Potatoes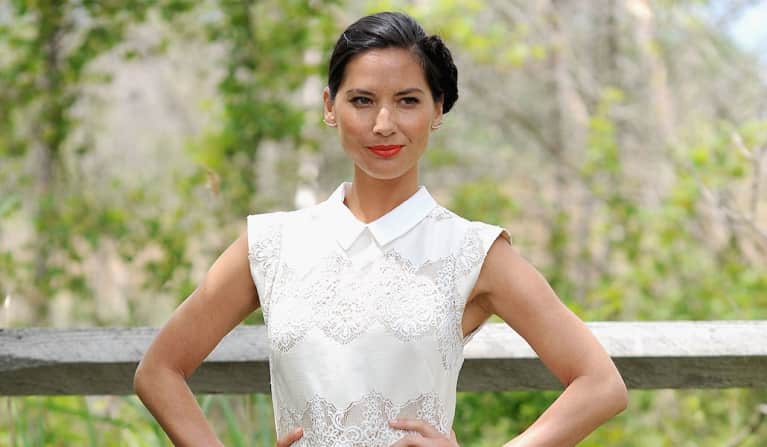 To be a superhero—specifically X-Men's telepathic master martial artist Psylocke—one must stay in incredible shape. If you're wondering how Olivia Munn does it, she told The Cut that it's a combination of anti-aging Japanese potatoes, tae kwon do, Body by Simone, and homemade almond milk.
She's usually up around 9am, and she begins her day by taking her dog on a walk, washing her face, and applying sunscreen to her face, neck, and chest.
Then she drinks the almond milk she makes from scratch.
I started making organic almond milk from scratch last summer and do it about every two to three days. I'll make a smoothie in the morning with my almond milk — I'll add mangos, strawberries, some agave, and flaxseed. If I can't do that, I grab a few bananas and a spoonful of peanut butter.
And she sweats ... a lot.
I started working on X-Men, and doing tae kwon do and floor work. It was better than all the regular personal-training-type things I was doing, where you do weights, crunches, and squats. It's better for me to do things that are more skill-oriented, so my brain is focusing on accomplishing a skill rather than, say, doing ten squats. I end up getting a better workout. When I came back to LA, I started doing Body by Simone, which I really loved. It's fun because you keep moving. The exercises you're doing feel like they're working more than one muscle group at a time. It's small, little challenges.
She gets by with a little help from her friends.
I know how to eat healthy and work out, but I fall off the track easily. Having a girlfriend to go work out with is the best way for me to keep it up. I'm much more likely to work out if I have a friend to sweat and cry with.
But if you do fall off track, Munn says, it's important not to beat yourself up about it. It's all about how you feel. When she's alone, she'll eat chips, sandwiches, and ramen a lot of the time, but she's working on incorporating more organic fruits and vegetables. Eating healthy makes her feel good, but so does chocolate cake and cheese.
"Eat as clean as you can, but don't stop enjoying the bad stuff too."
In the past, her goals were always centered around losing a certain amount of weight, but now she's all about feeling healthy and strong. Her goal is to get as physically fit as she can—meaning her body and mind are as energized and calm as possible.
About those potatoes ...
I watched a news report with Connie Chung about Yuzurihara, Japan. It's called the "City of Long Life," where there are 80 and 90-year-olds with no wrinkles, who do hard labor four to five hours a day. In this area where they live, they can't grow rice, so they grow these certain potatoes: Japanese root potatoes and Japanese sweet potatoes. They're high in hyaluronic acid.When you're younger, your body creates collagen, and as you get older, it doesn't produce as much. You know when you wake up with a line on your face from a pillow? As you get older, those lines stay because we don't have a lot of hyaluronic acid. [Editor's note: Hyaluronic acid binds collagen with elastin.] The purpose of hyaluronic acid is to carry water to skin and prevent joints from getting rickety or hurting. When joints are lubricated, you don't get injured as much.I get my potatoes from a Japanese market. I'll take one sweet potato, slice it into one-inch-thick slices, and then dust it with olive oil and cinnamon, put it in the oven, and do that as dessert. I'll eat those as often as I can — a couple every day. The root potato is covered in dirt and has a slimy texture like okra. You can boil them or put them into a soup, which takes a little more preparation.
Does it actually make a difference?
In eating them, I saw a huge difference. I started noticing it with my flexibility. Even though I had been working out over time, I was only able to go 40 percent into a split. And then, after months [of eating the potatoes], 80 percent into a split. I could see the difference. Usually, in the morning, I would get the pillow creases [on my face] and rub them out with lotion. Now, after a month of doing the potatoes every single day, the line would be gone as it was when I was younger. I know there are vitamins or supplements with hyaluronic acid, but I didn't feel like I saw as much of a difference as I did getting it from the natural source.
Throw some avocado on top of the potato and call it sweet potato toast. And that's all we have to do to look, feel, and fight like Olivia Munn? We're sold.