12 Things You Need To Know Today (July 8)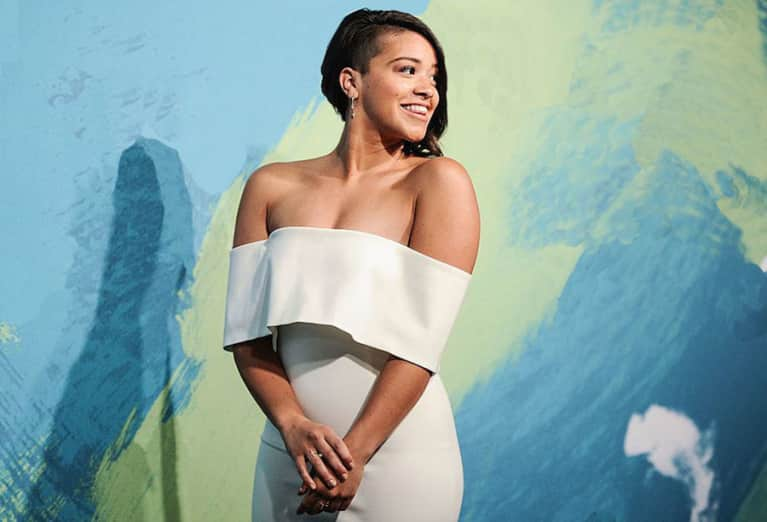 1. "Jane the Virgin" star Gina Rodriguez talks about struggling to succeed in Hollywood due to a thyroid condition.
The award-winning Latina stunner was fired from a job after gaining weight, and shortly after was diagnosed with a thyroid disorder. She feared the disease might make her weight such an issue she wouldn't be able to get leading lady roles. One key element in her strategy for success? Positive self-talk. Rodriguez said. "For many years I had a daily conversation with myself about how I was going to help make that change... Because there is no way in this world things are only allotted to certain people because of their figure. There...is no way that's fair...no way that kind of limitation is going to help those that don't fit into that box." (People)
2. Don't know what your smartphone is made of? Don't worry—you're not alone.
It's nearly impossible to know exactly who made your smartphone and what materials they made it from—until now. A new startup called Fairphone is looking to demystify the industry with a $580 Android-powered phone made from responsibly sourced materials and labor. (WSJ)
3. Electric bikes could encourage more people to exercise.
Most people don't ever consider using bikes equipped with a motor. But a new study suggests it could actually offer surprising health benefits. Because it can assist with pedaling when needed, it makes riding for long distances seem less daunting and could lead to more people biking to work. (NYT)
4. America's pesticides are a major threat to organic honey.
Beehives in North Dakota, one of the last best places in North America to keep honeybees, are in danger of disappearing due to corn and soybean crops. "There's a direct relationship between honey per hive produced in North Dakota and the amount of grassland in relation to acres converted to row crops," says Clint Otto, research ecologist with the U.S. Geological Survey's Northern Prairie Wildlife Research Center. (Civil Eats)
5. Scientists may have finally found the answer to staying full between breakfast and lunch.
According to a small new study, the key to staying full between breakfast and lunch is to drink a milkshake for breakfast. Researchers found that consuming a thick beverage creates a feeling of "phantom fullness," meaning the thickness of a drink makes people feel like they're consuming more calories than they actually are. On the milkshake note, though, you should probably opt for a thick, nutritious smoothie instead. (The American Journal of Clinical Nutrition)
6. Nearly every athlete is doing some form of yoga these days.
Whether it's hot yoga, Iyengar, or Gyrotonic, soccer players, tennis stars, and rugby players are all doing some form of the ancient practice—and it's making them better athletes. Yep, yoga is officially everywhere. (The Guardian)
7. The edible-insect industry just keeps on growing.
As back in May, the North American Edible Insect Coalition got together in Detroit to determine just how big the bugs-as-food industry had become. The answer? Really, really big. So many people are enjoying chowing down on crickets and other insects that the industry is getting ready to lobby in Washington. Grilled cockroaches for dinner, anyone? (Quartz)
8. New studies suggest porn may increase attraction between partners.
Contrary to the fear-mongery data swimming around on the topic, this study of 280 Idaho men showed that the ones who viewed pornography had higher sexual sensitivity—the opposite of erectile dysfunction. (Science Of Us)
9. Instagram is the new support group for those with weight-loss goals.
With popular hashtags like #Whole30, #FitFam, and #WeightWatchers, Instagram has become home to thousands of people looking for support while they work on reaching a healthy weight. Researchers say the social media platform has found particular success among dieters because it provides a sense of community while still offering some privacy. (NYT)
10. Could this test predict Alzheimer's in young adults?
A new study suggests that a simple genetic test could one day help people as young as 35 identify whether they might develop the disease. Researchers say this could encourage those at risk to make lifestyle changes early on. (The Telegraph)
11. Are Maine blueberries the new Maine lobster?
Residents in Maine are saying yes to the newest locavore trend, wild blueberry salad. Don't worry, though, this new offering won't turn you into a berry like the gum-chewing Violet Beauregarde in Roald Dahl's Charlie and the Chocolate Factory. Instead, it'll add a tongue-dyeing crunch to a summer staple. (Eater)
12. New studies aim to discover why more black women die of breast cancer.
A $12 million grant from the National Cancer Institute will fund research of over 20,000 black women with breast cancer, comparing them to black women without the disease and to white women who suffer from breast cancer. (NYT)