4 Tiny Tweaks To Clear Anxious Energy + Turn Your Home Into A Zen Oasis
mbg Class Instructor & Meditation Teacher
By Light Watkins
mbg Class Instructor & Meditation Teacher
Light Watkins is a Santa Monica–based Vedic Meditation teacher, mindbodygreen class instructor, TEDx speaker, and author of Bliss More, How to Succeed in Meditation Without Really Trying. He grew up in Montgomery, Alabama, and graduated from Howard University with a bachelor's in communications.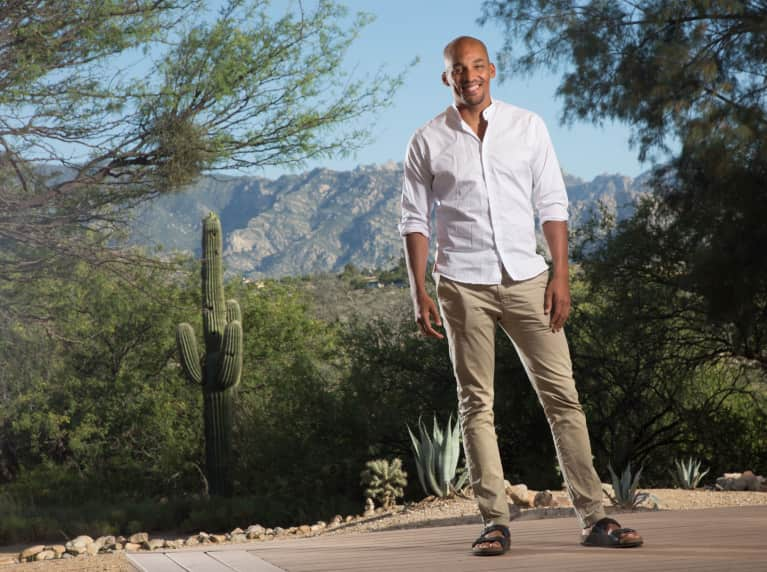 Our editors have independently chosen the products listed on this page. If you purchase something mentioned in this article, we may
earn a small commission
.
One of the reasons anxiety levels are on the rise is due to the fact that for the most part, millennials live in isolation. Thanks to the internet, though, we feel like we're more connected than ever. It gets confusing.
Yet, humans are a tribal species, with deep roots in nature. And the more we can live in alignment with our nature roots, the better equipped we will be to stave off anxiety.
Here are some tips for doing just that:
1. Bring more nature into your home.
In order to keep anxiety at bay, you should always have a combination of some of the following in and around your home or apartment: plants, flowers, a water fountain, wind chimes, seashells, crystals, and natural light.
These natural elements are known for keeping us more balanced and calm than living alone solely surrounded by furniture and technology.
Decide what brings you joy. As they say, our outer environment influences our inner state, and vice versa. If you keep a cluttered home full of items that give you a neutral response, you're ignoring one of your most powerful anti-anxiety hacks. As Marie Kondo, author of The Life-Changing Magic of Tidying Up recommends, take each item in hand and ask, "Does this spark joy?"
If so, keep it. If not, get rid of it.
2. Find something to take care of.
Nothing sparks joy quite like having a dog that treats you like you just won game seven of the World Series every time you walk into your house.
There's a reason that dogs are used as service animals: They're great for alleviating anxiety. If you're not able to get a dog, nurturing a garden or planted vegetables can do the trick too.
3. Stock up on fresh foods.
Speaking of planted vegetables, stock up on natural, healthy, unprocessed foods and snacks. One of the biggest contributors to anxiety is diet. Eating salty and sugary foods can cause us to feel lethargic, unmotivated, and anxious. On the other hand, consuming fresh fruits and vegetables can offset feelings of lethargy and inspire us to work out and adopt other healthy habits that will fortify us against anxiety.
Research says that living in isolation is a common cause of anxiety. We need community and companionship to feel healthy, happy, and anxiety-free. While we can't always choose to be in a primary relationship, living with a roommate or temporary guest is a great alternative.
And it's now easier than ever (and in some cases more profitable), to live in community. Through sites like airbnb.com, couchsurfing.com, the new home-sharing site myplace.ninja, or the app Overnight, you can pick and choose like-minded people to become a part of your tribe for a night, a month, or longer.