Simple Healing Techniques To Get You Through Life's Toughest Times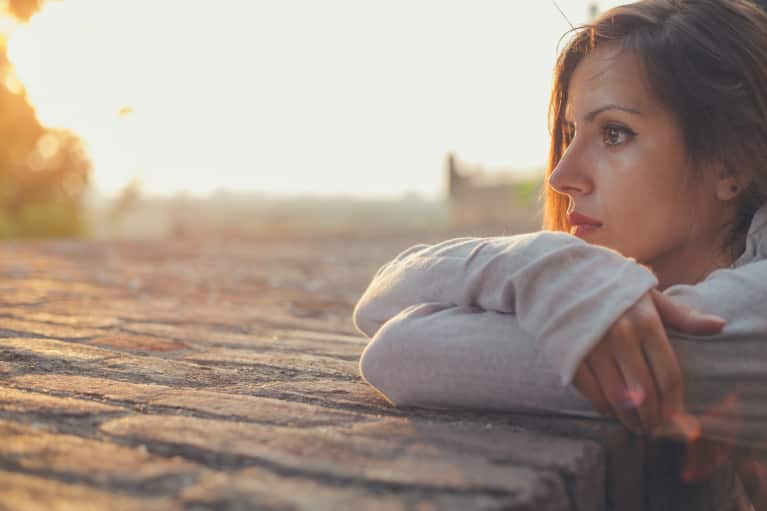 On March 6, 2014, my husband Zarko lost his battle with depression and took his own life. He had abandoned himself and all of us, and we were left to make sense of his fateful decision. Each day after Z died, I woke up with what felt like a knife through my heart. I knew I had more in my life to live, to give, despite my heavy burden. If I could work through my grief consciously and not let it bury me, then I could heal. I had to find hope to cope.
Hope isn't something you can necessarily store in your reserves—it needs to be authentically generated when facing a crisis. It is a kindling of a feeling you need to strike fire with; a promise you make to yourself in a state of strife; that faint distant light in a suffocating tunnel of oppressive darkness. In the early days after Z's death, hope was a tiny voice inside me being constantly muffled by waves of fear. My objective life circumstances could very easily stamp me as "broken." Yet, even when I felt my most shattered, I instinctively knew there was beauty among the shards that impaled me. There were lessons, insights, courage, and failings, all of which could be learned from and applied to my new go at life.
Key principles and simple practices held truth and strength for me while grieving— they became my life preservers, buoying me during a challenging time. They might be useful reminders to others struggling with grief, loss, or hopelessness, too.
1. Wrestle shame to the nearest exit.
The most important decision I made was not to allow shame surrounding Z's illness and suicide to pin me down. Z's only real failing was that he isolated himself into trying to manage his illness on his own. Shame was very possibly the driving force that led Z away from healing himself and quickened his pace toward death. Repressing shame only gives it unbridled access to burrow into our psyche, a parasite that eats away at our sense of worth.
Whenever the heavy wave of shame would take me over after Z's death, I trained myself to address it privately but directly. Shame serves a purpose, for it reminds me that I have work to do in forgiving myself and others and points me in the direction of my deepest pain. When shame visits, I greet it and then gently wrestle it to the nearest exit. To hasten its farewell, I summon compassion, my favorite friendly antidote, to my table. With compassion, my shame drifts away and hope rises again.
My husband Z opted out of using his resolve for life, so I had to opt in to mine to counterbalance his exit.
2. Opt in to the life in front of you.
My husband Z opted out of using his resolve for life, so I knew had to opt in to mine fully to counterbalance his exit. I value life's moments differently than I did before this tragedy occurred, for I am aware of the tenuous reality of my existence. Many of us systematically opt out of being engaged in life while living it. I do this by defaulting to "defensive living"— disengaging in subtle ways. Canceling workouts or meetings because I can't deal; not responding or communicating with others when I am stressed; dulling my senses with food, drink, or crowds; not engaging in real conversations; escaping into the numbing sphere of technology and entertainment.
The precious realization that I came to in suffering from loss is that I am here right now with no guarantees for tomorrow. This should never be taken for granted. I nudge myself when I start to drift and disassociate. Since Z's death, every day, every moment, every shifting mood or banal daily routine now has some beauty in it. Death's silver lining is the very miracle of life itself. I established a new appreciation for simple pleasures: a freshly brewed cup of coffee, a local hike, laughter with loved ones, a lovely glass of wine, people-watching from a bench, children playing with carefree abandon, walking my dog, warm hugs, an exquisite sunset, even a foggy day. Being conscious of when I check out prods me to take a deep breath and re-engage with the reality in front of me.
3. Seek nature's counsel.
Right after Z died, we moved temporarily to a friend's quaint little guesthouse on the edge of a quiet cove. Often struck by grief, I would stare out the window at a small weathered raft anchored in the harbor below. Each afternoon, fat, wobbly seals from the bay would wiggle their way onto it and promptly lie down to sun and rest themselves. I would marvel at these piles of blubbery forms rolling around in their lazy bliss, waves rippling below them as they rested, taking a healthy break from being submerged in waters below. It was a silly but comforting sight, one that would always silence and calm me.
If I hold on to my old story too tightly, I am doomed to feel cheated out of my investments.
Observing nature is like watching a moving painting, one vastly bigger than me, one too beautiful to capture in words or images but filled with perpetual vitality and subtle order. In nature, I bear witness to a larger network and feel the significance of my humble place. My thoughts become unstuck and begin to flow again; my mind finds a channel in nature's metaphorical mirror. I no longer feel gripped by an agenda, only gifted with a quiet purpose. I seek nature's counsel to calm my mind and open my heart.
4. Weather your feelings.
It has always been important for me to let my children know that feelings are healthy and human. I often tell them to liken grief and feelings to the weather: Sometimes it feels sunny and beautiful in our lives, and we shouldn't reject good weather just because something sad happened. Sunshine should be enjoyed fully, yet when the clouds and the storm of grief arrive, we should embrace the rain, let the thunder clap and lightning strike. It too shall pass. It always does. The moods of grief and life are unpredictable, but they come and then they go. Acknowledging their temporal nature lends us the promise of relief-to-come and instills a deep appreciation of life's upticks.
5. Reframe your changing story.
Surviving my tragedy and building hope for the future presented me with an opportunity to write a new chapter my life. I am learning to incorporate plot changes as they come. If I hold on to my old story too tightly, I am doomed to feel cheated out of my investments. I have rewritten my story, incorporating my unexpected tragedy into my new storyline, part of my soul's work, part of my journey. My biography will always carry my loss in it.
Since Z died, I have stopped holding on to expectations when it comes to relationships, career, and life. Expectations are recipes for resentment and failure. They set us up to feel like we are always taking a wrong turn, that we have been cheated out of what we deserve. I have exchanged expectations for the mystery of being surprised. Sometimes we are surprised positively, often we are surprised negatively, but the beauty in allowing ourselves to be surprised is that we don't have to constantly deal with our expectations being unrealized.
Physical activity has been a critical part of attending to my mental health and balance in my life. I can completely shift my state of mind by merely breaking a sweat. I used to have ridiculous expectations around how much exercise I should be doing and never feel as if I was doing enough or dreading having to do it, all of which took away from the pleasure of just doing it. After Z died, I let go of a lot of vanity-driven expectations around exercise and began relying on it purely for the daily mental shift and physical relief it gave me. Feeling mentally fit is a far better motivator than trying to look better. Breaking a sweat increases my ability to handle difficulties and enjoy pleasures. On busy or lazy days, I might only break a slight sweat. On better days, I push my body into working hard and trying to soak my shirt. A good sweat results in an uncluttered mind, not to mention calm thoughts and great sleep.
Handling life's curve balls with dignity and putting my energy toward others is far more fulfilling than pursuing selfish gains. We build character by committing to the reality of our lives, by being true to our passions and pursuing our interests with loyalty and discipline. It is important to be brave enough to do things poorly in the spirit of helping, to not let aspirations, perfectionism, or fear of mediocrity zap our motivation to try harder.
We need to find gain in our pain in order to move forward positively. We can never heal if we allow isolation to seize our lives when we experience something difficult. Putting our passions and talents towards being of service to those in need takes us out of ourselves, opens up new and interesting doors, and commits us to being compassionate contributors to the human race.