5 Health-Boosting Items A Doctor Always Brings On Vacation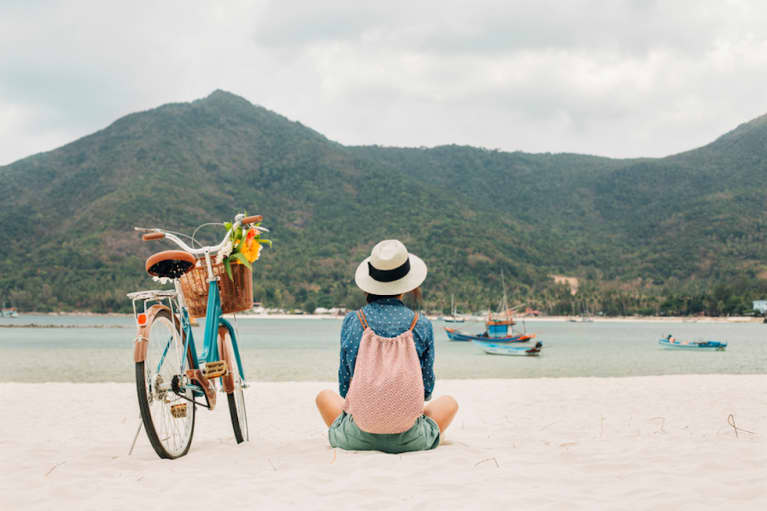 Summertime is getaway time, be it to a nearby beach, a cabin in the woods, or a far-off land a plane ride or two away. And, of course, some folks travel virtually year-round to work and play.
So how to avoid travel ills no matter how much you roam? Simple: Keep your body fortified all year long so it's less susceptible to bugs—and better equipped to fight them should one or two gain a foothold.
Traveling with a stash of magnesium is like having a mini medicine cabinet in your carry-on.
How to fortify yourself? The classic rules apply: Eat fresh, whole foods; get regular exercise; get enough rest; steer clear of sugar, drugs, and alcohol; and supplement strategically to help fill in any nutritional gaps along the way.
Then, when it's time to hit the road, add a bit more firepower to your health arsenal by stocking your carry-on with these five travel essentials:
1. Probiotics: Your Insurance Against Traveler's Belly
It's always a good idea to pay attention to your gut health, and do what you can to keep your microbiome in balance. A compromised gut won't function well and will contribute to digestive problems like chronic indigestion, abdominal pain, bloating, diarrhea, constipation—none of which you want to be dealing with while away from home.
To keep your gut in check, two of the simplest things you can do is to lay off the sugar that bad bacteria thrive on and add a daily probiotic supplement to keep defenses on high alert. Look for one that doesn't need to be refrigerated, so you can travel with it. Taking one promotes healthy digestion, balances intestinal flora so the bad doesn't overwhelm the good, and helps strengthen your overall immune function. Probiotics offer a tremendous amount of protective health bang for your buck, so take advantage!
2. Magnesium: The All-in-One Fixer-Upper
Responsible for the metabolic function of over 350 enzymes in the body, magnesium is a crucial mineral and a powerful remedy for many ailments. It's one of those wonderful, good-for-what-ails-you supplements that's great for travelers who need gentle relief from constipation, headaches, or help falling asleep. It's also a drug-free way to help relieve menstrual cramps and muscle aches after a long day of sightseeing.
Traveling with a stash of magnesium is like having a mini medicine cabinet packed into just a few capsules, so think of it as a space saver, too.
3. Greens Powder: The Caffeine-Free Way to Power Your Day
I'll admit it, I am a bit of a greens freak, and I encourage you to become one too—particularly if you often find yourself coming up short on energy. Add greens powder to cold water, and shake up an energy drink that nourishes every cell in your body and gives you a terrific, jitter-free boost to flagging energy, especially if you haven't been eating enough leafy greens or you just need to make it through one more museum without taking a nap!
Green drinks are an easy way to supercharge your diet with nutrients, prebiotics, and digestive enzymes—all of which will help keep your gut balanced and your immunity high, no matter where you roam.
4. Health-Boosting Beverages: The Best Way to Hydrate and Refresh
In addition to carrying greens powder packets, I also travel with a small selection of ingredients that, when combined with water, make instant healthy "drinks with benefits." For my DIY beverage bar, I always take along the following:
Organic dried lemon powder, plus stevia packets to make a light lemonade, with detoxifying benefits
Blueberry hibiscus tea bags, which, in seconds, make a delicious fruity drink that's also great for blood pressure and vascular health
Rooibos tea bags, for a more traditional tealike taste without the caffeine
DIY energy drink, made with ribose, a simple sugar that offers quick energy for especially intense or physically demanding days spent hiking or cycling
5. Healthy, Spoil-Proof Snacks to Fuel Your Vacation
Uncrushable, healthy, and delicious, a few single-serving packs of organic almond butter are always in my bag, ready to save the day when healthy foods are hard to find. Among my other favorite on-the-go treats that travel well: almonds and other nuts or organic trail mix.