This Is The Healthiest State In The Country. Here's Why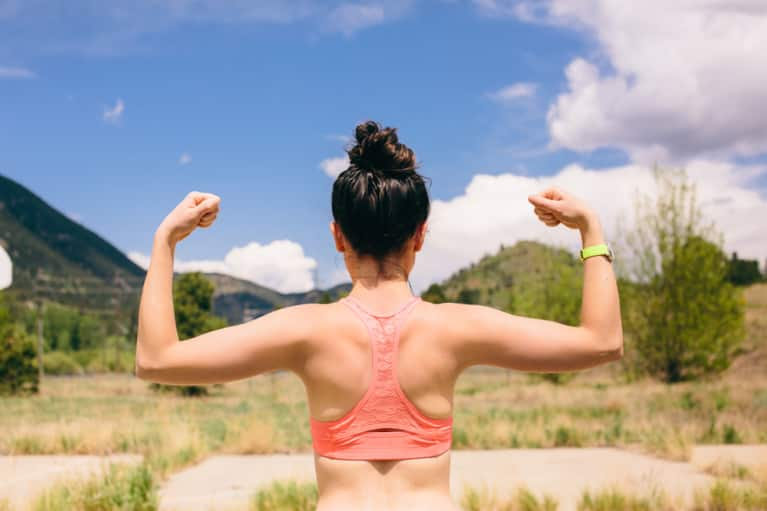 Our editors have independently chosen the products listed on this page. If you purchase something mentioned in this article, we may
earn a small commission
.
This piece was co-authored with Dr. Holly R. Wyatt.
While across the country America battles an obesity epidemic, one state manages to stay surprisingly slim: In Colorado, the obesity rate is the lowest in the nation, at just above 20 percent. (In some states, more than 35 percent of residents are now obese.)
As weight loss experts and Denver residents, we decided to write our book, State of Slim, to uncover how Coloradans manage to maintain their health. Here, we're sharing the six key factors we learned. So even if you don't call Colorado home, you can achieve your own State of Slim wherever you live:
1. Stay active every day.
It all starts with moving your body. It sounds simple, but a Mile High Metabolism is the cornerstone of what makes Colorado the leanest state. Coloradans are active every day, enjoying activities such as walking, cycling, hiking, and skiing.
It turns out that this activity does much more than just burn calories—it also allows you to optimize your metabolism and to adjust to the foods you eat. We call this metabolic flexibility and it is a big key to staying slim. Your metabolism doesn't work well when you stop moving.
Figuring out how to make physical activity a part of your day is essential. We suggest eventually working up to 70 minutes of activity six days per week. There is no way around it: To be lean you have to be consistently active.
Many Coloradans are "foodies." They value quality over quantity and look for fresh, healthy food that tastes good. To get started, focus on minimally processed foods that deliver flavor and fuel your body. Think of your body as a sports car that needs the very best fuel to perform. Concentrate on smaller portions of good-for-you food, and leave lower nutritional value foods for your occasional indulgence meal.
From a mindset standpoint, don't think about how much food you can get for your dollar. Instead, think about the quality of food you can find for your dollar.
3. Create your own healthy environment.
In Colorado, it's common to rub elbows in everyday life with people who value their health and live an active lifestyle. It's just part of who they are. It may not be as easy in other places to find these "healthy" people, but you can find and associate with people who value health and wellness anywhere—you may just have to look a little harder.
It really is true that behaviors are contagious. Hanging out with these people makes it more likely you will adopt these healthier behaviors. It's also important to make sure you have plenty of healthy food (including snacks) around the house and workplace and that you create a physical environment that encourages you to move more and supports an optimistic attitude.
4. Stay true to your purpose.
It all starts with why. Why do you want to change your lifestyle? Why do you want to lose weight? What do you want to do with your life? Connecting your inner purpose with your weight loss journey is a critical piece of long-term success.
Coloradans have made the connection that staying slim allows them to better fulfill their bigger life goals. True transformation occurs when you begin to align your lifestyle with your life purpose and values.
5. Believe you can succeed.
If you don't think you can succeed at losing weight and keeping it off, you won't. You have to have a realistic plan for changing your lifestyle and a belief that you can make changes. The body follows the mind, and if you don't believe it will happen, you are shutting the transformation process down even before it has a chance to start.
Coloradans expect success, and that translates into better outcomes as well as a healthier, lean body. They are empowered to be the victor and are less likely to be a victim of circumstance. They see living healthy as something they get to do; not something they have to do. Living in a "State of Slim" is a choice, and you can make it full of opportunities or full of barriers. Always expect success.
6. Make healthy living fun.
We don't continue to do many things that we don't like. Coloradans live a healthy lifestyle because it is fun. It's fun to eat fresh, healthy, good-tasting food and fun to get outside and move. It feels good to be in sync with your bigger life purpose and to expect success. It's not about deprivation or gritting it out for a few weeks until the weight comes off. It's about enjoying a new way of eating, living, and thinking. It's about finding a new identity that is exciting and enjoyable. It is finding the real you.
State of Slim may have started in the state of Colorado, but it really is a state of being and living that can be adopted everywhere. Savor the lifestyle and you are on your way to a forever transformation and a whole new way of life.
Related reads: