Why Some Nutritionists Don't Consider Coconut Oil "Healthy"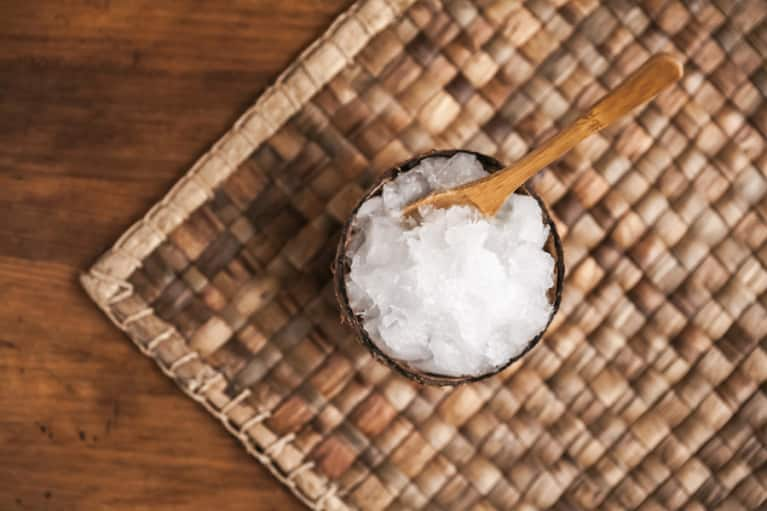 Unsurprisingly, the American public and nutritionists have differing views on what they consider healthy. So much of our nutritional knowledge has changed in recent years, and with all the conflicting studies coming out, it's no wonder we're all confused. Even the FDA isn't sure about it, recently agreeing to review its standards for what foods can be called "healthy."
Sure, we all can agree that soda, french fries, and chocolate chip cookies are not healthy, and that kale, apples, and oatmeal, are healthy choices. With those foods, it's pretty black and white. But what about the more gray area foods?
With the Morning Consult, a media and polling firm, the New York Times surveyed hundreds of nutritionists—members of the American Society for Nutrition—and 2,000 Americans, asking them whether they thought certain food items were healthy.
The results published this week show a surprising diversity of opinion. For example, Americans still believe that granola is a health food, though we'd thought it had pretty clearly transitioned from a healthful hippie staple to a sugar-laden breakfast demon akin to Cocoa Puffs, as many nutritionists believe it to be. Frozen yogurt, too, was considered more healthful by everyday Americans than by experts, because it can contain a lot of added sugar.
But that's not surprising. The real eye-opener here is that the majority of nutritionists claimed that coconut oil—yes, our beloved cure-all coconut oil—was unhealthy, while most Americans (including us) believe it to be the ultimate health food.
But how, oh how, can this be? We turned to Dr. Robin Berzin, a functional medicine physician, who says she disagrees with the nutritionists on this one.
"Coconut oil can be a healthy food for most people. Studies have proven its health benefits, including raising HDL (good cholesterol), lowering LDL (bad when excessive), anti-fungal properties, and brain protection. It can also help with weight loss.
"One of the issues in nutrition science today is that the research is based on hospitalized patients and very sick people. I find that it can be irrelevant for people living their daily lives who need functional tools—and foods—for healthy living, like the ones we prescribe at Parsley Health. Of course there are exceptions and every approach should be personalized to the individual."
So, does she tell her patients to use it? Definitely, she says.
"I recommend coconut oil 1-2 tbs daily for my patients who have cholesterol imbalances, fungal issues or even skin issues. We have seen it be effective topically for dry skin and sometime eczema."
The Times' survey shows that many shoppers want to eat healthful foods but don't know what to choose—and that sometimes the science is murky to experts, too. It really highlights how much remains unknown in the nutritional science world.
"Twenty years ago, I think we knew about 10 percent of what we need to know" about nutrition, Dariush Mozaffarian, the dean of the Tufts Friedman School of Nutrition Science and Policy, told the newspaper. "And now we know about 40 or 50 percent."
So while there will always be questions about nutrition, you're doctor-approved to keep your beloved coconut oil—to bake, roast, and sauté with, spread on toast, scoop into smoothies and in coffee, and even rub all over your skin. You can exhale now.