I'm a Celebrity Nutritionist. Here's How I Navigate Any Party The Healthy Way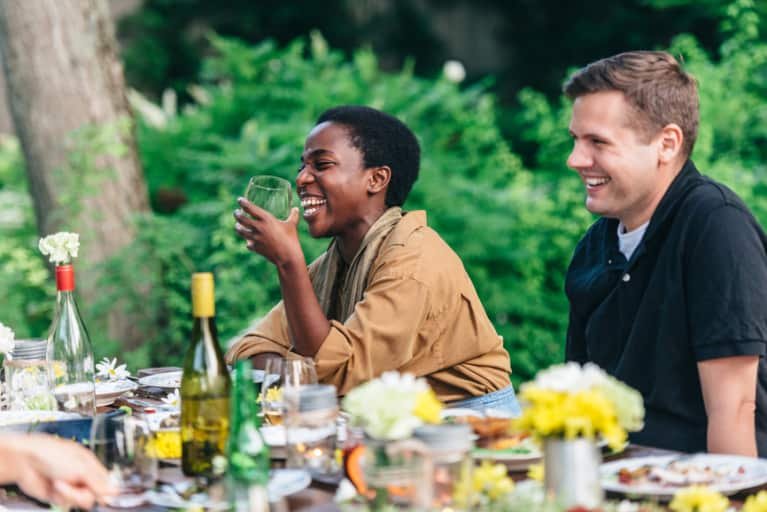 I attend numerous social events, partly out of obligation but also because I enjoy hanging out with like-minded folks and having fun. Most of these events revolve around food.
For many people, festive get-togethers become a place diets go off the rails, where a week of herculean effort becomes a mindless woohoo weekend that typically begins with something like a basket of chips and salsa tossed back with a few margaritas.
Most social events I attend involve health-forward folks, but occasionally even I confront less-than-stellar eating decisions. Trust me: I'm all too aware of how a momentary indulgence can become a massive dietary debacle.
The key becomes planning intelligently. A little self-control coupled with these seven strategies helps me navigate any social function with grace, dignity, and no lingering morning-after regret.
You know how most social events go. They start an hour late, portions are microscopic, or the main dish contains dairy or other problem foods.
Once you arrive, you're starving, your handsome server carries out a plate of hors d'oeuvres, and next thing you know you're polishing off your fifth bruschetta as you anxiously anticipate dinner.
Avoid that debacle with a handful of slow-roasted nuts or some grilled chicken breast before your dinner party to curb your appetite and cravings so you can focus on guests rather than those mini pastries.
2. Once through and I'm done.
All-you-can-eat doesn't mean you should. Whether you're at your summer family picnic or a brunch buffet, I fill my plate once and step away from the food table.
Comfortable, relaxed attire invites overeating. I'm looking at you comfort-waist pants and baggy sweaters, which are neither flattering party attire nor fat-loss friendly.
When I don that little black dress or skinny jeans (fitted becomes key here), I think twice before devouring that salted caramel gelato (even if everyone else is raving about it).
I can't imagine social occasions without a glass of pinot noir, yet I know drinking on an empty stomach can make some high-sugar-impact catastrophe awfully tempting.
I'll often save wine for dessert and stick with mineral water with lemon or lime beforehand. Regardless, I always have two glasses of water for every alcoholic drink.
Occasionally I want to indulge in some gooey concoction. Rather than abstain or feel deprived, I'll enjoy three polite bites—we're talking what you would eat on national TV, not during a midnight fridge raid—and step away from the dessert.
Not every indulgence warrants the three-bite rule. Remember that even a little gluten or other food you are intolerant to can derail your efforts, so proceed accordingly.
Empty hands at your company's cocktail party make grabbing all too easy, especially when you're a bit relaxed from the pinot noir.
Before you know it, you'll find yourself mindlessly reaching for warm halloumi bites as you halfheartedly make small talk with your colleagues. That's why I keep a clutch in one hand and mineral water in the other. Guys, you can sub an iPhone or another electronic gadget for the clutch. Just don't check your text messages every five minutes!
7. I give myself a curfew.
Dinner parties and other affairs can carry on well past midnight, but that doesn't mean I feel determined to keep up. I give myself a solid curfew before I arrive to ensure seven to nine hours of solid, uninterrupted sleep. If I'm giving my own party, I usually send invitations with a window that gives guests an expectation as to when things should wind down.
What one strategy would you add to navigate any social situation healthily? Share yours on Facebook.