Shake Up Your Summer Salad Routine With Bell Pepper Panzanella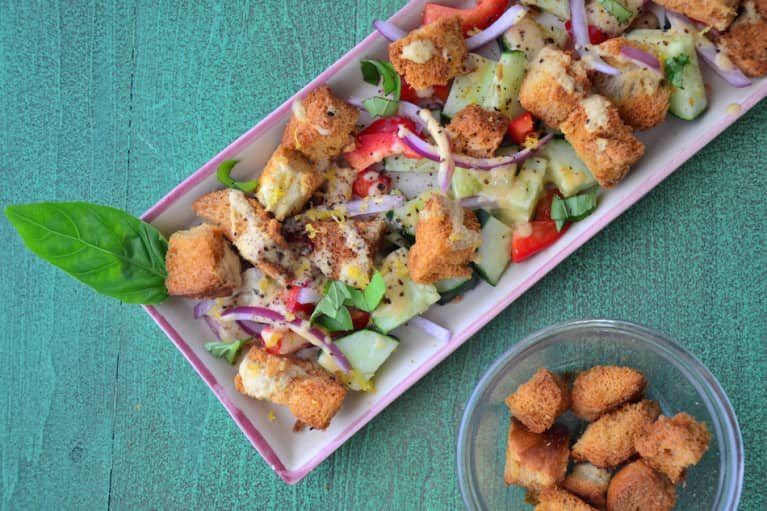 This simple recipe can be made for a summertime lunch or side salad for dinner. I opted for making red bell peppers the star of this panzanella instead of tomatoes to switch it up a bit from the traditional panzanella.
Feel free to use orange or yellow bell peppers instead of red ones, if desired. This recipe goes well with my Grain-Free Sweet Potato Flatbread on the side.
Summertime Bell Pepper Panzanella
1 loaf leftover gluten-free Italian bread, cut into 1-inch pieces
2 tablespoons plus 1 teaspoon extra-virgin olive oil, divided
Sea salt and freshly ground pepper, to taste
2 large red bell peppers, seeded and thinly sliced
1 large heirloom tomato, diced, optional
2 large English cucumbers, quartered
4 large fresh basil leaves, finely chopped
½ cup thinly sliced red onion
½ teaspoon Dijon mustard
2 teaspoons red wine vinegar or balsamic vinegar
Pinch of chili powder or crushed red pepper flakes
1 teaspoon freshly grated lemon zest
Preparation
1. Preheat oven to 350°F.
2. In a large bowl, combine bread cubes, oil, sea salt, and pepper. Toss to combine; transfer to a rimmed baking sheet and bake for 7 minutes or until golden brown and crispy.
3. Meanwhile, combine bell peppers, tomato, cucumbers, basil, and red onion in a large bowl; set aside.
4. In a small bowl, whisk Dijon mustard, vinegar, chili powder, sea salt, and pepper. Season to taste and adjust seasonings as needed.
5. Remove the bread cubes from the oven; add to the bell pepper mixture and gently toss with the Dijon dressing. Let the mixture sit at room temperature for 20 minutes before serving to let the flavors marry. Toss again, garnish with lemon zest, and serve immediately.