9 Things You Need To Know Today (July 5)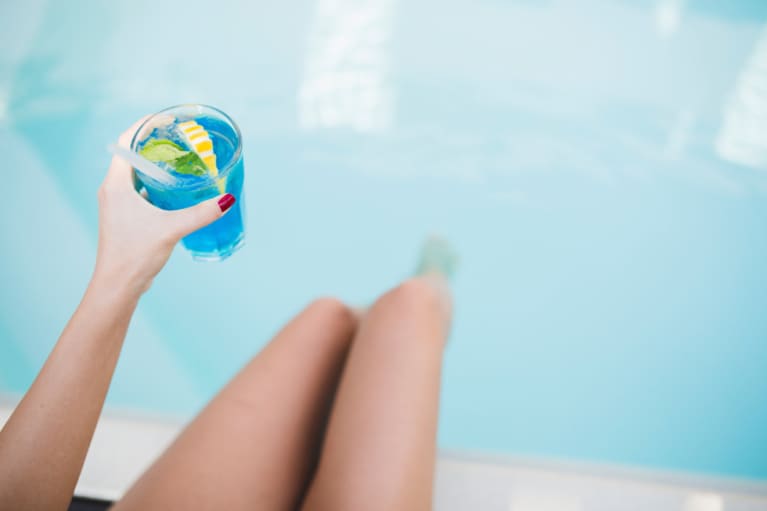 1. This cool all-natural ingredient makes your drink change color.
Butterfly pea flower is a blue blossom that's been used as a natural food dye for centuries. Now, one bartender is making it popular again with a hue-changing cocktail. When the butterfly pea flower interacts with an acid (like in lemon juice) it changes from blue to purple. That's one pretty party trick we want to learn! (NYT)
2. President Obama's midnight snacks are surprisingly healthy.
The POTUS considers the evening hours he spends alone in his study to be his most productive. So how does he fuel his late-night work? "To stay awake, the president does not turn to caffeine," the New York Times reports. "He rarely drinks coffee or tea, and more often has a bottle of water next to him than a soda. His friends say his only snack at night is seven lightly salted almonds ... Not six. Not eight. Always seven almonds." (NYT)
3. Scientists are beginning to speak out about the dangers of certain toxic chemicals.
A panel of 50 distinguished scientists just presented a body of research that dives into the link between chemical exposure and neurodevelopment disorders and calls for more aggressive chemical regulation in the United States. They identified insecticides, flame retardants, particulate air pollution, lead, mercury, and PCBs as the most egregious toxic offenders. (EWG)
4. Americans spend almost half of their food budget at restaurants.
It's really starting to feel like nobody cooks anymore. Last year, people shelled out 42 percent of their food money at fast food and sit-down establishments. While convenient, a lot of these restaurants have a serious impact on people's health due to the meals' high sodium and sugar content. (TIME)
5. We just found a green gadget you need for your desk.
It's a new bottle-size purifier that creates a 3-foot cone of clean air—really clean air. By pulling air through a medical-grade filter to remove particulates, it picks up everything from cat dander, mold, and bacteria to pollution from traffic or power plants. The device also comes with a separate sensor that monitors air quality so users can see exactly what's being cleaned up. (Fast CoExist)
6. Many people struggling with infertility don't seek help.
A new study finds that almost half of British people who had experienced infertility didn't seek medical help. The researchers say it's likely because of inequalities in access to care. After all, patients who were more likely to receive help tended to be older, better educated, and had higher incomes. (HealthDay)
7. Need to come up with a creative solution? Do something boring.
OK, it doesn't have to be boring, but it should be something easy that enables your mind to wander—like running, washing dishes, or taking a shower. Doing these "low cognitive load" tasks frees up space in your mind to come up with more unique ideas than you would if you were stressed. (TIME)
8. Climate change is putting an important species at risk.
A new study found that the number of Adélie penguins, one of only two penguin species native to Antarctica, could decrease by as much as 60 percent by the end of the century due to global warming. (The Washington Post)
9. Are women more susceptible to Zika?
New research suggests that women are much more likely to be infected than men—even though they are equally exposed to mosquitoes. Scientists suspect it could be because Zika is easily spread from men to women during unprotected sex while there haven't been any known cases of female-to-male sexual transmission. (NYT)