How To Host Your Own Healing Tea Ceremony
I've served tea ceremonies to lovers promising "I do," to children dressed as fairies, to friends mending their hearts, to the sound of music, to the silence of meditation, to my partner and children, to festival-goers seeking quiet refuge, and to my tea teacher mourning the imminent loss of a loved one.
My varied encounters have shown me that the tea ceremony, even in its most basic form, has the power to transform.
Tea invites us to connect with nature, with our community, and with the deepest parts of our unknown selves. Here is my beginner's guide on how to start offering tea to those near and dear to you.
The essence of tea ceremony is hot water, tea leaves, and a bowl or cup to put them in.
Do what comes naturally to you, and never be afraid to make mistakes. Trust in the moment as it unfolds and value your imperfections as if they are gold—because they are. Your mistakes will transform you into a prosperous, more compassionate human being. They will inform you of who you are and provide feedback on what you might approach differently.
Your guests will realize it is perfectly OK to spill a little tea once in a while and find ease in knowing they, too, can be themselves.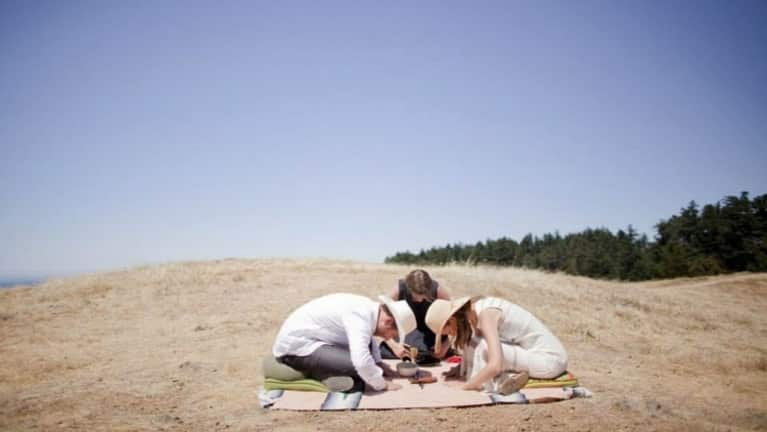 2. Create a peaceful setting.
A tea ceremony is an opportunity to bring peace and beauty to your environment. It is customary to sweep and dust the tea room before the ceremony. Make this an opportunity to clear away that which is no longer needed.
A room filled with the aroma of freshly cut flowers or swirling incense will awaken the senses and draw participants into the present moment. You might also consider serving outdoors to enjoy direct communion with the natural world.
If you live in an urban area with a loud soundscape, enrich the ambience of your space by playing a soothing, meditative playlist. Consider the comfort of your guests when arranging the seating area. You might choose to place chairs around a tabletop or arrange floor cushions around a low-lying tea table.
Greet your guests at the door. Offer a glass of water to quench thirst, then invite them into your tea space. Introduce your guests to one another, and share an abbreviated story about how you know them.
Speak from your heart. Tell them how grateful you are for their presence and the efforts they've given to join you. Creating a heart connection with your guests will invite greater understanding and intimacy during the rest of the ceremony.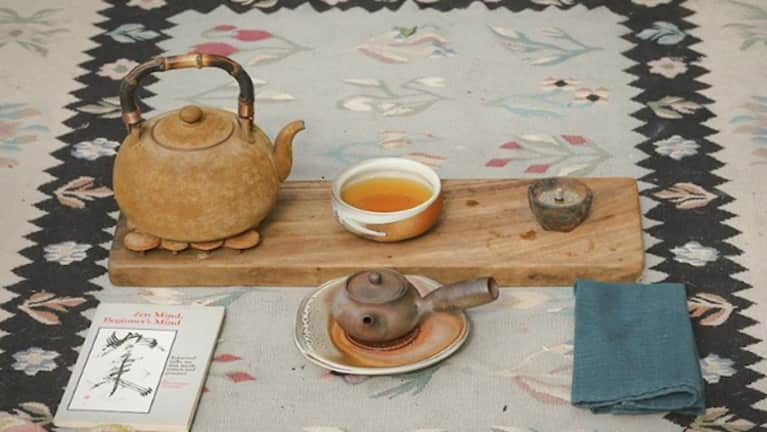 The essence of the tea ceremony is hot water, tea leaves, and a bowl or cup to put them in. Anything else is extra.
So start with the familiar and grow outward. Use teaware that is meaningful to you. It would be perfectly adequate to pour tea from an old ceramic pot you inherited from your aunt into a mismatched set of coffee mugs.
There is a universe of tea varieties and steeping methods to explore. Be patient and start simple by serving a tea you have experience with. Experiment with the steep time beforehand, and try to always choose a tea that is free of chemicals and produced using sustainable methods. If you have a pot with a filtered spout, serve loose-leaf tea. I have purchased some of my favorite organic, loose-leaf teas here and here.
5. Tune in with your guests.
Tea ceremonies are opportunities to create silence and stillness in a fast-paced world. I invite guests to drink the first cup of tea in complete quiet, since doing so gives them the chance to clear their minds and tune into the more subtle energies of the present moment.
Guide your conversation with intention and meaning. Offering a contemplation is a wonderful way to steer the moment into a rich, fulfilling experience. Inspire your guests with poetry, artwork, or an excerpt from a spiritual text that honors the belief system of everyone present.
To complete your ceremony, express your appreciation to guests for their efforts and any gifts (physical or energetic) they have offered to the group. Follow up with a thank-you card or send an email to further extend your gratitude.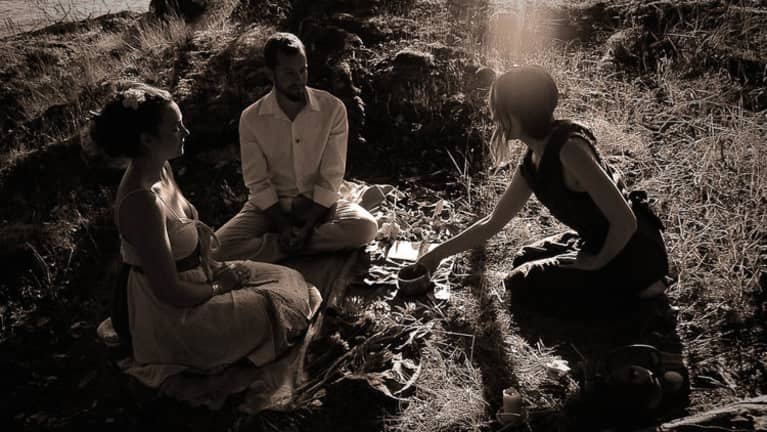 Opportunities for sharing tea
Honor a rite of passage like a birthday, graduation, marriage, divorce, anniversary, parenthood, or birth of a child.
Hold quiet space for a person in mourning.
Create a deeper space for listening during a business meeting or meditation.
Start a daily or weekly ritual of tea ceremony combined with your meditation, yoga, or tai chi practice.
Begin any gathering with a tea ceremony to ground and enhance the connection between participants.
Opportunities to deepen your practice
Serve yourself and/or guests on a daily or weekly basis.
Explore and create a relationship to the many varieties of tea.
Visit tea houses and tea gardens in your area.
Find a teacher or path of education such as globalteahut.org.