Declutter Your Junk Drawer With This 10-Minute Practice
Pick a drawer, any drawer—preferably one at your desk or in your kitchen that's stuffed to the brim with, well, junk!
It may hold old receipts, keys, pens, markers, chopsticks from your favorite sushi place, matches, rubber bands...you get the picture.
Take everything out of the drawer and put it on a nearby surface. Yes, everything means EVERYTHING. Get a damp rag or paper towel and clean that drawer out—who knows the last time it's taken a big ol' breath? Then, try this 10-minute organizing method to totally transform the space.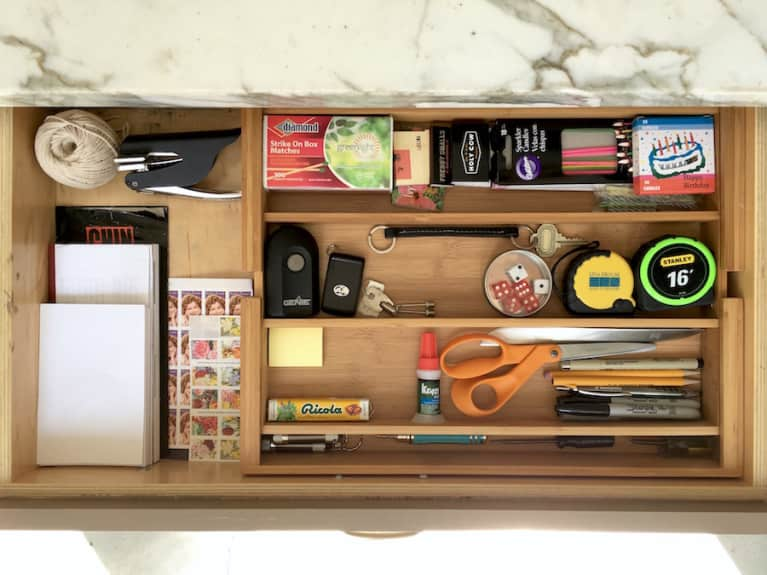 Separate everything you find into categories such as pens and pencils, business cards, hardware items, receipts, keys, takeout menus, photos, letters, and stamps.
Now take note of what you've got. Ask yourself questions like, What am I stuffing into this drawer most often? What should this drawer actually be used for?
Look at each category and make a decision about how much of it you need to keep. You may find you want to donate those three extra staplers or wipe out a whole category entirely. Don't get caught up here—trust yourself, push yourself, and stay on task. Trash, give away, and recycle appropriately and move on to the next step.
Once you've decided which items truly work well in the drawer at hand, place them in your ideal layout. You might want to use drawer organizers to divide the space further. I especially love these, these, and these for the office or kitchen.
A great way to figure out what configuration works best is to measure your drawer space and draw it on a piece of paper. (It doesn't need to be perfect; no one is looking!) Then, play with different layouts based on the shape and size of your objects and drawers.
Now that your drawer is clear, revisit it from time to time. Consider whether the new layout is working for you. Are you still dumping in there or are the categories you chose to keep in the drawer working? Maybe now you can rename your "junk drawer" with a name that's more worthy. Beyoncé, perhaps?
The C.L.E.A.R. method can be applied to any area of your home. Some spaces will take more than 10 minutes, but get started and see how clarity feels. Bet you're gonna be hooked...