Fridge-Stocking Tips That Make Healthy Eating A No Brainer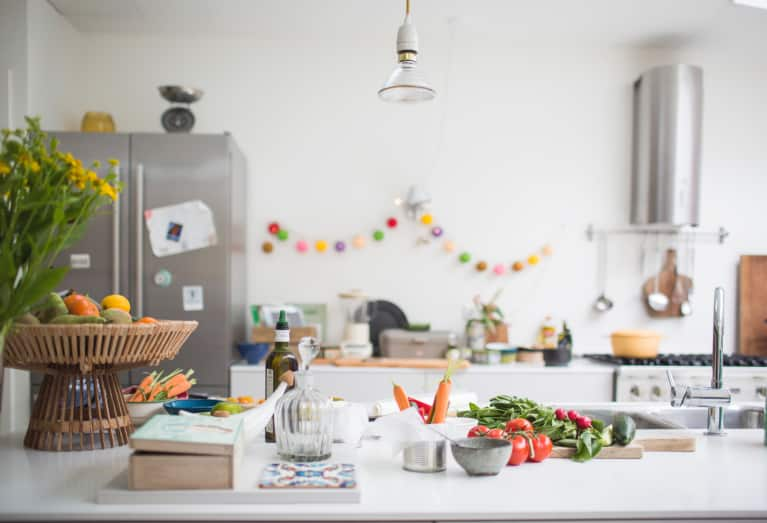 "Does it spark joy?"
This is the question at the heart of the KonMari method in Marie Kondo's The Life-Changing Magic of Tidying Up. But when it comes to food, what are we to do when presented with so many options that undoubtedly spark joy?
Chocolate chip cookies? Yep. Potato chips? Yes, please! Pizza? You bet!
While many of the foods in your kitchen might spark joy on the lips, your waistline and hips may think otherwise. The reality is, if you want to clean up your health, you have to clean up your kitchen first. Here is my take on how to do just that:
Pull out every food or beverage in your cabinets. Hold each one in your hand and answer these questions about the Nutrition Facts label.
Are there more than 100 calories per 3 grams of fat per serving?
Are there more than 200 milligrams of sodium per serving?
Are there more than 1.5 grams of saturated fat per serving?
Is there more than 1 gram of trans fat per serving?
Is one serving enough for that food item or would you eat more than one serving per sitting?
Are there at least 7 grams of protein in a serving?
Are there 2 to 3 grams of fiber per serving?
If the answer to the first four questions is yes, place these items in a group labeled "treats," or consider throwing them in the trash or a give-away bag. Treats are foods that lack nutritional value and are higher in saturated fats, sodium, and added sugars. These foods are more fun than functional. They can fit into a healthy lifestyle, but you don't want to stock your kitchen with them.
We want to keep these foods to a maximum of 10 percent of your diet, so try to stock your kitchen in the proportion you want to eat throughout the week. Tuck these foods away on a bottom shelf in the back of your pantry so you aren't as likely to indulge in them.
If the answer is yes to two of the first five questions, but also yes to 6 and 7, this item should go in the "occasional foods" category, but it should not be one of the foods you intake daily. Occasional foods have some of the good and some of the not-so-good in them. They may have vitamins and minerals, but they also have lots of sodium or added sugars. They can fit into a healthy lifestyle if you enjoy them only occasionally and balance them out with real foods.
If you answered no to the first four to five questions and yes to 6 and 7, then this item likely fits into your healthy lifestyle. Put this into the "healthy everyday foods" category. These foods are low in saturated fats, added sugars, and sodium, and they provide good sources of fiber, protein, vitamins, and minerals. These are the foods that you want to stock your kitchen with and eat every day.
2. Retrofit your refrigerator.
Think about the arrangement of your fridge. Stock your healthy everyday foods at eye level in clear containers so you can see inside each one. Make sure these foods are washed and prepped, making it as easy as possible to reach for them when you open your fridge.
A balanced plate consists of 25 percent protein, 25 percent grains, and 50 percent produce, so stock your fridge accordingly. This will help you follow through when it comes to mealtime.
Place frozen fruits, veggies, and convenient, low-calorie foods at the center, where you can easily grab them. Make plenty of space for leftovers and batches of healthy meals. Put treats like ice cream at the back of the freezer, where they are not so easily accessible.
Changing your eating habits is challenging if you don't change your environment first. You are in charge of how you stock your kitchen, so a little organization can go a long way.
Related reads: