3 Ways To Deal With Stress & Uncertainty On Your Fertility Journey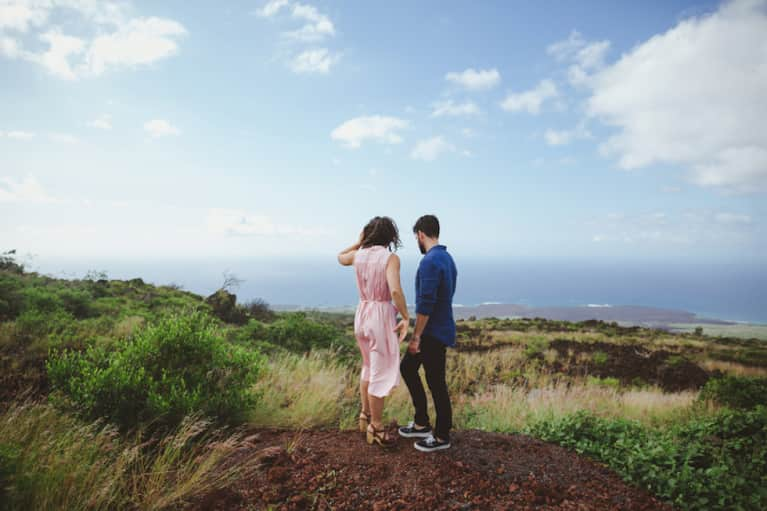 If you're trying for a baby and are feeling stressed, anxious, and hopeless, you aren't alone.
No one plans to experience the pain of infertility. Trying without achieving pregnancy or experiencing a devastating pregnancy loss is painful and overwhelming. The feelings of lowered self-worth and self-esteem, combined with loss and grief, are a powerful blow to be dealt.
But by cultivating a personal road map through simple and effective techniques for the mind and body, you can achieve reduced stress and emotional balance. It's important to remember that pain is inevitable in life, but suffering is optional. Feeling better is not only possible but achievable.
When working with couples and individuals as they navigate the uncertainty of infertility, I recommend three approaches: mindfulness, meditation, and connecting to your body.
Mindfulness is defined as awareness of the present experience with acceptance. It allows you to pay attention to the present moment in a purposeful and nonjudgmental way. By having awareness of what's happening in the moment, you can stop yourself from exacerbating judgmental or distracting thoughts. This allows you to be consciously aware of feelings and accept them to clear your mind and embrace happiness.
The best part of mindfulness is that you can practice it at any time and in any situation. It's an easy, four-step process:
1. Become aware of your mind and body by asking yourself questions.
What thoughts am I having? What am I feeling physically in my body? How do I feel? What do I fear?
2. Tame the fear you are experiencing.
Acknowledge the fear and remember it's just a thought or feeling. Observe and describe the feeling while taking slow, deep breaths. Place one hand in the center of your chest, and call to mind moments of serenity or joy. Focus on these happy thoughts, and once you feel relaxed, take a moment to appreciate this place.
3. Be aware and feel it through.
Practice acceptance and allow yourself to see and accept feelings for what they are: neither right nor wrong. Remember, we can't change what is to come, but we can try to be prepared. There are two options: fight it or work with it. Attend to your feelings and break an emotion into workable pieces. Move through the emotion by remembering that this too shall pass, and like a wave, it will be gone soon. Use your breathing and self-compassion to ride the wave.
Develop the capacity to effectively understand and express feelings and emotions. Anger signifies a need for protection against offense. Fear comes from a need for safety, escape, and soothing. Shame is indicative of privacy and validation. Once you understand your feelings, practice mindful communication. Be intentional, ground yourself through calm, speak slowly, pause and reflect, make eye contact, and observe the moment-to-moment interaction.
Meditation is a transformative practice centered around focus, concentration, and training of the mind. Through meditation, it's possible to achieve clarity, emotional positivity, and inner calm. When the mind is calm and silent, a state of deep peace and relaxation can occur.
Many shy away from meditation because it can seem impossible to find a quiet place and time to meditate. But think of it this way—you likely spend 1,000 minutes a day tending to work, loved ones, housework, and errands. Don't you think that 10 minutes of "you" time is deserved?
Here are some meditation techniques I recommend:
Close your eyes. Exhale all of the air in your lungs and take a slow, deep breath through your nose and exhale through your mouth. Aim for six to ten deep, slow breaths per minute.
By sitting and paying close attention to the sounds that arise around you, you can change your focus and calm the mind. Notice any judgments and thoughts that arise with any sounds, and let them pass away. Aim to achieve awareness of sound without fixated thought or opinion.
The most common mantra to chant is Om. Om represents the union of mind, body, and spirit. The vibrational frequency of Om when chanted (432 Hz) is the same frequency found in nature and is said to connect the chanter to the earth and inner peace.
Close your eyes and repeat one phrase in your mind. Focus on the meaning behind this statement and how it embodies you. Some examples of positive affirmations around fertility can include:
I trust my body.
I allow new beginnings in my life.
I release all emotional blocks that prevent me from conceiving a baby.
I deserve the best outcome, and with joy I am thankful for a new life.
I experience a profound connection to the miracle of life.
I now manifest my decision to have a baby.
Now that you've nourished your mind, don't forget to connect to your body as well. You may notice tight shoulders or a headache, but it's possible to lessen these symptoms by staying in tune with your body.
Keep alcohol and caffeine to a minimum or abstain completely, and stay hydrated with plenty of water. Feed your body whole, nutritious foods with lots of fruits, veggies, and whole grains. Be active through yoga, long walks, swimming, or any other mild fitness options. As you go through your day, scan your body for tension and tend to problem areas.
Take care of your mind and body, and in time, the family and baby you seek will be yours. I wish you peace and happiness on your journey.
Related reads: