The Simple Writing Exercise Olympian Gwen Jorgensen Uses To Succeed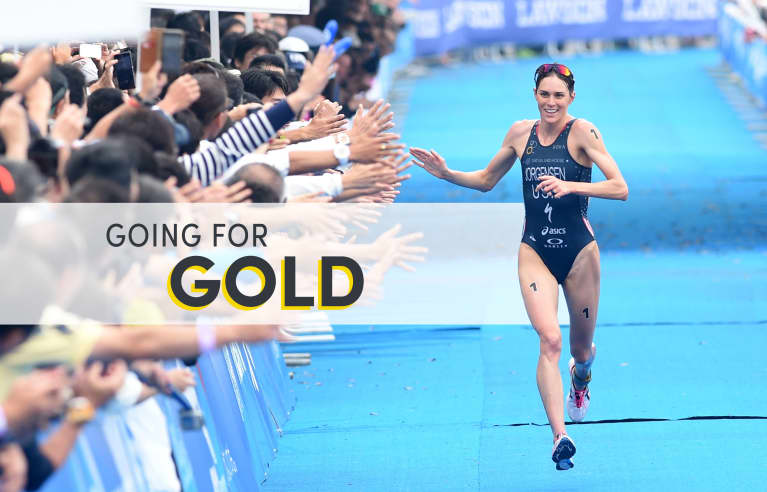 In our new series Going for Gold, athletes heading to Rio open up about the mind-body practices that keep them going and help them win.
As a little girl, Gwen Jorgensen dreamed of going to the Olympics. She swam competitively and was glued to the TV during every Olympic Trial, but was never able to make a national team. "I came to the realization at a relatively young age, in high school, that I would never go to the Olympics in swimming," she says. "I just wasn't good enough."
So when the USA Triathlon organization approached Gwen in 2010 and encouraged her to take up their sport, she was shocked. "One of the first things they said was 'You could be an Olympian,' and I basically laughed at them and said, 'No, I tried that when I was younger.'"
But Gwen, then working full-time as an accountant in Milwaukee, gave triathlon a try, and quickly discovered that she was a natural. She qualified for elite status in her very first race, and the rest is history. This year, the 30-year-old has one goal: to win gold in Rio on August 20.
So as the games draw nearer, it goes without saying that Jorgensen is doing some serious mental and physical preparation. And as is the case with most Olympians, it's not what you would expect. Here's what she told mbg:
Strategizing isn't really her thing.
"Every race is completely different, and that's something I like. I don't really have a strategy because in triathlon a lot of things can change — and if you have one strategy, then a lot of times that strategy has to change in the moment. So I try to go in with an open mind knowing that anything can happen. I have practices that I focus on in swimming, biking, and running, and those are the things I go back to in key moments during the race."
She has the best recovery routine ever.
"I rely heavily on massage. I get a massage almost every other day. I sleep on a Sleep Number bed that tracks my heart rate, my breathing rate, how long I sleep, and how restful my sleep is. Things like that are so important, I think, because you can realize how you're recovering and if you need to recover more."
She has a specific visualization exercise.
"I think about a few key practices I want to execute in my first few swim strokes: I want to keep my head down; I want to have a high stroke rate. So I'm thinking more about the process instead of actually visualizing at that point."
She gives herself a daily gut check.
"Every day I write down three things I do well and three things I can improve upon. Looking back at those three things I did well every day is something that can bring me confidence leading into a race."
She's excited to eat Brazilian food.
"[The last time I went to Brazil] I had a lot of rice and different types of meat, and it was great; I never complained. I'm looking forward to having more meals with my family and friends there."
She's not worrying about water pollution or the Zika virus.
"Health and safety are top priorities for both USA Triathlon and the USOC, and they're taking these issues very seriously. I'm just preparing for this like any other event, so I'm really excited to go there and see how my race goes."
Setting a good example for other female athletes is important to her.
"When you're going to school and doing an NCAA sport, you learn so much about time management and how to work with a team: viewing things as an investment and not a sacrifice and enjoying the process as it goes along. It's important that we, as athletes, enjoy the process and encourage others to enjoy it as well."