9 Holistic Wellness Centers We're Obsessed With Right Now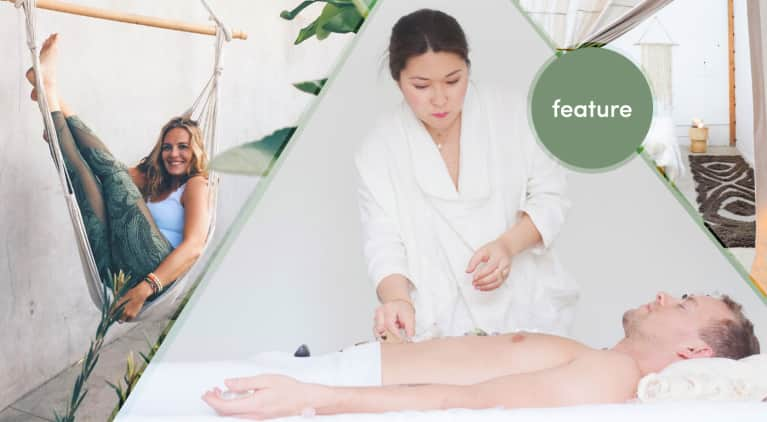 Whether you're curious about how aromatherapy can slow your racing thoughts, looking to start using crystals to manifest abundance, or dying to know what a healing tonic really tastes like, there's a holistic wellness center out there with your name on it.
These soothing spaces approach healing from the inside out with samplings of alternative practices like reiki and crystal healing alongside more traditional modes of relaxation like yoga and massage. Some are veritable smorgasbords of wellness treatments while others have a more tailored focus, but they all offer new, exciting ways for visitors to pop in and find their zen.
Here are nine that we're absolutely loving right now. Have no fear if you don't see any close to you; this trend is here to stay, and we bet you'll be seeing a tonic shop on a nearby street corner before you can say amethyst.
Consider this hub in downtown L.A. a one-stop shop for all your wellness needs. Where else can you meditate, get acupuncture, and eat avocado toast—all under one roof? The massive 13,800-square-foot space flaunts a raw vegan restaurant, full yoga studio, and alternative health center that offers a laundry list of holistic treatments like cupping, energy healing, and jade stone therapy.
This holistic sanctuary in the hectic heart of Manhattan offers a team of healers, massage therapists, and mind-body experts who prescribe herbal topical solutions and spa treatments alongside ingestible remedies to boost immunity, reduce stress, and increase energy. A sensory meditation lounge is the finishing touch on top of this urban oasis.
It doesn't get much more high-vibe than Place 8 Healing's crystal showroom—an airy studio stocked with every color and variation of stone imaginable. The L.A. space offers private sessions with crystal healers, intuitive readings, and flower essence consultations, as well as open houses and workshops for those looking for a primer on how to harness the stone's metaphysical powers. It's the perfect place to shop around for a new rose quartz or moonstone to add to your healing repertoire.
This Miami studio's suite of gadgets and gizmos could speak to the future of alternative health. Its biofeedback therapy takes cues from Ayurvedic and Chinese medicine to combine visual, audio, and sensory elements into a 30-minute immersive experience that is said to soothe anxiety, stress, and insomnia (think of it as an IMAX movie that doubles as a therapist), while its Dead Sea salt therapy uses 20,000 pounds of salt to increase the flow of oxygen in the body and relieve respiratory problems.
This holistic wellness center in Manhattan couples floatation therapy and acupuncture for the ultimate one-two punch to tackle tension in the body. Pair that with an infrared sauna, Himalayan salt cave, and rooftop yoga and meditation studio, and you have the perfect escape for any stressed-out city dweller.
The brains behind the Wanderlust festival answered every yogi's dream when they opened this L.A. wellness center last summer. It features yoga studios, meditation spaces, and a café with plant-based chef Seamus Mullen at the helm. The artistic space works music into most of its yoga and meditation events, hosts live concerts, curates a rotating gallery, and even runs a (members-only) speakeasy.
The Now is a New Age massage studio that incorporates aromatherapy into sessions to address the root of pain and stiffness. The L.A. studio's menu of essential oils offers energy-balancing pairings like soothing water lily and ylang ylang and anti-inflammatory turmeric and eucalyptus.
Spend 45 minutes in this Manhattan studio's private chromotherapy infrared sauna for a quick detox that promises to treat everything from the signs of aging to joint pain to sore muscles while purging the body of environmental toxins and burning up hundreds of calories to boot.
Take your "omm" to the next level at this guided meditation studio that offers drop-in classes as well as more intensive workshops. By adding in holistic elements like aromatherapy, sound therapy, and crystal healing to its meditation sessions, Unplug helps people further connect with their breath and tap into their spiritual sides. Its corporate retreats and kids sessions offer respite for stressed-out office workers and mindful kids, too.