Think Outside The Sandwich: BKT (Bacon Kale Tomato) Salad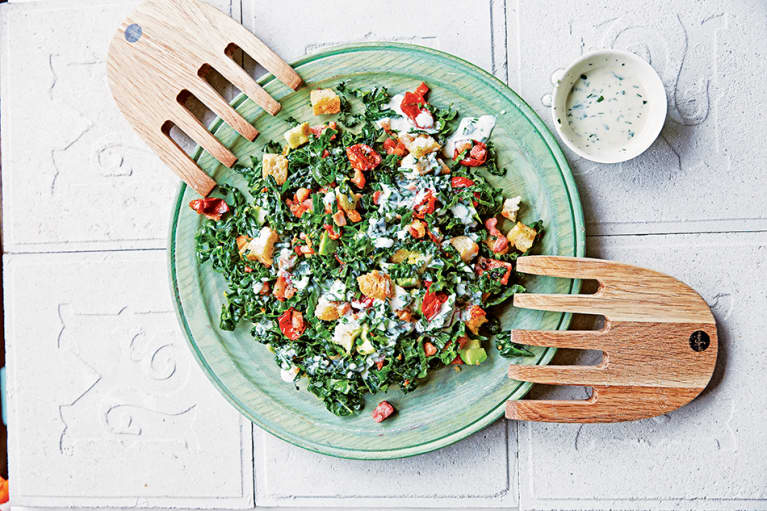 We're always on the search for main meal–worthy salads. We're sharing some recipes from Leon's (a fast and healthy London-based restaurant chain) new cookbook, Leon Happy Salads, that definitely fit the bill.
A take on the BLT. A new classic.
BKT (Bacon Kale Tomato) Salad
250g (9 ounces) cherry tomatoes, halved
3 tablespoons olive oil
1 clove of garlic, crushed
2 tablespoons fresh oregano
200g (7 ounces) kale, de-stemmed and shredded
200g (7 ounces) smoked streaky bacon, cooked and sliced
1 avocado, chopped
150g (5½ ounces) croutons (see below)
3 tablespoons ranch dressing (see below)
1 tablespoon chopped fresh chives
salt and freshly ground black pepper
Preparation
1. Heat the oven to 250°F/120°C/Gas Mark ½.
2. Arrange the tomatoes on a baking tray, skin side down. Mix the olive oil with the crushed garlic. Pound the oregano in a pestle and mortar and add to the oil. Drizzle the oil over the tomatoes and season well. Place in the oven for about 45 minutes, then remove the tomatoes from the tray and set aside. Pour any excess oil or juices into a large bowl.
3. Place the shredded kale in the bowl of tomato oil and toss to coat. Season well, then add the bacon, avocado, croutons, and roasted tomatoes.
Transfer to a serving plate, drizzle with the ranch dressing, and sprinkle over the chives.
Tip: The fresh oregano can be replaced with half the amount of dried oregano.
Toss small pieces of sourdough or other firm-textured bread in a little olive oil and cook on a tray in a heated oven, 350°F/180°C/Gas Mark 4, for about 15 minutes, or until golden brown.
Using oil that has been flavored with garlic gives a good result, and adding whole cloves of garlic to the bread before roasting will give you soft garlic that can be crushed into a dressing.
1 tablespoon mayonnaise
1 tablespoon buttermilk
1½ tablespoons sour cream or plain yogurt
1 tablespoon cider vinegar
1 teaspoon maple syrup
1 tablespoon olive oil
1 tablespoon chopped fresh chives, parsley, and dill
½ clove garlic, crushed
pinch of smoked paprika (optional)
pinch of dry mustard powder (optional)
Tabasco, to taste (optional)
Preparation
Dressing can be whisked together or shaken in a jam jar.