Casual, Boyfriend, Sexy & More: 7 Perfect Eco-Friendly White T-Shirts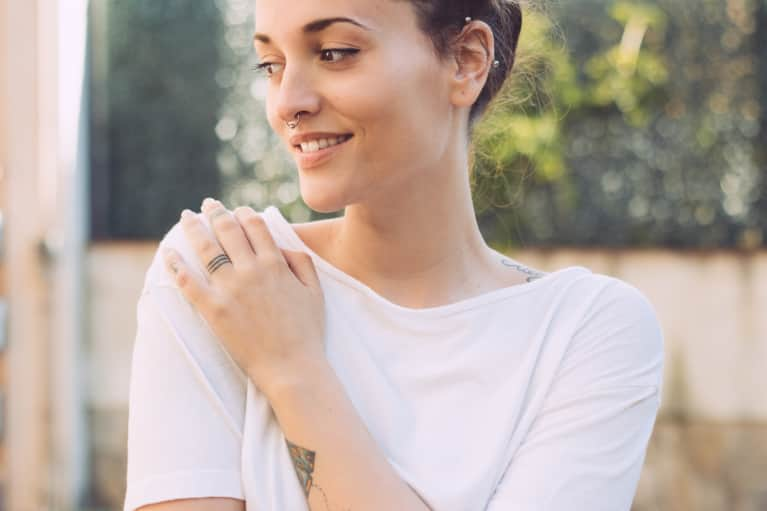 If you've been thinking about how you would like to make the switch to sustainable fashion, there's no better place to start than with your white T-shirt. Everyone needs one (or five), and the eco-fashion world has been busy pursuing the creation of the perfect white tee—perfectly chic, perfectly sustainable. Choosing a more eco-friendly tee gives you a lot of karma for your buck, as well. A conventional cotton T-shirt uses over 5,000 gallons of water in its production, many of those gallons pulled from water-scarce countries like Pakistan.
The production of one T-shirt, on average, produces equivalent emissions to driving a car 5 miles, though that varies according to how the T-shirt is produced. Most importantly, conventional cotton uses more pesticides per unit than any other crop. In developing countries, pesticides not only poison the wildlife and run off into water, they poison the farmers and farmers' families because of unsafe spraying techniques.
You can keep your money away from these alarming practices and support more sustainable agriculture, plus ethical manufacturing, by choosing the right T-shirt. Look for organic cotton or other sustainable materials, plus transparency in where it's manufactured. Oh, and it's also important to get a T-shirt you'll love and get a lot of wear out of! To that end, here are seven fashionable white tees for your closet.
For a slimmer option, turn to Amour Vert, which specializes in sustainable, California-meets-France style. This slim-fit short-sleeve tee is made in the U.S. with super-soft modal jersey, sourced from sustainable beech trees, and spandex. It has a boatneck in the front and a low-scooped back, like a ballet tee. And when you buy a tee from Amour Vert, they plant a tree! ($58)
Atelier Delphine Cap Sleeve Tee at Ethica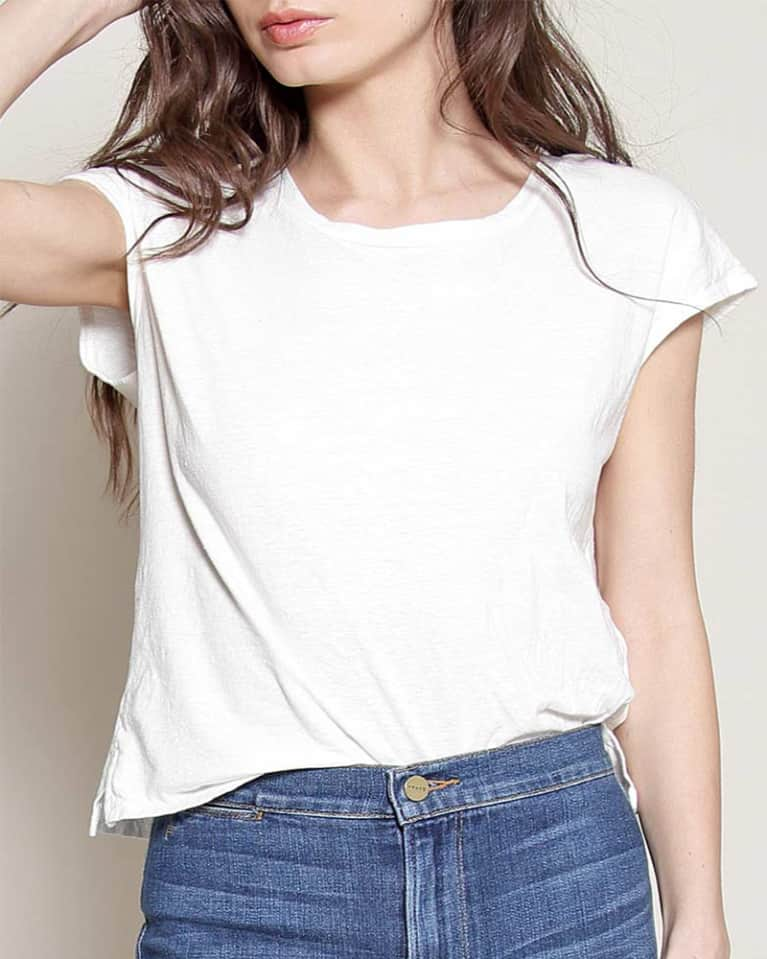 Ethica only sells sustainable and/or ethical fashion. And Atelier Delphine works only with 100 percent natural fibers from artisanal suppliers. This particular T-shirt is made in California with cotton from a small textile studio in the Japanese countryside. ($39)
Eileen Fisher Slubby Organic Cotton Jersey V-Neck Tee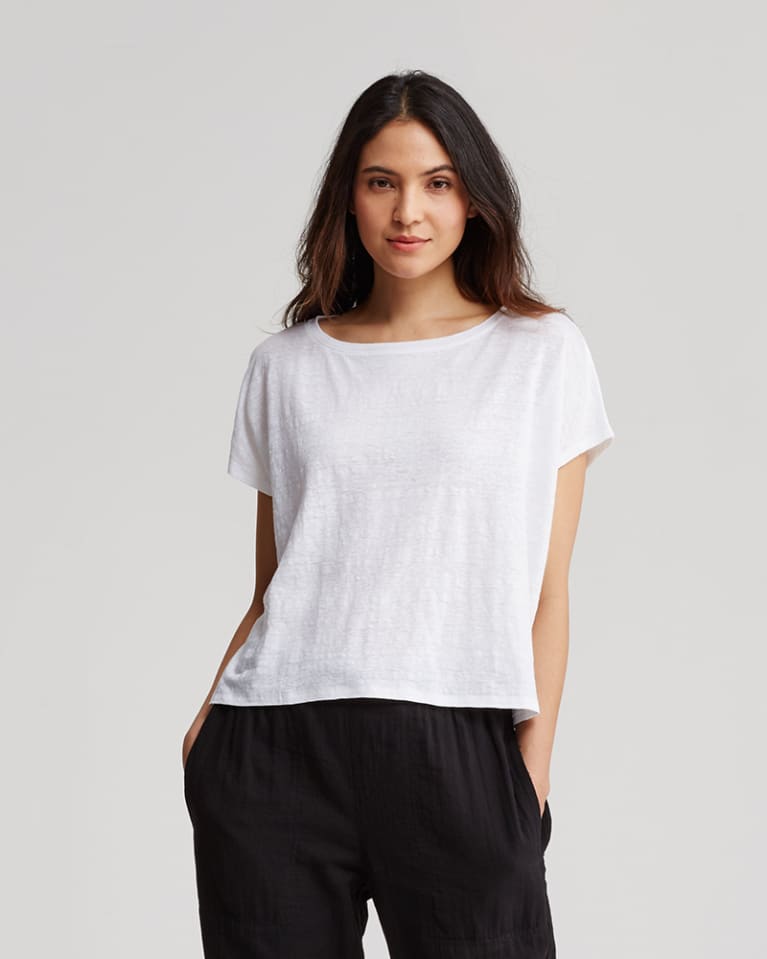 Fashion brand Eileen Fisher has been very publicly pushing into sustainability over the past few years in two ways: using eco materials and making long-lasting, timeless pieces. This tee is made of Eileen Fisher's linen jersey—they switched to organic in 2013—and looks great rumpled or relaxed. ($98)
Alternative Apparel Organic Cotton T-Shirt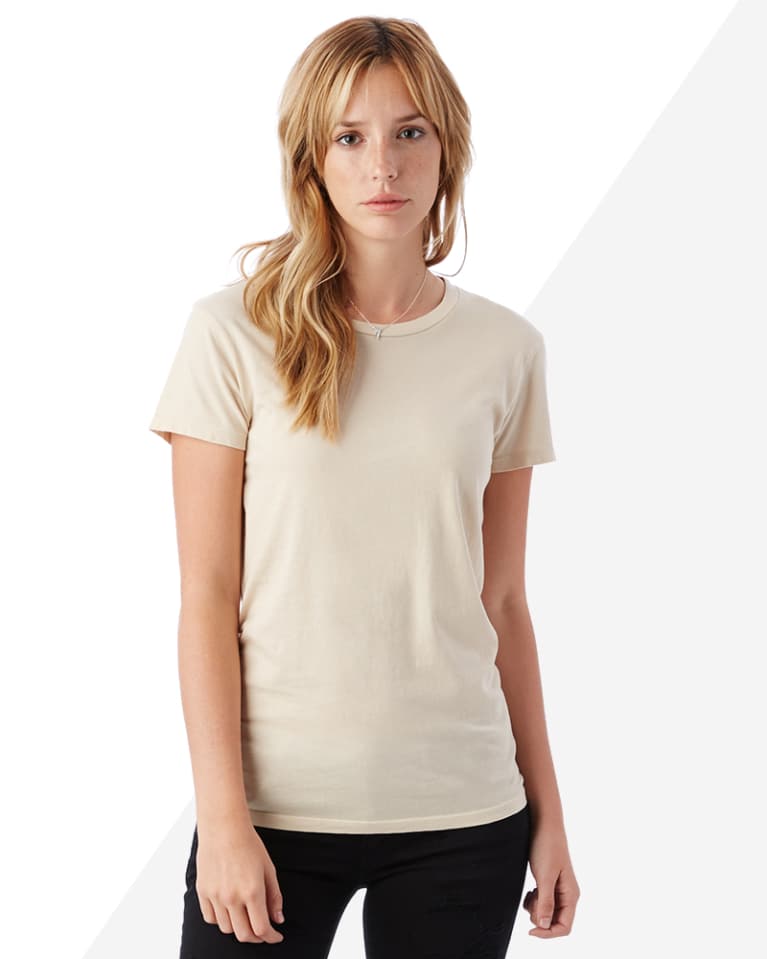 The most affordable organic cotton option, this crewneck T-shirt from this casual brand is made in Peru from 100 percent organic cotton and has a "borrowed from the boys" style. ($28)
Synergy Tissue Knit Essentials Anna Top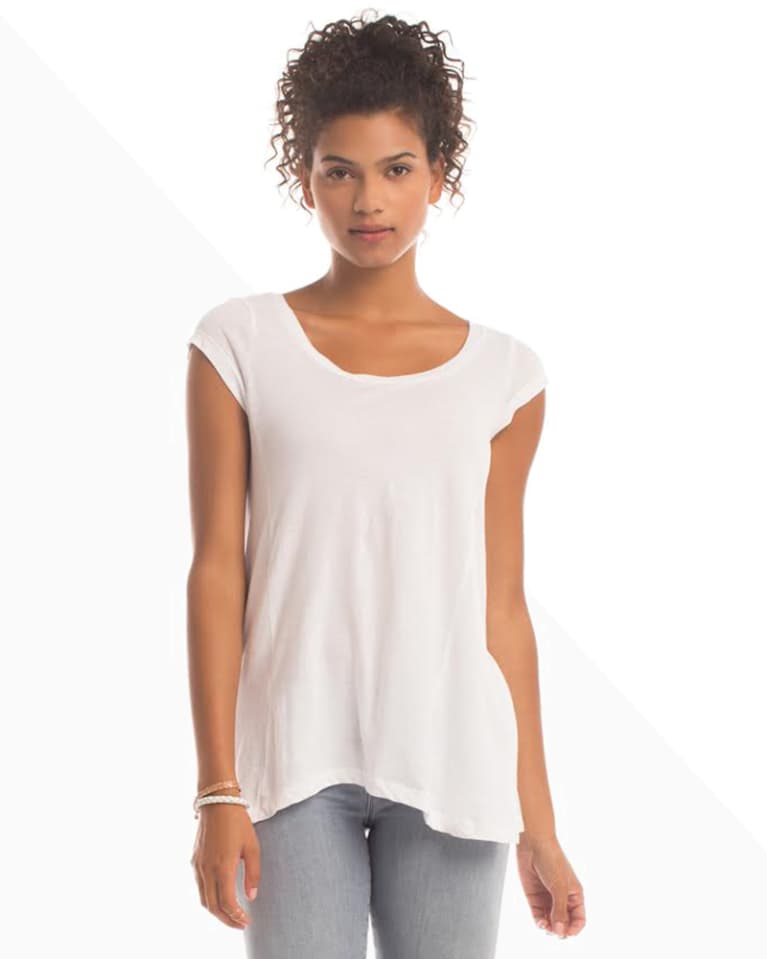 Made with 100 percent organic cotton, this tissue-knit top is GOTS-certified, a leading label that indicates sustainability and ethical manufacturing throughout the supply chain. ($48)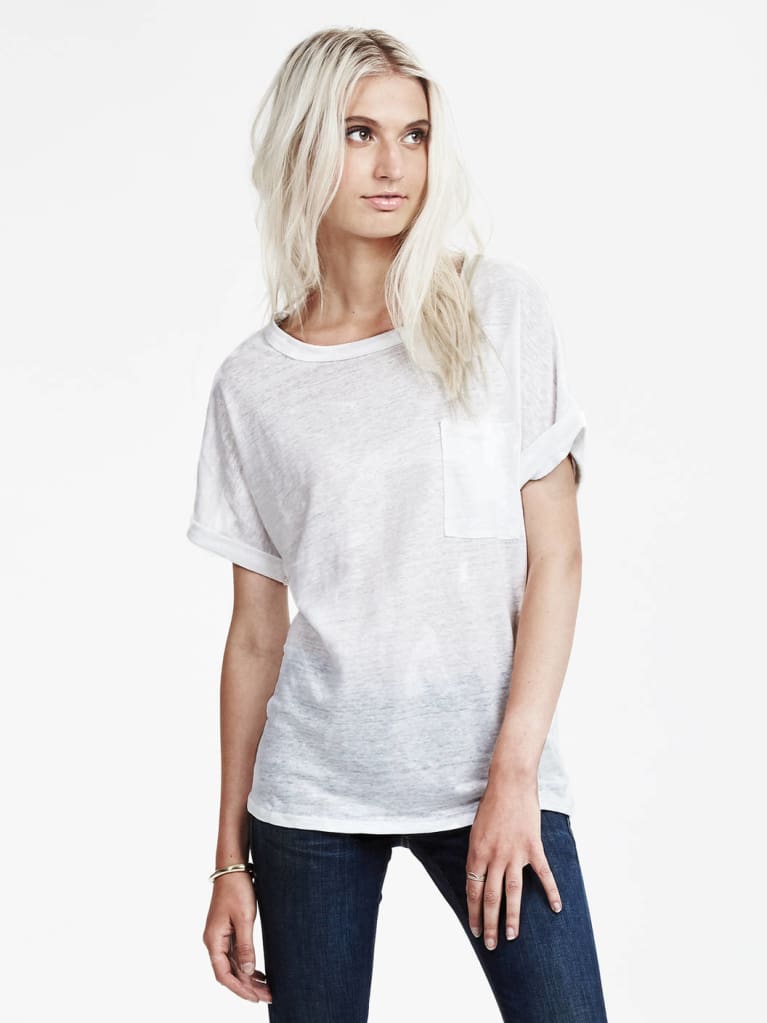 Zady, a leading ethical and sustainable online retailer, has an in-house collection based on perfect transparency in its supply chain. It's so popular it often sells out immediately. You can get on the waitlist for Zady's organic cotton T-shirt, or buy their pictured linen jersey tee right now. ($45)
Collective Essential Tee at A Boy Named Sue
This white tee is spun from 100 percent organic, rain-fed (non-irrigated) cotton and comes in a recyclable packing tube cylinder. It's made in Tanzania and sold at a Hong Kong–based, sustainable online boutique called A Boy Name Sue, which ships internationally. ($50)
Related read: Capsule Wardrobes: How To Give Your Closet A Minimalist Makeover