The Ancient Grain That Could (And Should!) Be The New Quinoa + 2 Recipes To Try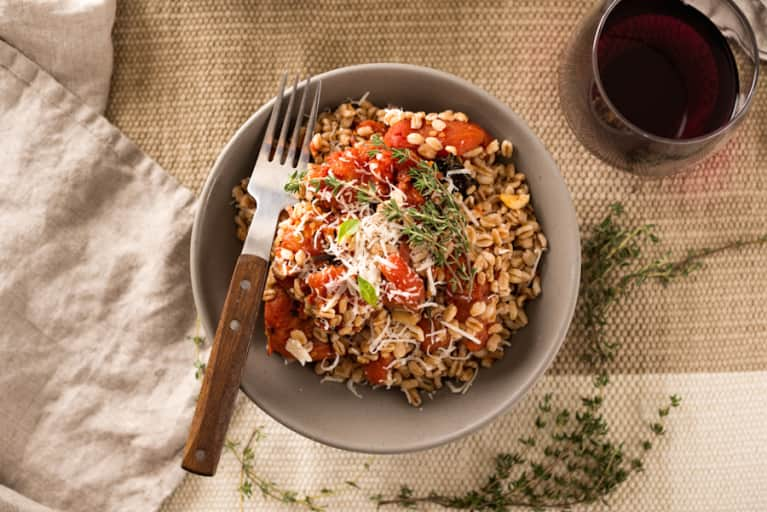 Food: it's just like fashion. The older it is, apparently, the better. And einkorn and emmer are, like, so totally vintage.
According to a recent opinion piece in Trends in Plant Science, we should be bringing those ancient grains back to our dinner plates. Why? Well, people (understandably) have been avoiding gluten, but unless you have celiac disease or legitimate intolerance, the issue often isn't really gluten, but the volume of consumption of highly processed white flours.
Unlike modern grains such as wheat, corn, and rice, ancient grains have never been processed through hybridization or genetic modification; they're grown just as they were thousands—if not millions—of years ago.
The pair of German plant biologists who authored the piece argue that nearly extinct varieties of wheat, like einkorn and emmer (aka farro), could create new niche markets for farmers, diversify ecosystems, boost local food security, revive traditional recipes—all while satisfying consumer demand for food that makes you feel like you're traveling back to a simpler time (a Paleolithic time, perhaps?).
Some ancient grains, like quinoa and millet, have already gone mainstream, but they argue that it's time to diversify our bread-loaf picks at the grocery store even further.
Right now, most farmers grow only one subspecies of bread wheat—Triticum aestivum—the ancestor of which emerged more than 10,000 years ago. But humans likely ate other species of wheat much earlier. Einkorn emerged well before humans, millions of years ago, and emmer originated around 400,000 years ago, both in the Fertile Crescent.
Though they're relatively common in India, these ancient wheat varieties probably won't replace mainstream bread wheat in feeding the world's population anytime soon. But some chefs in the U.S. are starting to take note of the advantages of old grains—like distinct flavor. Dan Barber uses unpearled barley, buckwheat groats, and spelt into a rice-free risotto at Blue Hill, and at Eleven Madison Park, Daniel Humm uses crispy emmer as a garnish for salads and vegetables.
Some spelt products have also gained ground in the U.S. According to NPR, Hain Celestial, which owns brands like Rudi's and Arrowhead Mills, introduced spelt flour in the 1990s and a spelt tortilla in 2007. Here in New York, Sweetgreen and Dig Inn both feature farro on their menus.
Aside from taste, these ancient grains have nutritional benefits, too. Spelt and einkorn have high amounts of protein, while emmer has considerate amounts of antioxidants.
Still not quite convinced? Try out the recipes below, which showcase einkorn and emmer, and we're sure you'll be sold on this new—erm, actually, really old—trend.
A 20-Minute Hearty Farro (aka Emmer) Salad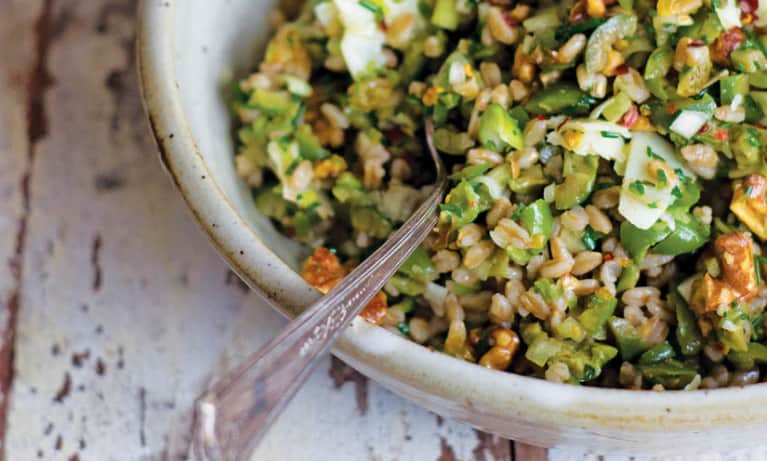 1¼ cups whole or semi-pearled farro
3 cups water
Fine-grain sea salt
1 poundgreen olives, rinsed then pitted
4 to 6 tablespoons extra-virgin olive oil
1 cup chopped toasted walnut halves
4 to 6 green onions, trimmed and chopped
1 bunch chives, minced
Scant 1/2 teaspoon crushed red pepper flakes
1 tablespoon honey
2 tablespoons freshly squeezed lemon juice
1/3 cup golden raisins, chopped
Shaved pecorino cheese, to serve
Preparation
1. Combine the farro, water, and ½ teaspoon of salt in a saucepan over medium-high heat. Cover and bring to a boil, then lower the heat to take from a boil to a simmer, and simmer gently for about 15 minutes if using the semi-pearled farro, longer if whole. Cook until tender but not so long that the grains become mushy. Drain off any extra water and set aside.
2. Coarsely chop the olives and place them in a bowl along with the olive oil, walnuts, green onions, chives, red pepper flakes, honey, lemon juice, raisins, and ½ teaspoon of salt. Stir well and set aside (or refrigerate) until ready to serve the salad.
The olive mixture is best at room temperature, so if you've refrigerated it, set it out for 30 minutes before doing the final toss.
3. Combine the farro and olive mixture in a bowl and mix to combine well. Taste and add more salt or lemon juice if needed. Serve topped with thin strips of shaved pecorino.
Almond Butter Chia Banana Bread (with Einkorn Wheat)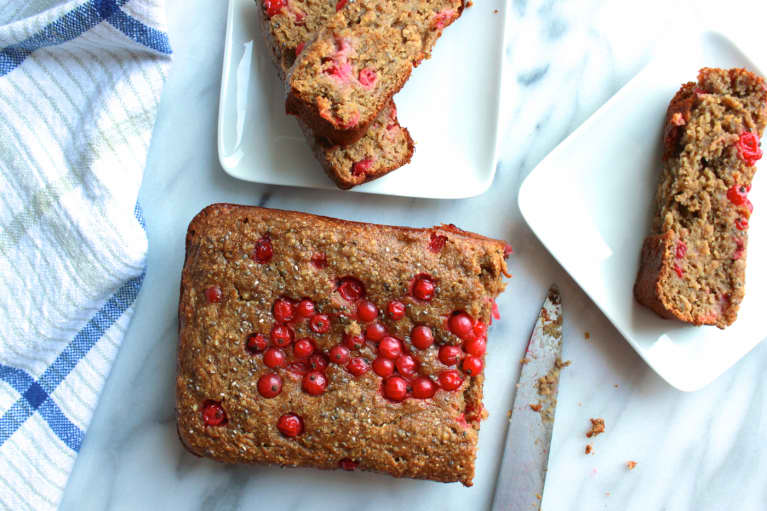 3 very ripe medium bananas
1/3 cup unsweetened applesauce
1/2 cup creamy raw almond butter, room temp
1 large egg, room temp
1/2 cup raw coconut sugar
1 cup einkorn flour
1/2 cup almond meal
1/2 teaspoon baking soda
1.5 teaspoon baking powder
1 tablespoon chia seeds
oil to grease pan (I used coconut oil)
Preparation
1. Preheat oven to 350º F
2. Combine dry ingredients (einkorn flour, almond meal, baking soda & powder) in a small bowl and lightly whisk to combine.
3. Peel and mash bananas using a fork in a large mixing bowl. Add applesauce, and coconut sugar and mix well. Add in egg, whisk until blended in, then stir in almond butter until smooth and consistent.
4. Add dry ingredient mixture to the wet mixture in 3 parts, stirring gently after each addition. Be careful not to over-mix, you want to just stir in gently enough until combined, no more.
5. Gently stir in chia seed, reserving some for later. Stir minimally until combined.
6. Lightly grease 8.5 x 4.5-inch bread loaf pan with coconut oil. Add in batter, and sprinkle reserve chia seeds on top. (I added currants for decor as well).
7. Place pan in the oven and bake for 30-40 minutes until edges are darkened a bit and start to pull away from the pan. Good test tip- stick a toothpick in the center and if it comes out clean, it is done. If batter sticks to it, it needs some more time.
8. Remove from oven, let it sit in the pan for a few minutes, then transfer to a wire rack to cool. Slice and serve!