Boozy Drinks That Are Nutritionist And RD-Approved
mbg Contributor
By Leah Vanderveldt
mbg Contributor
Leah Vanderveldt is an author living in Brooklyn, New York. She received her bachelor's in communications and media from Fordham University, and is certified in culinary nutrition from the Natural Gourmet Institute. She is the author of two cookbooks: The New Nourishing and The New Porridge.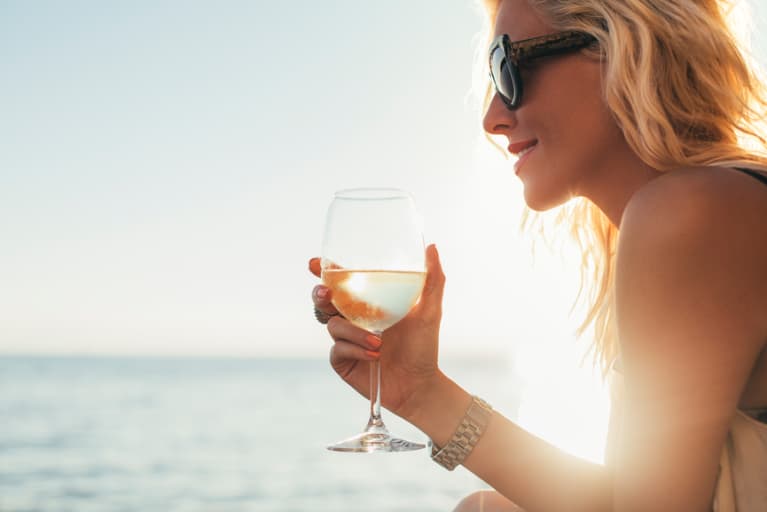 Our editors have independently chosen the products listed on this page. If you purchase something mentioned in this article, we may
earn a small commission
.
We surveyed our network of registered dietitians and nutritionists to find out what alcoholic drinks they recommend for healthier imbibing.
It turns out, nearly everyone fell into one of two camps: your preferred alcohol diluted with a sugar-free, hydrating mixer and wine—with a couple of fun variations thrown in (hello, berry sangria and kombucha cocktail).
Read on to find out what drinks our experts choose to celebrate with.
"I know it is cliche but my drink of choice is red wine. To me, with wine there's excitement all around.
"Choosing wines from different growing regions is an amazing way to learn something new about other cultures, and it turns out these cultures offer us a lot of powerful knowledge about health.
"The MIND diet continues to put Mediterranean eating at the center of health. If you don't already know, the MIND diet focuses on plant-based foods, healthy fats, good fish, and wine! (It's a combination of the Mediterranean and DASH diets.)
"Research continues to support that a moderate amount of alcohol has a positive impact on health. The only outlier seems to be type-2 diabetes.
"The beauty of wine is that it also pairs nicely with super-healthy foods—I love winning combinations on the table. Red wine is my go-to, but white wine and rose are good bets too."
—Kimberly Evans, MS, RD, and co-owner of Whole Health Nutrition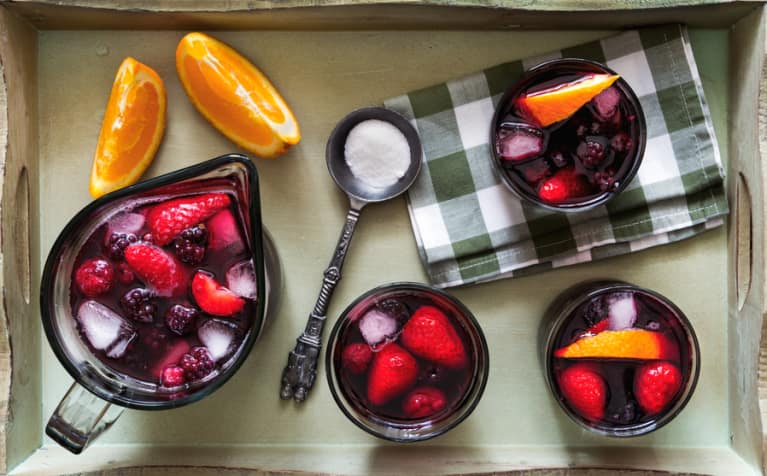 "Create an alcoholic drink that boosts your health in some way with functional ingredients. For example, the antioxidants in red wine (resveratrol, catechin) combined with antioxidants in apples (quercetin) work synergistically together, benefiting cardiovascular function.
"A great example is a red wine and berry sangria. Adding berries and blueberry juice to replace sugar makes it both delicious and health-promoting with additional phytochemicals."
—Laura Rosenberg, MS, RD, CDN, Culinary Nutritionist and Educator
"When out, I usually opt for an antioxidant-packed glass of red wine and Moët & Chandon for any celebratory nights!
"I'm a total lover of quality wines from California; don't ever go for the cheap stuff! The key to ditching any hangover: Drink a ton of water before going out, and lay off the sugar!"
—Candice Kumai, Wellness Journalist, five-time best-selling author of the Clean Green book brand
Your favorite alcohol + soda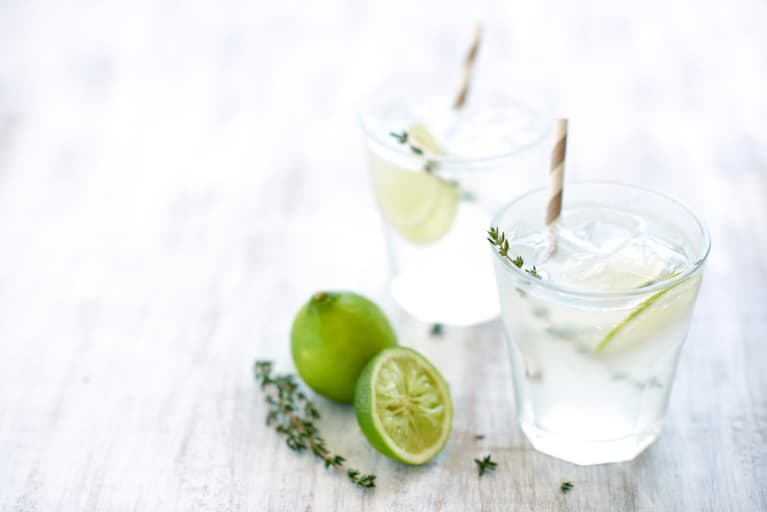 "When it comes to choosing the 'best' alcohol, I tell clients to pick their liquor of choice (except for beer) because the reality is, a 1.5-ounce serving of vodka, rum, tequila, or whiskey are all comparable in calories.
"A drink is meant to be enjoyed, so I prefer clients to enjoy their favorite alcohol rather than settle for a drink that's not significantly less caloric.
"Alcoholic beverages become diet downfalls when they're served with unhealthy sugary mixers. The best way to approach drinking is to choose your liquor and dilute it with club soda and ice. Some fresh lemon or lime juice will provide an extra bit of refreshing flavor, without adding the sugar and artificial ingredients."
—Leah Silberman, MS, RD
"This may seem like a strange recommendation from a nutritionist, but tequila actually has amazing flavors and is less harsh than vodka when you choose to sip as opposed to downing it as a shot. The cleaner organic options will result in minimal hangover when consumed responsibly. Pour into a glass and sip on it."
—Meghan Telpner, Nutritionist
"Vodka is sugar-free, and soda water keeps you hydrated and provides the satisfaction of carbonation without the sugar hangover. Stir in a slice of cucumber and a lemon twist to infuse it with some vitamins and a delicious, luxurious, all-natural flavor. Voilà!"
—Abigail Keeso, Culinary Nutrition Expert and Co-Founder of ThatCleanLife.com
"For a healthy cocktail, keep it simple. I usually recommend sticking to one type of alcohol for the night—i.e., clear liquor like vodka or gin—and pairing it with naturally sugar-free club soda and a few citrus wedges or fresh herbs like mint or rosemary. It's bright, refreshing, and full of flavor sans sweeteners, which only leads to more intense blood sugar swings when mixed with alcohol.
"The only exception would be a kombucha mixer—my new favorite ingredient. I'm actually a bit smitten with using it because it makes such an irresistibly delicious summer cocktail or mocktail [recipe: Healthy Ginger Peach Kombucha Mocktail/Cocktail recipe].
"I love that it's tangy, naturally effervescent, and full of good-for-your-gut fermented probiotics. Most of all, I love that the small amount of sugars it does contain serve a healthful purpose to feed the live cultures in the kombucha instead of only sweetening the drink. Cheers!"
—Katie Shields, MS, RDN, founder/blogger of Honestly Nourished Healthy
A smarter margarita or wine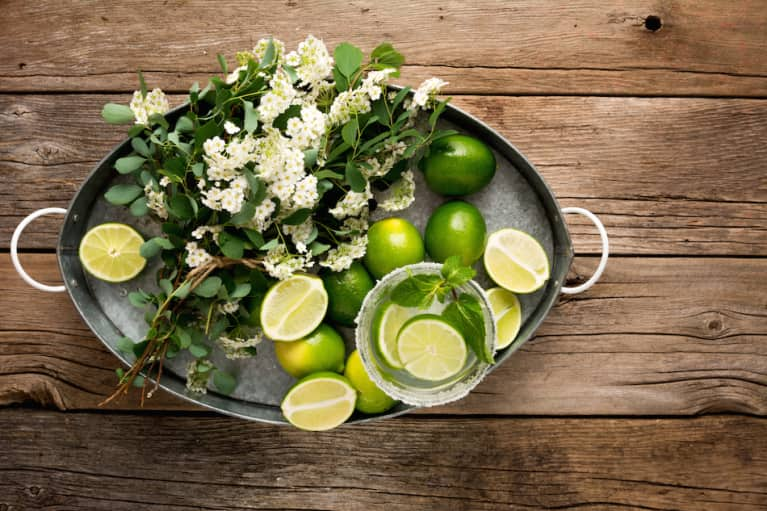 "My go-to drink for summer is either wine (white when it's light out, red in the evening and night) or margaritas made with lime juice, tequila, and a touch of agave.
"Both these drinks contain minimal sugar while still tasting refreshing! So you'll not only feel light and fresh all summer long, but you'll avoid a sugar hangover the next day!"
-—Robyn Coale, RD, RN