What Holistic Dietitian Jodi Bullock Eats In A Day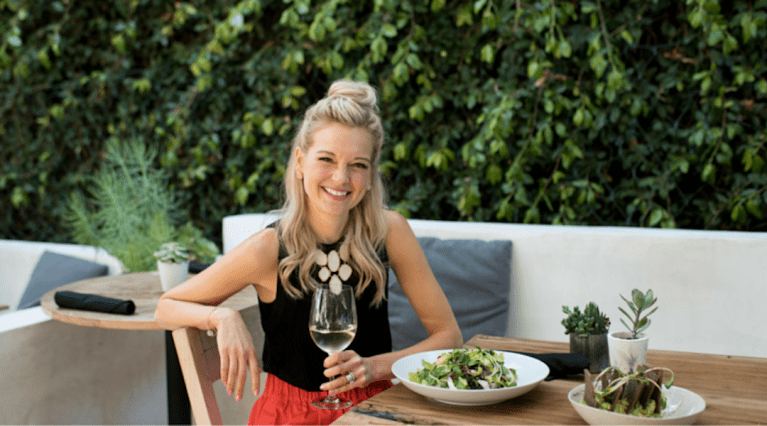 As a dietitian who works with clients dealing with food sensitivities, I have to be creative in helping them make lots of different combinations of foods allowed on their personalized elimination diets.
Every single client has different allowed foods, and not only that, we have to make sure we are rotating their foods so they don't suffer a dose-related response.
At one time I had 27 food sensitivities of my own, and now that I've been able to overcome them and heal my digestion, I've adopted both of these habits into my own food routine as well.
You'll always find lots of color and veggies at most of my meals, especially dark leafy greens.
Here's what I might be eating in a typical day:
8 a.m.: Alkaline coffee or tea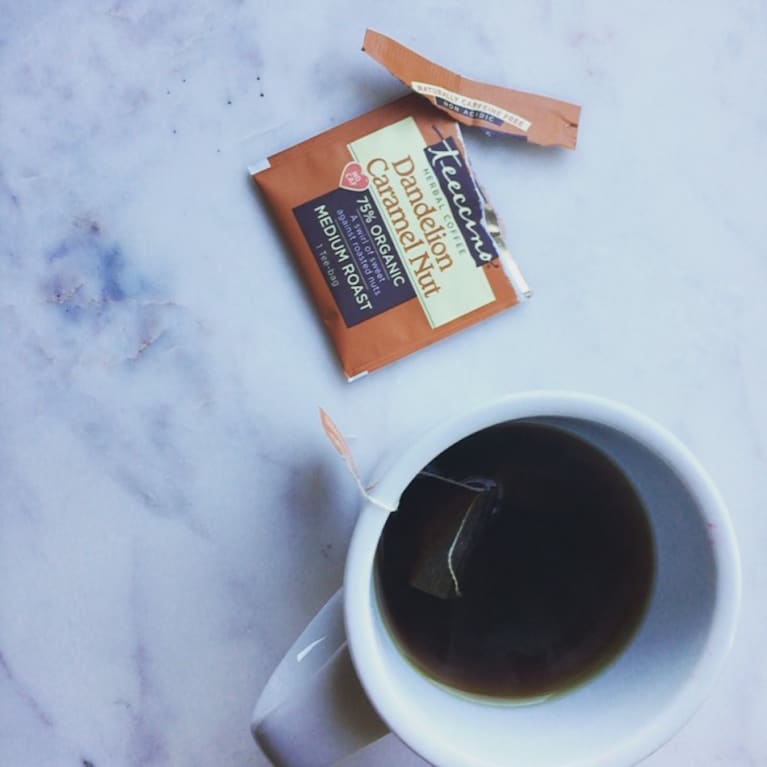 I love to recommend alkaline versions of typically acidic coffees and teas. Teeccino is one of my favorites because it comes in tea bag versions, which makes it super accessible and also great to take to work or travel with.
I usually mix my warm tea with a nondairy vanilla flax milk and a drop or two of organic liquid stevia.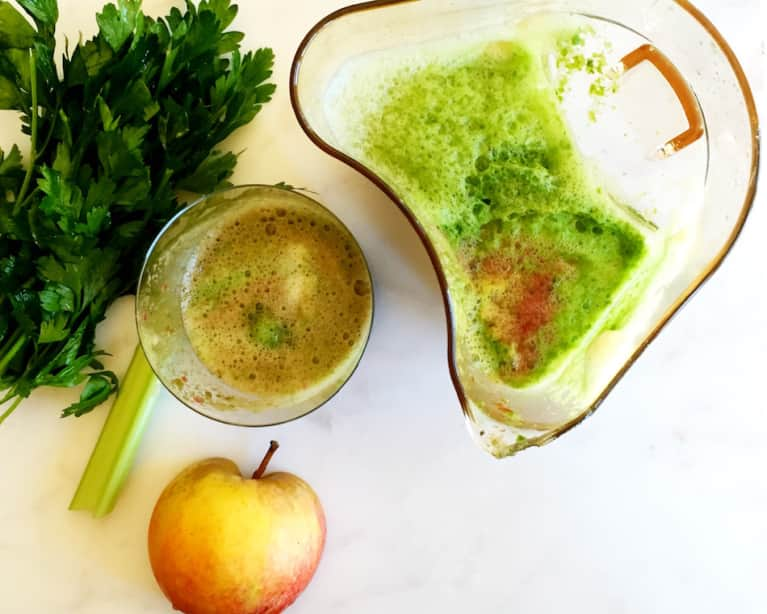 Raw veggie juice sweetened with a little fruit is at the top of my list for breakfast, not only because it's so nutrient-dense and fast, but it also makes it really easy on the digestive system.
When you are working with a stressed digestive system, alkaline juices are a great part of a nutrition routine because it's easy for cells to access the nutrients.
My favorite blend contains kale, spinach, ginger, lemon, apple, and a variety of other foods based on what's in my refrigerator!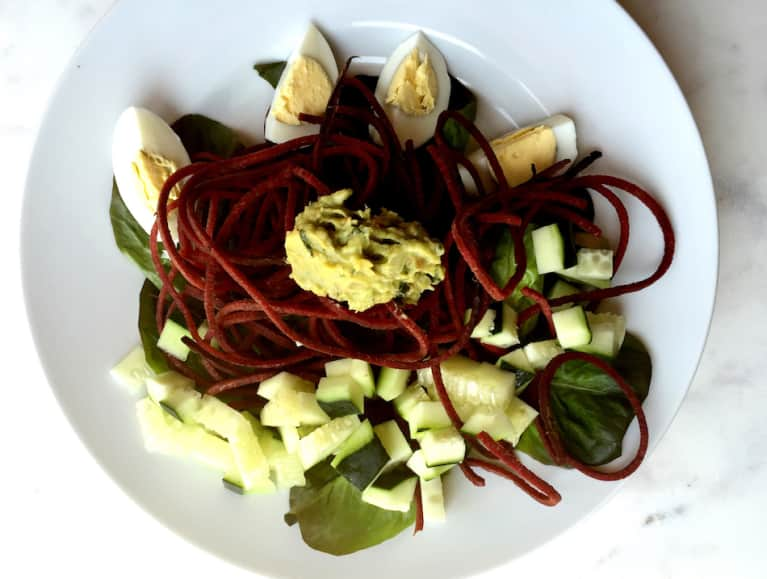 Lunch is a beet noodle salad. I build most of my meals around veggies — I just can't get enough, and now it's getting easier to find spiralized veggie noodles in stores.
This salad I made from raw beet noodles, some English cucumbers, guacamole, and a hard-boiled egg. All you really need to flavor it is a little Himalayan sea salt.
I teach food pairings to my clients and one of the guidelines is it's easier to digest proteins separately from carbohydrates, so if I wasn't having eggs, I might have quinoa or another plant-based protein like a veggie burger instead.
I like to go on a walk or run in the afternoon to break up my day or find a yoga class so I'm not sitting for hours at a time.
Afterward, I might have sliced raw veggies like jicama, peppers, or rainbow carrots and dip them in a mixture of marinara sauce and hummus or some fruit mixed with chia and topped with either flax or coconut milk.
I like both of these nondairy milk options because they both have healthy fats, and the flax contains protein.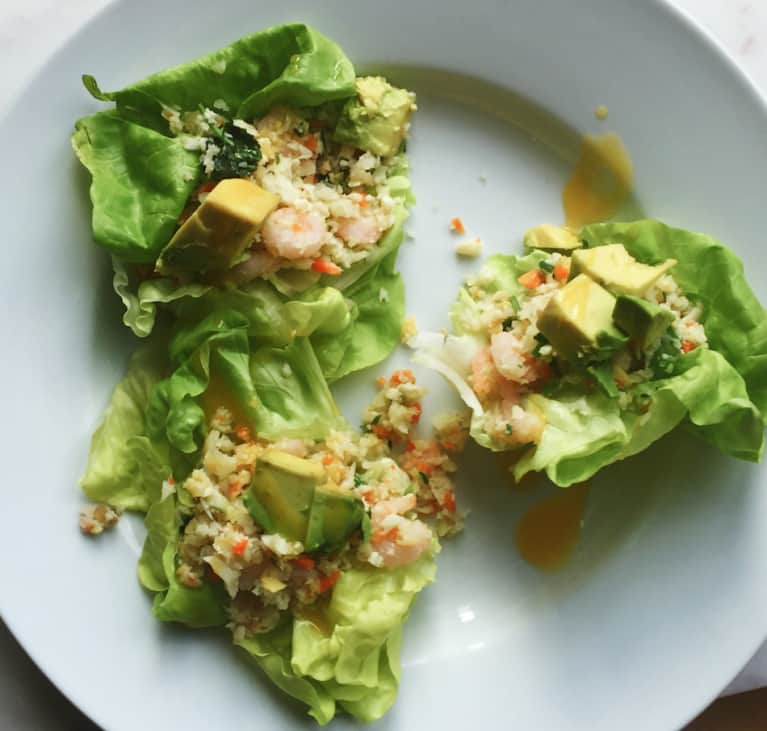 Dinner is Asian Cauliflower + Shrimp Lettuce Wraps.
I'm a big seafood lover and I love Asian and Mediterranean flavors, so I'll often make salmon salads with artichokes, olives, tomatoes, cucumbers, and a lemon vinaigrette or a veggie-heavy stir-fry with wild-caught halibut or mahi-mahi.
For these lettuce wraps, I lightly sauteed riced cauliflower, ginger, carrots, cilantro, and wild-caught baby shrimp and topped it with avocado and a tangerine vinaigrette.
Bibb lettuce is my go-to for any kind of wraps; they hold up the best and are super flexible.
My favorite time of day is cooking dinner while my husband sits in our kitchen and we get to talk about our days and maybe have a glass of wine. Meals don't have to take long; I'm a huge fan of recipes that take 20 minutes or less, and honestly, most of mine you can make in about 10 minutes.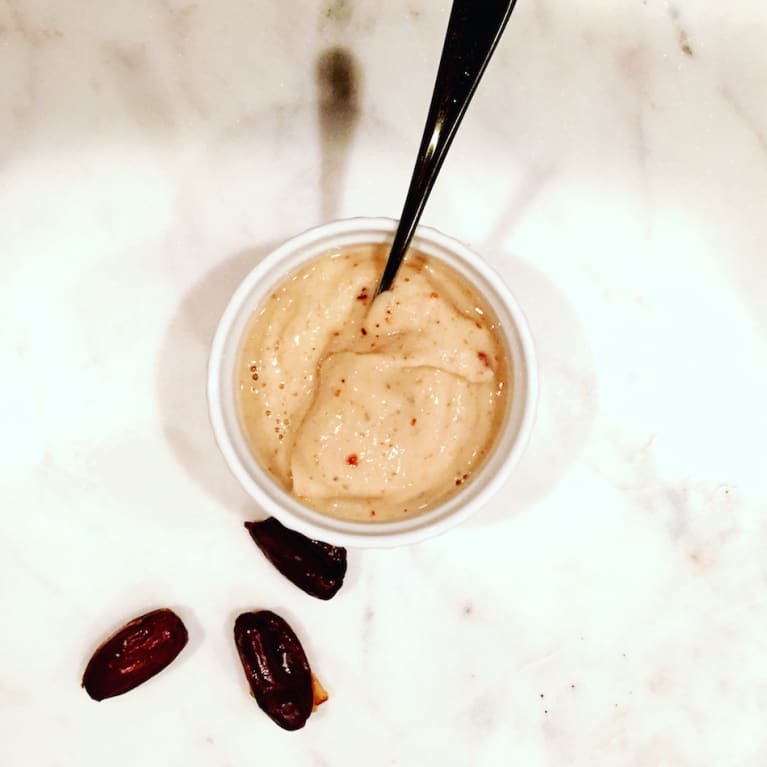 Honestly, it's my husband who has the bigger sweet tooth, but I won't turn ice cream down either! Here's an easy one I make in the blender: Banana-Date Ice Cream.
Mix up slices of pre-frozen ripened frozen bananas, dates (soaked in water for about 5 to 10 minutes to soften), just enough flax milk to loosen the mixture, and add in 1 tablespoon of flax or chia seeds.
There are so many colorful vegetables in the world, and I'm always mixing up the ingredients in my daily routine — my smoothies, juices in as many ways possible — and eating a whole foods-based diet with healthy indulgences along the way!
Healthy food doesn't need to be boring or take a long time, and it's amazing what the right foods will allow the body to do.