I'm An ER Doctor. Here's What I Wish People Knew About Fourth Of July Weekend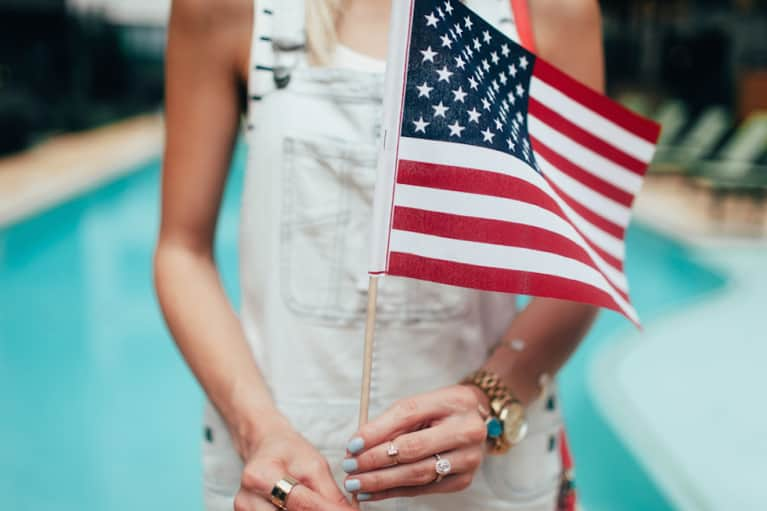 July Fourth was a dangerous day for Thomas Jefferson—he died on July 4, 1826. Unfortunately, he isn't alone. The National Safety Council has dubbed the date the "Most Dangerous Holiday of the Year."
That probably won't make it into the holiday card aisle at CVS anytime soon.
But to be honest, there's a lot of truth to the NSC's illustrious title. As an ER doctor, I know that working the holiday shift can be a real beast. July Fourth accidents are no joke, and the statistics will stop you in your tracks. For example, the NSC predicts there will be around 500 deaths this holiday weekend due to car accidents alone (and over 53,000 serious injuries).
I knew July Fourth was a busy day in the ER, but things get really real when you see those numbers. Just why is the weekend so dangerous? Here are the main factors I see—and how to keep your family safe:
1. The "I thought YOU were watching them" and "It's the holiday, lighten up" factors
Time after time, I've seen a devastating accident where, while in the ER afterward, one adult turns to the other and in a moment of heart-breaking clarity, says "I thought you were watching them…" The world stops for that moment. Just that one realization of how this simple lapse in observation led to a catastrophe. This happens even more around the holidays, when we're typically surrounded by lots of family with kids underfoot and distracting activities like cooking or tidying up.
Another common denominator in July Fourth injuries? Loosening of the rules or allowing your child to do something that on any other typical day would lead to a time-out. This also applies to adults: We'll loosen our own self-regulations on a holiday and do things that we'd normally register as #NotYourBestIdea.
How to stay safe: Practice the same safety measures you take on any other day of the year, and you and your family can use the time to celebrate your independence—from the ER.
Not only is Independence Day historically the #1 deadliest day on the road for Americans, but the NSC is projecting this year to be even worse—the most deadly since 2008. On average, there are 37 percent more highway fatalities on July Fourth than on an average July day.
More than one-third of these deaths are projected to involve intoxicated drivers. Want to guess which of my patients think they're the best drivers? The intoxicated ones. That's right. Intoxicated drivers consistently underestimate their impairment.
How to stay safe: It should go without saying: Don't be a f****ng idiot. (I normally don't curse, but I've taken care of one too many DUI-related casualties, so I won't mince words here.) Don't drink and drive.
Unfortunately—as I've seen in the ER—it's often the perfectly sober bystanders who end up being hurt by an intoxicated driver. If you can, avoid the roads at peak times, especially when celebrators are starting to head home.
If you really need to drive somewhere, use extra caution. Reduce your speed and really heed those warnings not to text and drive. Always buckle up and make sure children are buckled or secure. The NSC estimates that seatbelts could save 181 lives during the three-day holiday weekend.
Down here in HOT-lanta where I live, on July Fourth you're either taking a dip in the pool or standing over the AC vent. The latter is slightly less sociable, hence the pool.
Unfortunately, everyone's a little less careful around water on this holiday. According to a USA Swimming analysis, there were 25 drowning incidents involving children over the week of July Fourth in 2011. There are two "peaks" in drowning death ages: those under 5 (drowning is the leading cause of death at this age) in pools, bathtubs, and other water containers, and boys ages 15 to 25 in lakes, rivers, and beaches—all of which increase between May and August. Those of you who live in the South? Your rates of drowning death are even higher.
How to stay safe: Practice basic pool safety by never leaving children alone near the water. If you have multiple kids visiting, designate an adult "Water Watcher" who literally sits and dangles their legs in the pool (without a phone or other distractions), and rotate every half hour so nobody gets too bored. Those adults should remain sober.
In general, I urge you to start all kids early with swimming lessons. According to the CDC, they really do reduce the risk of drowning among children ages 1 to 4. Of course, even if your child is an exceptional swimmer, they should never go into a body of water without adult supervision.
Last year, I had a patient who put a firecracker that he thought was a "dud" into his pants pocket. Well, if you've ever watched any of those cable "ER" shows, you know what happened next.
According to the U.S. Consumer Product Safety Commission, emergency rooms see more than 200 fireworks-related injuries every day around the Fourth of July. Some of these incidents turn deadly—in 2014, nine people died from fireworks-related accidents.
How to stay safe: If you absolutely must DIY your light show (and I really encourage forgoing this if you like your fingers, toes, and…ahem…other appendages), never, ever allow young children to handle fireworks. Even sparklers, which may seem innocent, burn at about 2,000 degrees, hot enough to melt metal.
Light fireworks one at a time and step back immediately. If it's a "dud" (i.e., you can't get it to ignite), treat it like an active firework—something that would have saved my patient a trip to the ER. Never try to reignite fireworks that have not been fully lit, as they could easily explode in your face. Keep a garden hose nearby in case grass, clothes, or anything else catches fire. And for the love of George Washington, don't do anything illegal! Check your state's fireworks laws before committing to a show for the whole neighborhood.
Follow these guidelines and you'll be sure to have a wonderful, safe holiday.