3 Unexpected Yoga Mistakes You're Probably Making + How To Fix 'Em
mbg Class Instructor & Yoga Teacher
By Caley Alyssa
mbg Class Instructor & Yoga Teacher
Caley Alyssa is a internationally renowned Los Angeles–based yoga teacher. She is a Certified Holistic Health Coach by the American Association of Drugless Practitioners, and has completed multiple yoga trainings, including Yoga Works 200-hour Teacher Training, Dharma Mittra 500-hour Teacher Training, and Yoga Tree 200-hour Teacher Training, among others.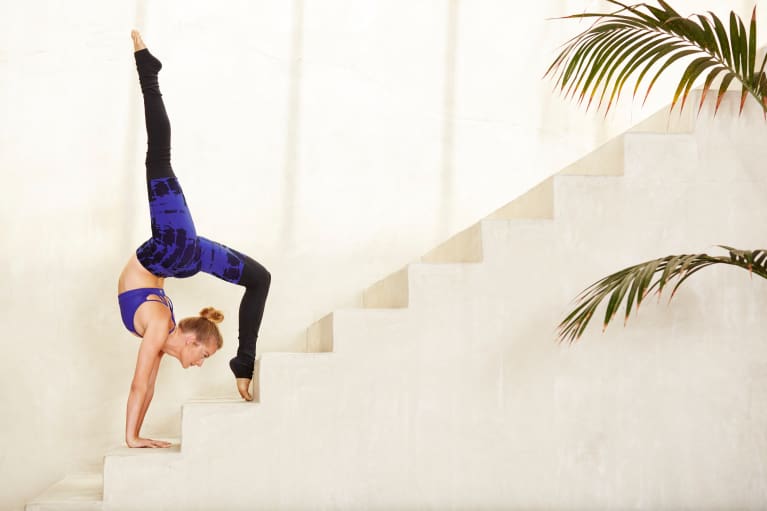 Caley Alyssa is an international yoga teacher whose practice helped her transform her life and realize her dreams. This week, we're hosting a webinar where she'll answer all of your questions and teach you exactly how to start your own home yoga practice. To register (and submit any questions you have!) click here. You can also check out her class, 28 Days to Yoga Bliss: The Fundamentals, Breathwork and Poses You Need to Know.
There's nothing more frustrating than dragging yourself to yoga every morning at 7 AM and not seeing results.
Your hamstrings aren't getting more flexible, your Chaturangas are still pretty weak, and you're more stressed out than ever. You don't need me to tell you that yoga is supposed to do the opposite of all of those things, so let's take a closer look of some of the habits that may be holding you back.
Here are three of them.
1. Making Assumptions, Both Positive And Negative
Oftentimes my students tell me what they think they can and can't do, or what they think they should and shouldn't do. Here are some common ones:
"I'm not strong enough to do that pose."
"I can't do that away from the wall"
"I don't need a block"
Don't get me wrong, you know your body better than your teacher does. But your teacher is there to suggest and guide you into postures they can tell are doable for you, and guide you away from doing postures which they can tell aren't doable just yet.
If you never try, you'll never know. Be receptive to learning new things and avoid getting stuck in old mental pathways you've been walking down for too long.
2. Not respecting your body.
This can mean a lot of different things.
Maybe it means taking a class that's too intense for your body when you need rest, or maybe it's pushing through postures that don't feel good in your body. It could mean ignoring or overworking an injury, or not fueling or hydrating your body properly to prepare for your Asana classes.
When you can learn to acknowledge and work within the current (and impermanent!) limitations of your physical body, you will give yourself the freedom to explore the practice with such an intense depth and complexity that it will overshadow any fancy pose.
This is how one of the oldest texts of yoga, the Hatha Yoga Pradipika, describes the benefits of Savasana: "removes fatigue caused by the other asanas and induces calmness."
This is the place in your practice where all of the physical effort you put forth weaves itself into the vital layers of your being. Try to make your Savasana something to look forward at the end of practice. Think of this as nap time for adults, except you won't actually fall asleep (hopefully).
If after everything I've told you you still have the urge to sneak out during Savasana, just remember that it's disruptive to the other students in the room and disrespectful to your teacher.
Keep calm and Savasana on!