The Superfruit You Should Be Eating All Summer + 2 Easy Recipes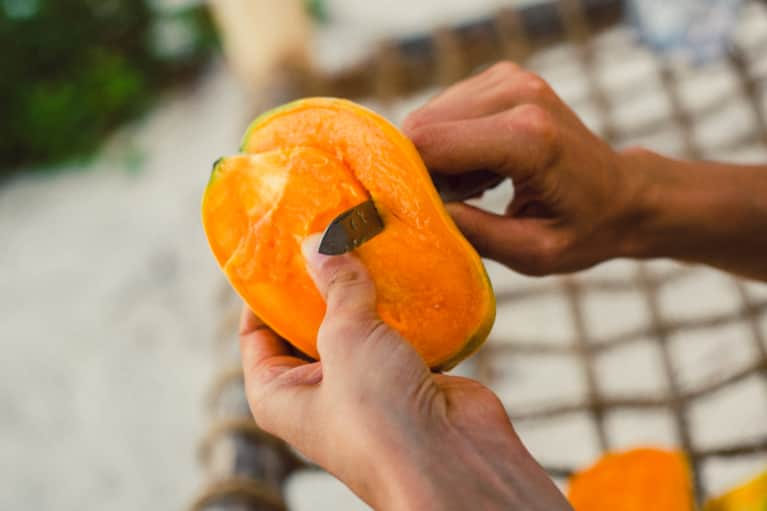 My love for mangoes started when I was a child in Colombia, where my family and I would consume them in fruit salads, fresh fruit juices, and smoothies. My favorite way to eat them was plain—skin and all—with my bare hands.
Now as an adult and registered dietitian, I want to share my love for this super fruit that's loaded with nutrients.
Where to begin? Here are five reasons to fall in love with mangoes:
1. Mangoes are good for your heart.
Increasing your daily intake of fruits is one of the simplest ways to decrease the risk of heart disease. Mangoes, like many fruits, are nutrient-dense and provide us with a number of cardio-protective compounds including fiber, copper, potassium, and polyphenols.
Mangoes contain pectin, a type of soluble fiber, that may lower low-density lipoprotein (LDL) or "bad" cholesterol, helping to protect us from a heart attack.
The fruit also contains polyphenol compounds such as catechin, quercetin, and mangiferin. These wonderful components have powerful anti-inflammatory properties. Several studies suggest that these compounds have beneficial effects on our health due to their free-radical-fighting, antioxidant potential, which can help protect against heart failure.
Because of their low sodium and high potassium content, mangoes could help keep our blood pressure in check. High blood pressure is a treatable risk factor for heart disease.
Diets can affect your complexion. The right combination of nutrients can help us achieve healthy-looking skin. Mangoes, for instance, have two powerful nutrients—vitamins A and C—that can help slow or prevent skin cell damage caused by free radicals.
Vitamin A is known to play an essential role in the development and maintenance of the epithelial (or the skin tissue), which serves as a barrier to bacteria. With a lack of vitamin A in our diets, our skin could suffer and become dry and flaky.
Similarly, vitamin C plays an essential role in the synthesis of collagen, a major protein of the skin that gives it its strength, elasticity, and healthy look. It also plays a major role in the replacement and restoration of dead skin cells.
3. They protect your vision.
Mangoes contain extraordinarily powerful compounds that protect our vision. They are sources of lutein and zeaxanthin, the only carotenoids found in the eye's retina.
Age-related macular degeneration (ARDM) affects the retina and causes irreversible blindness. According to the National Eye Institute, ARDM is the leading cause of vision loss in people over 65 in the United States.
Lutein and zeaxanthin are two precursors of vitamin A, making it an essential nutrient for good vision.
Nutrients such as vitamins C and E and copper, also found in mangoes, may also combat age-related macular degeneration.
Constipation continues to be a common and troublesome gastro-intestinal condition, affecting 2 out of 10 people in the United States. Chronic constipation can have serious consequences that may lead to intestinal inflammation and more severe conditions such as diverticulitis, hemorrhoids, and fecal impaction.
Mango may help promote a healthy digestive regularity due to its high water and fiber content. In addition to fiber, mangoes have been shown to have bowel-stimulating properties.
In a recent study, the subjects who consumed mango experienced better intestinal activity and reduced inflammation. Both factors contribute to intestinal health and wellness.
5. Mangoes make everything taste better.
The best part of my job is recommending tasty and nourishing foods like mangoes. This succulent fruit will boost the flavor, color, and nutrition of any dish.
They work well in salads, smoothies, fruit dips, bread, and muffin recipes. I've successfully incorporated mangoes into fresh salsas and grilled chicken dishes—they add that perfect tropical, refreshing flavor.
Below are two quick recipes that I hope you enjoy as much as my family does.
Mango, Cucumber + Avocado Salad
¼ cup lime juice
1 tablespoon extra-virgin olive oil
2 tablespoons fresh cilantro, finely chopped
1 cup cucumber, peeled and diced
1 cup mango, diced
1 cup avocado, diced
salt to taste
Preparation
Combine the lime juice, olive oil, cilantro, and salt in a small container. Mix the cucumber, mango, and avocado in another bowl, and add the lime juice mixture. Stir well and refrigerate for about 15 minutes before serving.
2 tablespoons sesame oil
½ large yellow onion, chopped
2 garlic cloves, minced
½ red bell pepper, chopped
½ green bell pepper, chopped
2 tablespoons low-sodium soy sauce
¼ cup lime juice
1 pound large, deveined shrimp with tails removed
1 cup diced mango
2 tablespoons finely chopped fresh cilantro
salt to taste
Preparation
1. Heat oil in a skillet over medium heat. Add onions and sauté until translucent. Add garlic and red and green bell peppers, and cook for about 5 to 7 minutes.
2. Add soy sauce and lime juice to the skillet and combine well; let it cook for 5 more minutes. Add shrimp and cook for 3 to 5 minutes. Add mango and stir to incorporate and warm through.
3. Serve stir fry with rice, pasta, or quinoa, and garnish it with some cilantro and lime.