The One Ingredient That'll Make Your Chocolate Chia Cup Even Better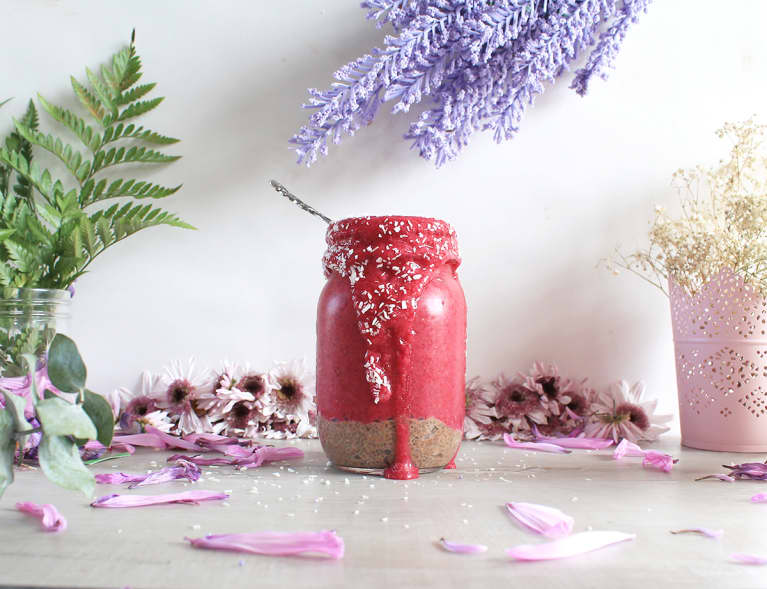 This recipe is a combination of two of my favorite things: beets and chocolate. It's a healthy, filling breakfast that's full of nothing but benefits.
Let's start with beets. Beets are a great source of folate and manganese. They are also high in antioxidants, which help to battle free radicals, are an anti-inflammatory, and contain anti-aging properties. Beets are said to detox the blood of toxins and heavy metals.
Now the chia seeds. Chia seeds truly pack a nutrient-dense punch. They're high in fiber, protein, calcium, and omega-3 and -6 fatty acids. Due to the high fiber content, chia seeds are great for digestive health and keeping bowel movements regular. They are also known to lower blood pressure, balance blood sugar levels, and reduce inflammation in the body.
1 beet
½ cup frozen strawberries
½ banana
2 tablespoons coconut cream
½ cup almond milk
2 tablespoons chia seeds
1 tablespoon raw cacao powder
1 tablespoon pure maple syrup
¾ cup almond milk
1 tablespoon shredded unsweetened coconut
Preparation
1. Start with the chocolate chia seed pudding: Add all ingredients to a jar or container of your choice. Combine ingredients well, and allow to sit in the refrigerator overnight.
2. In the morning, your chia seed pudding will have thickened. Add this pudding to the bottom of a glass or jar of your choosing.
3. Make the beet smoothie: Place all ingredients in a blender and blend until smooth.
4. Pour the beet smoothie on top of the chocolate chia pudding, top with shredded coconut, and enjoy.