6 Ways To Stay Healthy On Your Next Flight: A Doctor Explains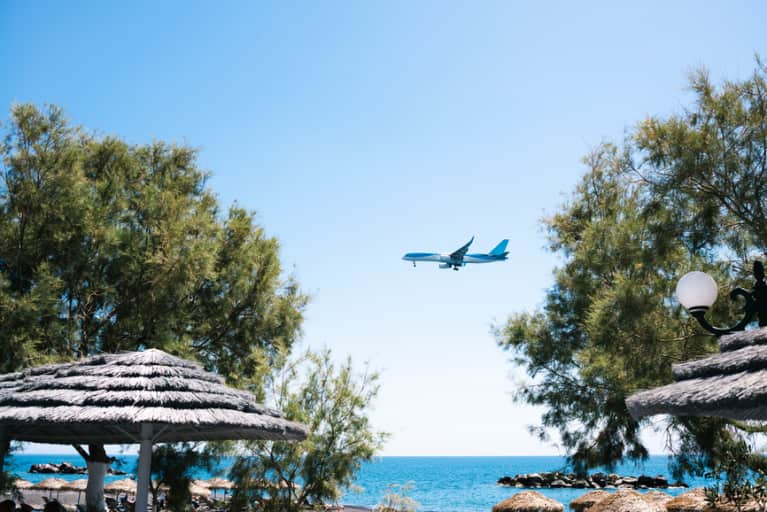 One of the many joys of the summer season is the travel that comes with it. However, it's easy to let your health fall by the wayside en route to your warm-weather getaways.
Here are my top tips for staying healthy when the wheels go up on your next flight to ensure you have a fantastic trip from start to finish:
Dehydration on flights can make you susceptible to some less-than-pleasant health issues (and, in rare cases, dangerous ones like deep-vein thrombosis [DVT]). Harsh cabin air often dries up the mucous membranes in the ears, nose, and mouth, which can leave you more susceptible to infection.
Make sure you're drinking enough water to offset the dry conditions by sipping until your urine becomes light in color. Pack an empty water bottle to fill up at a fountain when you get through security, and avoid consuming alcohol and caffeine, for they slow the hydration process.
Bring vitamin C packs to boost your immunity even before you get on the flight. I'll often take vitamin C a few days before I plan on traveling to prepare my system for any germs it might come into contact with in the air.
3. Don't rely on airport food.
Bring your own food and prepack as much as possible so you don't fall prey to processed airport food that will leave you feeling run-down and sluggish. I'll typically bring hummus packs and grain crackers, vegetables that won't perish easily, homemade trail mix, and a protein bar to hold me over until my next meal.
You should get up and stretch your legs in the waiting area before boarding, especially if you are traveling for a long period of time. Once you get on the plane, try to stretch in your seat every hour to keep the blood flowing.
5. Bring antibacterial wipes or gel.
The second you get on the flight, consider wiping the tray table, seats, and buttons around your seat to kill any lingering germs left behind from other passengers.
6. Wear appropriate clothing.
Make sure to wear loose, nonrestrictive clothing that allows for easy, comfortable movement. I also recommend knee- or thigh-high compression socks that provide plenty of external support.
Related reads: