3 Ways To Build Emotional Strength Through Yoga + Really Deepen Your Practice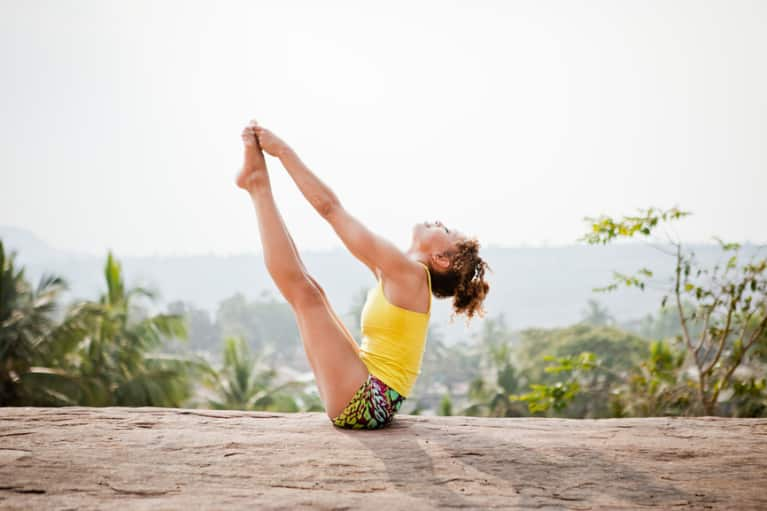 Our emotional savvy is suffering from stressful living and the use of adult pacifiers that distract us from our pain, like food, alcohol, technology, and sex, to name a few.
Emotions are not the enemy but can cause harm when avoided. They provide us with sacred information that we need to thrive within ourselves and our lives.
Yoga provides a context to encounter our feelings and build emotional strength. But just going through the motions alone is often not enough. To truly strengthen your emotional health during yoga, it must become more than a physical practice. Here are three techniques to get started:
1. Breathe fluidly during practice.
By regulating the breath throughout our yoga practice, we begin to stabilize a breathing pattern that eventually gets carried off the mat. Nothing resolves emotions more effectively than the breath, so when we keep it flowing, pangs pass quickly rather than becoming stuck or magnified. This practice works wonders: It's very difficult to have a meltdown or fly off the handle while maintaining smooth, steady respiration.
2. Practice going deeper into poses.
We often back off of our poses when sensation becomes too intense. For example, we slightly straighten our legs when our thighs begin to burn during chair pose or come out early when our hearts begin to flutter with fear during camel—but staying with the difficulty is exactly where the practice of building emotional resiliency lies. By moving deeply into our postures, we consciously flood our awareness with sensation, building our tolerance (both physically and mentally) to host challenge while amassing greater energy and emotional strength. Each time we successfully navigate distress we become more capable of doing so again.
3. Relax fully and mindfully during savasana.
In order to be emotionally healthy we must be able to accept the toughest of emotions, like anger, grief, loss, and sadness. The easiest way to do this is while the body is fully relaxed. Too often we check out during savasana and get lost in fantasy instead of staying present to our actual experience. By using this time to practice conscious relaxation we are training our ability to re-invoke the state any time our emotions try to get the better of us.
Most of us were never taught how to work with emotional energy, which can create so many problems in our lives. Yoga provides the playground to explore and gain mastery over our feelings so that we can become stronger and more stable and joyful. As Master Patanjali so wisely instructs, "Sthira Sukham Asanam: Our postures should be steady and ease-filled." So, too, should our lives.
Related reads: