The Best Nontoxic Sunscreens To Use All Summer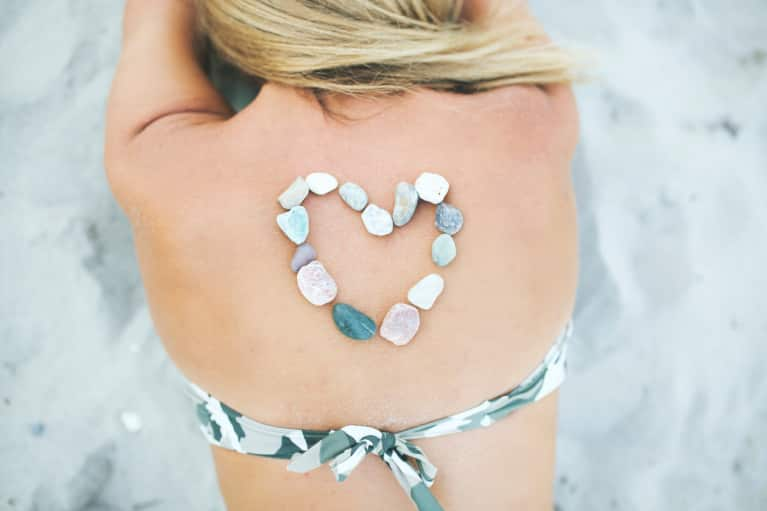 Our editors have independently chosen the products listed on this page. If you purchase something mentioned in this article, we may
earn a small commission
.
Summer: the season of sundresses, bikinis, backyard BBQs, and endless beach days. Unfortunately, also the season of sun damage. It's safe to say that nobody goes into summer hoping to get burned or to otherwise harm their skin. Right? And yet, days spent lounging by the pool—or frankly even just walking to work in that bright daylight—can mean a whole lot of extra exposure to harsh UV rays.
So, you'll need some sunscreen to protect you from all that hazardous sun. Of course, you don't want the kind with harsh chemicals, irritating fragrances, or potential hormone disrupters. So that rules out about three-quarters of the stuff on the market (if you want to learn more, check out the EWG's sunscreen report).
Instead, you want those natural, nontoxic formulas that protect your skin with minerals like zinc oxide and are packed with antioxidants and other good-for-you ingredients (soothing aloe and moisturizing organic oils, to name a few). Luckily, you've got options—and good ones, too. Read on for the 12 best natural sunscreens—from a cool DIY powder to an easy allover spray—to help you practice safe sun this summer (and always!).
BANXBlock Fragrance Free SPF 40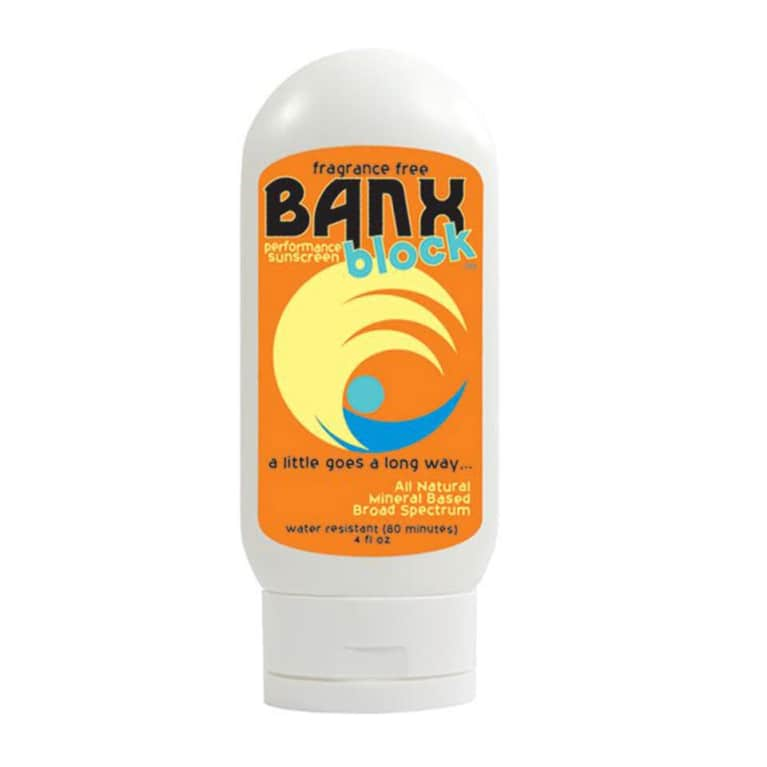 If you spend a lot of time in the water (surfing, paddle boarding, lounging on swan-shaped pool floats), this hardworking formula is for you. It was created by a plastic surgeon from the Outer Banks of North Carolina (hence the name) and is beloved by surfers, lifeguards, and general water sports enthusiasts everywhere (it's even the official sunscreen of USA Water Polo). The nontoxic, mineral-based formula is not only safe for your skin, but it won't harm marine life and coral reefs either. Try their just launched lip protection stick, too. ($18)
Juice Beauty Sport Sunscreen SPF 30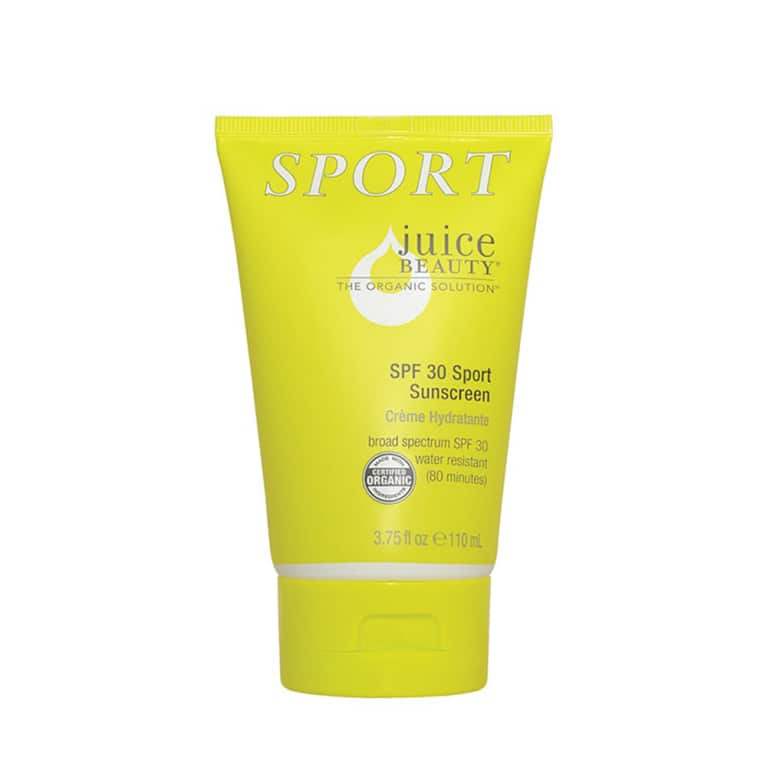 Another EWG favorite, ranking a 1 (aka "least risk") on their safety scale, this water-resistant, chemical-free SPF is an all-around solid standby to keep on hand. The formula feels good on your skin thanks to jojoba oil and soothing aloe, it's full of skin-boosting vitamins, and it has a nice, lightly fruity scent too. The formulation is a bit thick, so save this one for your body. ($16)
Drunk Elephant Umbra Sheer Physical Defense SPF 30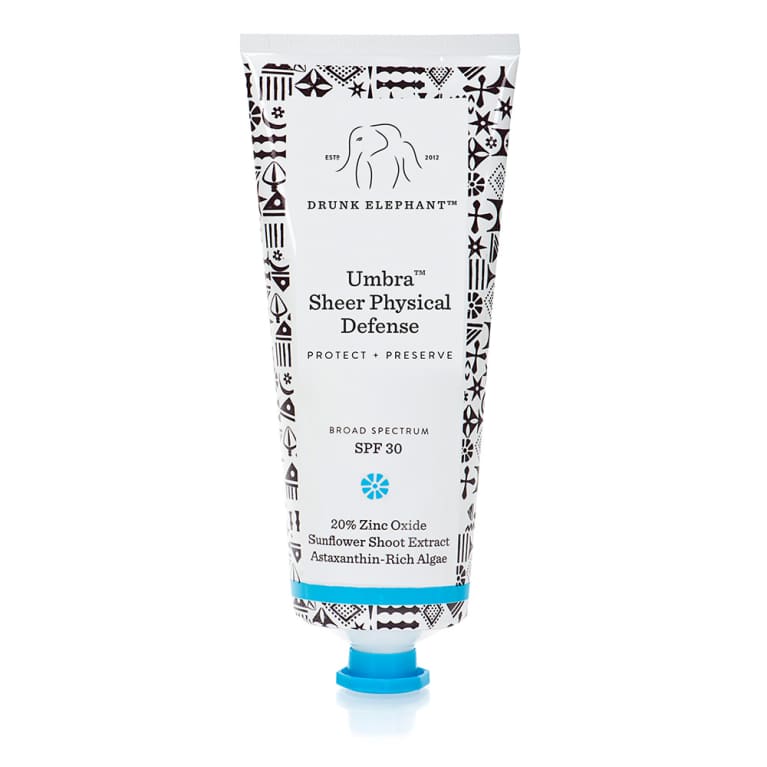 This brand's major buzzword is "nontoxic" and its sunscreen is just that. It's formulated with zinc oxide for UV protection and potent antioxidants like sunflower sprout extract and algae extract to protect against free radical damage and the aging effects of the sun. Plus, it's totally fragrance- and irritant-free, so it's safe for even the most sensitive skin. Use it on your face and body. ($38)
Marie Veronique Everyday Coverage SPF 30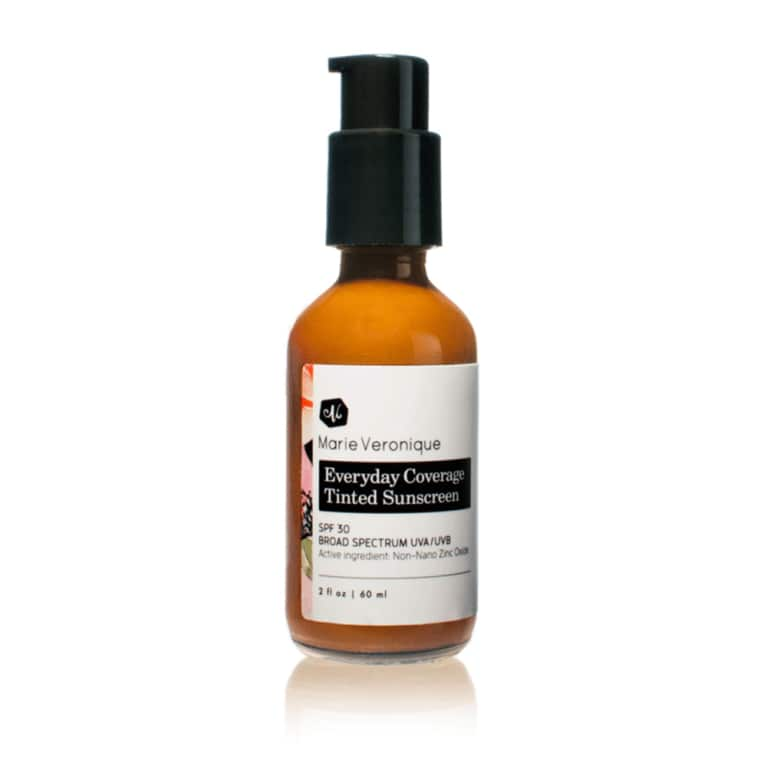 Consistently at the top of EWG's natural sunscreen rankings, this tinted face sunscreen comes in three shades and provides great daily coverage from harsh UV rays. It goes on light, never feels sticky, and is packed with good-for-your-skin ingredients like green tea extract, sea buckthorn oil, and rosehip seed oil, for an extra dose of free radical-fighting moisture. ($48)
Suntegrity Natural Moisturizing Face Sunscreen & Primer SPF 30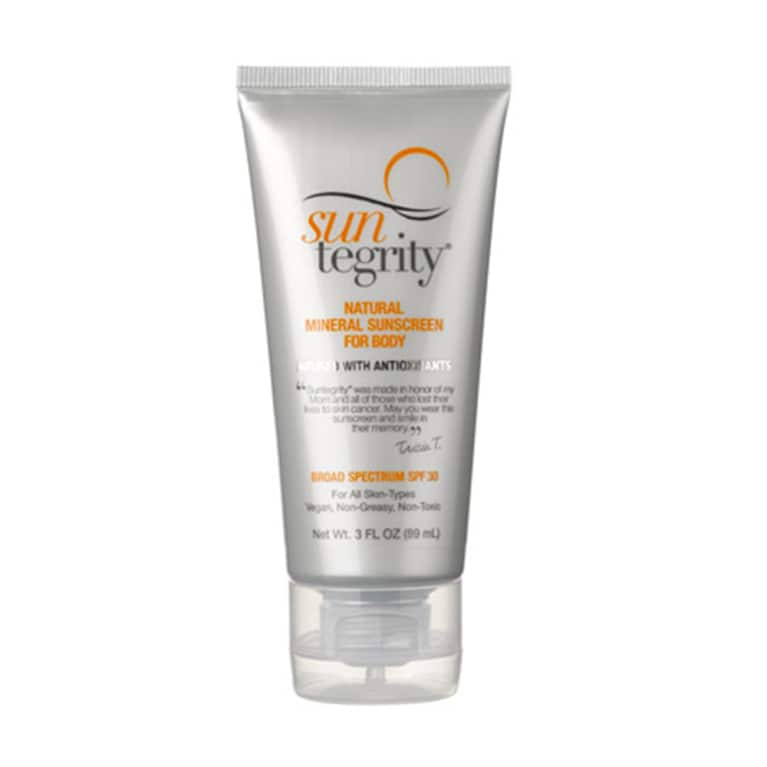 Ask any beauty editor about their favorite natural sunscreen, and they'll inevitably name Suntegrity among their top picks. The winner of countless beauty awards, this lightweight, nongreasy SPF smells like citrus (in a good way)' has cooling, soothing ingredients like aloe, cucumber, and green tea; and is specifically formulated to work well under makeup (it's a built-in primer!), so you can wear it every day. Their body sunscreen is great too. ($45)
MyChelle Sun Shield Clear Spray SPF 30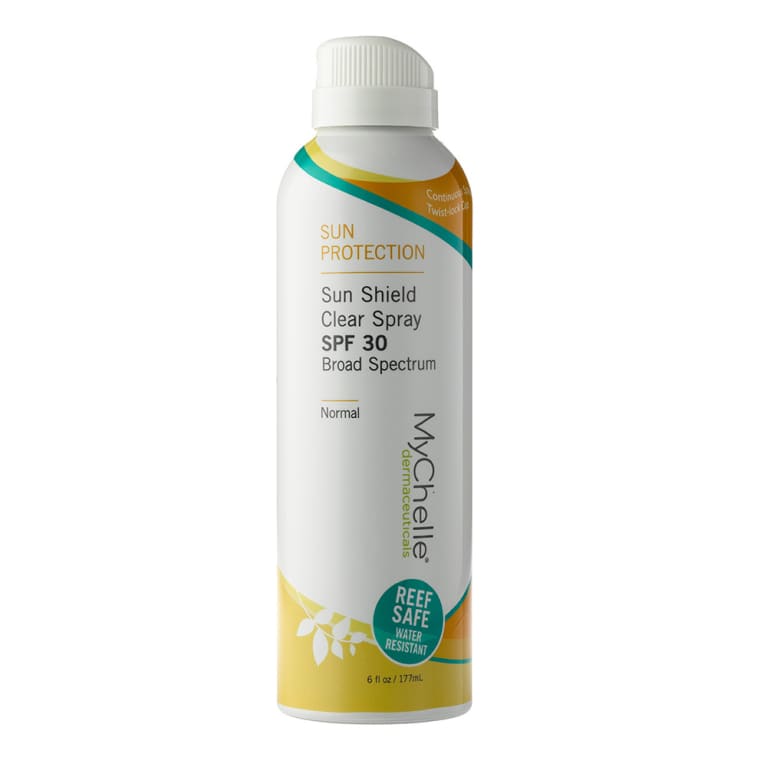 This is a nontoxic, zinc-based sunscreen that comes in an easy-to-use spray bottle. Need we say more? It's reef-safe (so go ahead and take a swim) and offers water-resistant protection for up to 80 minutes. In other words, you'll want to have a bottle (or two) in your beach bag at all times. ($18)
Moss Halo Sun Protection Powder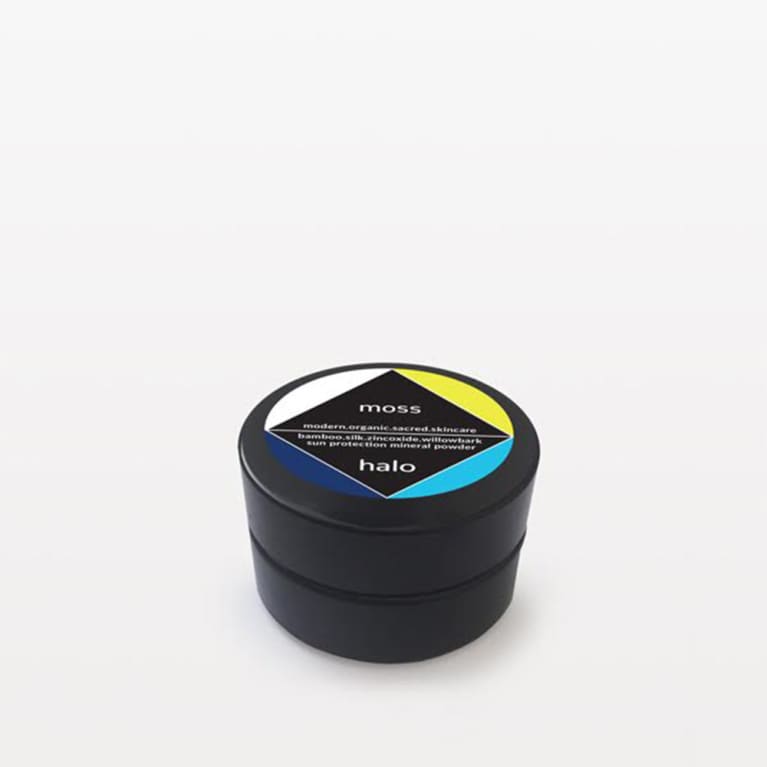 If sunscreen perpetually causes you to break out no matter how clean its recipe, you need to try this game-changing powder. Made from non-nano zinc oxide, blemish-fighting white willow bark, soothing bamboo, antioxidant green tea, and mattifying sericite, this powder turns into sunscreen when added to any face oil or moisturizer. Try combining a little scoop of the powder with naturally sun-blocking raspberry seed oil for an extra dose of SPF. ($45)
Badger SPF 34 Anti-Bug Sunscreen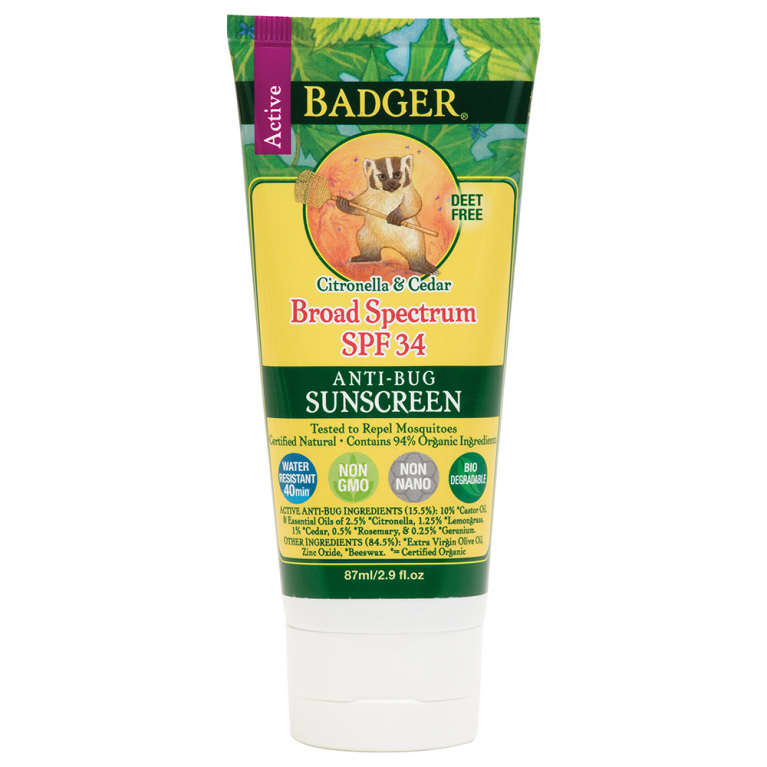 For outdoorsy activities, sunscreen is a must, but bug repellent can be equally key to ensuring a fun hike, bike or backyard BBQ. This non-toxic, mineral-based sunscreen with an organic olive oil, beeswax and castor oil base is soothing and safe for all skin types and has DEET-free bug repellent, to keep mosquitos far away. ($16.99)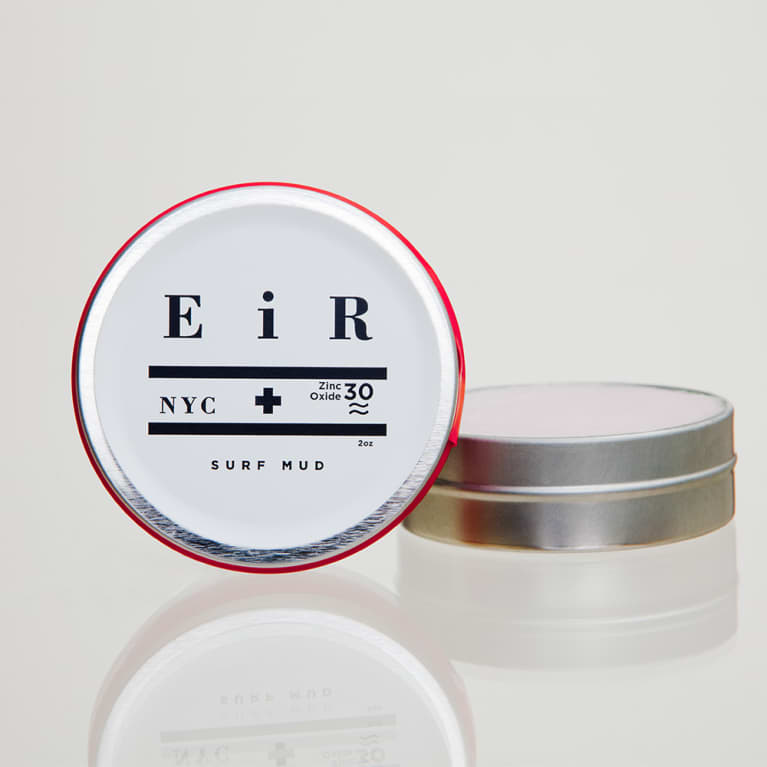 With only six ingredients (coconut oil, cocoa butter, cocoa powder, beeswax, tea tree oil, and zinc oxide), this natural formulation is super simple and nourishing. Inspired by Mayan beauty secrets, the chocolate hydrates and increases blood flow to the skin while zinc oxide protects. Use this on your face and hair. For allover protection, check out their Surf Mud Body Oil. ($24)
Kari Gran Three Sixty Five SPF 28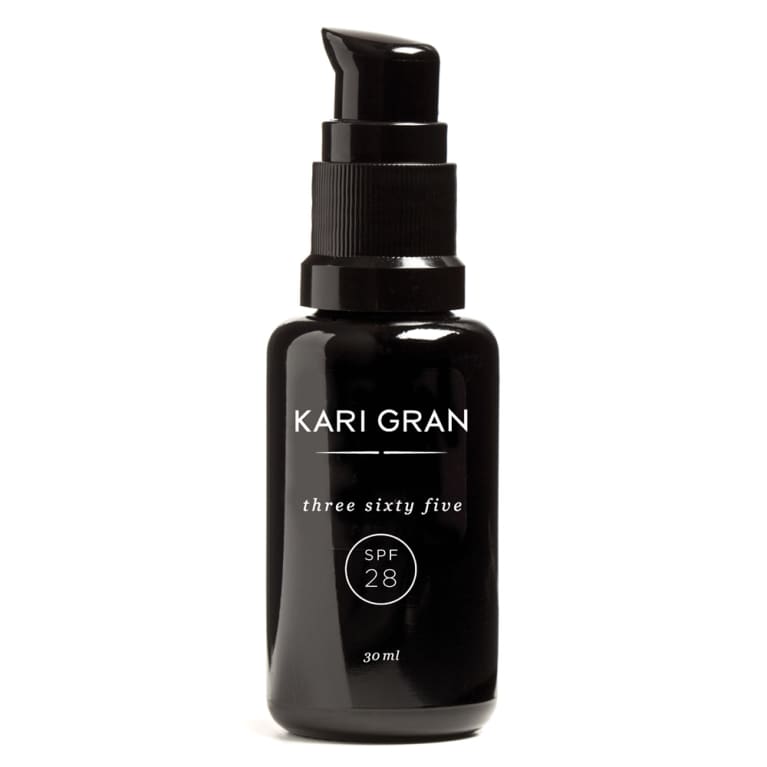 This mineral sunscreen from organic beauty brand Kari Gran has gained something of a cult following among natural beauty enthusiasts. It's lightweight and easy to apply and leaves your skin feeling soft and smooth all day thanks to the raspberry seed, French plum seed, macadamia nut seed, kukui seed, and avocado oils on the ingredients list. Pro tip: You can easily turn this simple sunscreen into a tinted SPF by adding a small scoop of your favorite mineral powder foundation and mixing it up. ($48)
Beautycounter Protect All Over Sunscreen SPF 30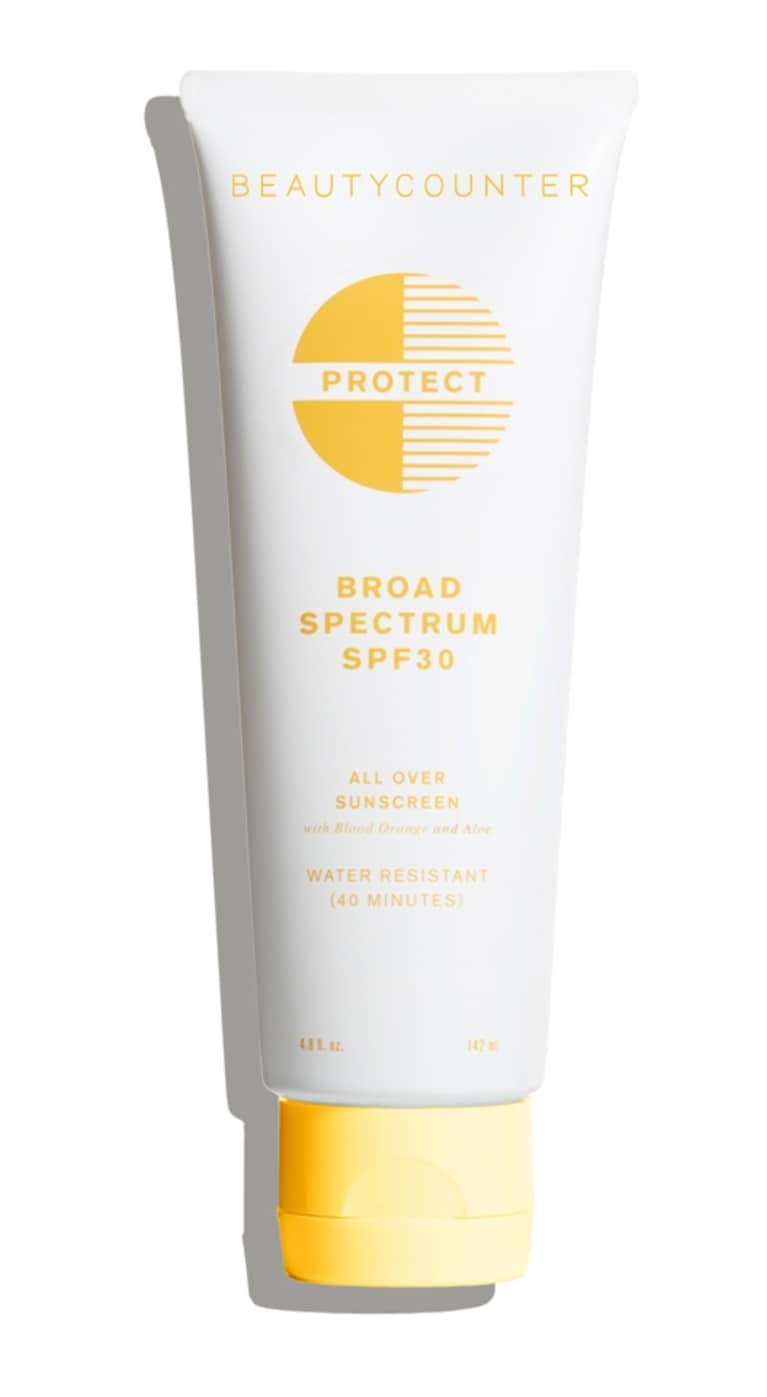 There's a lot to love about this clean face and body sunscreen. First of all, the non-nano zinc oxide formula means it blends into your skin without leaving awkward white streaks. Then, there's the hydrating aloe and antioxidant-rich green tea and blood orange extracts in the ingredients list. Of course, it doesn't hurt that the pretty packaging looks nice in your beach bag as well. ($32)
Alba Botanica Very Emollient Mineral Sunscreen SPF 30 Fragrance Free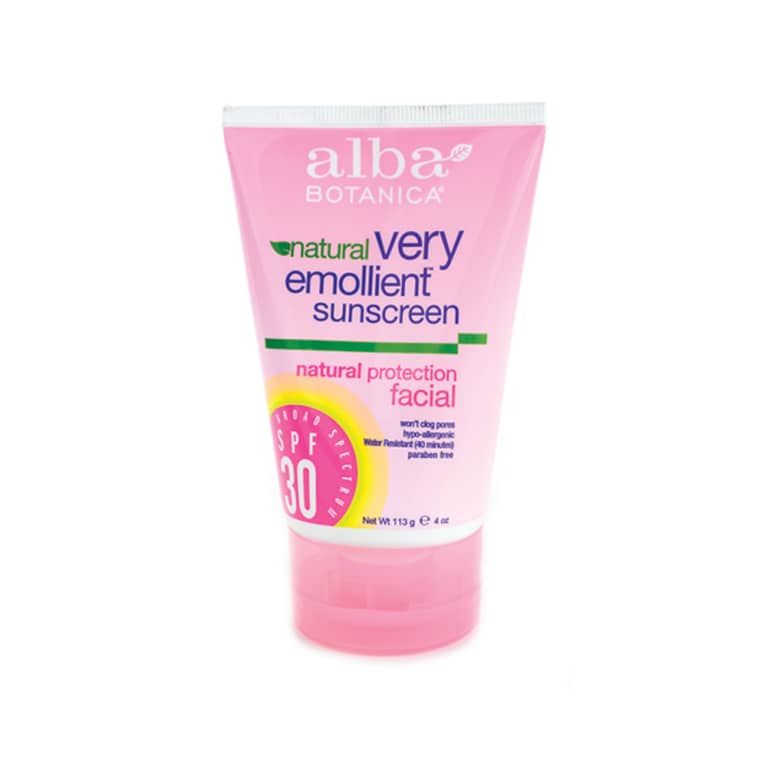 Free of fragrance and packed with soothing ingredients like aloe vera and chamomile, this broad-spectrum body SPF is great for people with sensitive skin. It goes on smooth and never leaves streaks. That affordable price tag doesn't hurt either. ($8.99)
Related reads: