This Woman Lost Half Her Body Weight & Got Even More Depressed: Here's How She Finally Found Happiness
Welcome to your summer book club with Crown Publishing! Two weeks ago, we introduced her books, It Was Me All Along and Eating in the Middle: A Mostly Wholesome Cookbook (and all the reasons we love 'em). Now, we're digging deeper in an interview with the incomparable Andie Mitchell herself. Prepare to be inspired. And if you're ready for your next read, check out our full summer book list here.
You might have heard about Andie Mitchell from Good Morning America, People magazine, or Marie Claire; seen her memoir on The New York Times best-seller list; or come across her blog (which Health magazine ranked the best weight-loss blog last year). But if somehow you haven't, we're here to introduce you.
Andie's memoir chronicles her lifelong struggle with emotional eating through vulnerable anecdotes, and, more than any other transformational tale ever has, made us believe that maybe we can finally separate our self-esteem from our physical appearance. So, we sat down with Andie to pick her brain about creating a healthy relationship with food, her favorite recipes, and the difference between your happy weight and your happiness.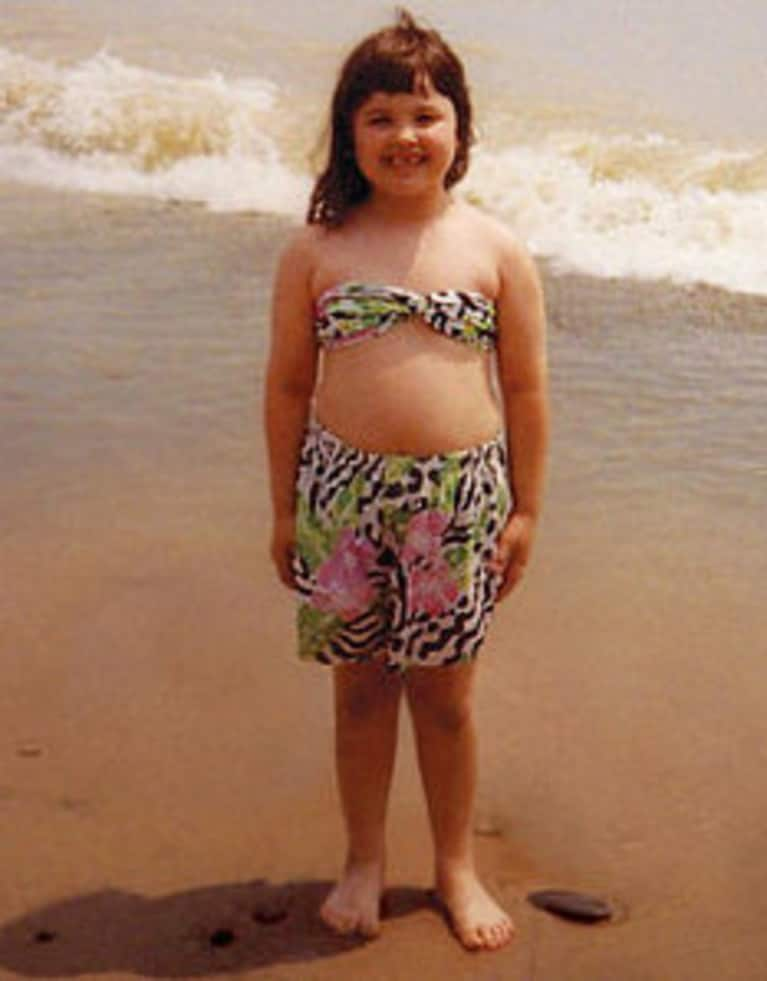 1. You've struggled with emotional eating all your life. What finally moved you to write about it?
I had been following food blogs and healthy living blogs for a while, and in 2010, I felt inspired enough to start my own. Readers responded very positively to my posts about my personal struggles with weight and emotional eating. I felt like I had found my niche in the blogging world and I kept expounding on the emotional and psychological side of weight loss.
The more I wrote, the more I realized my story could be well-suited to a book. About a year and a half after I started blogging, I was approached by a publisher, which led me to my agent, and that's when I got serious about pursuing the book idea.
2. You must've been scared to share such a raw, vulnerable story so openly.
I was terrified. The extrovert in me loves the attention and feedback, but I also have intense shame and anxiety about my shortcomings. So the fact that the thing I was promoting was basically a reference guide to my problems and personal failings was very difficult. I was able to overcome the feelings of shame because it was cathartic and honest, and I knew it had the potential to resonate with people.
I regret just how much stuff I didn't do, or waited to do, because I either believed I couldn't or didn't deserve to do it because I was fat.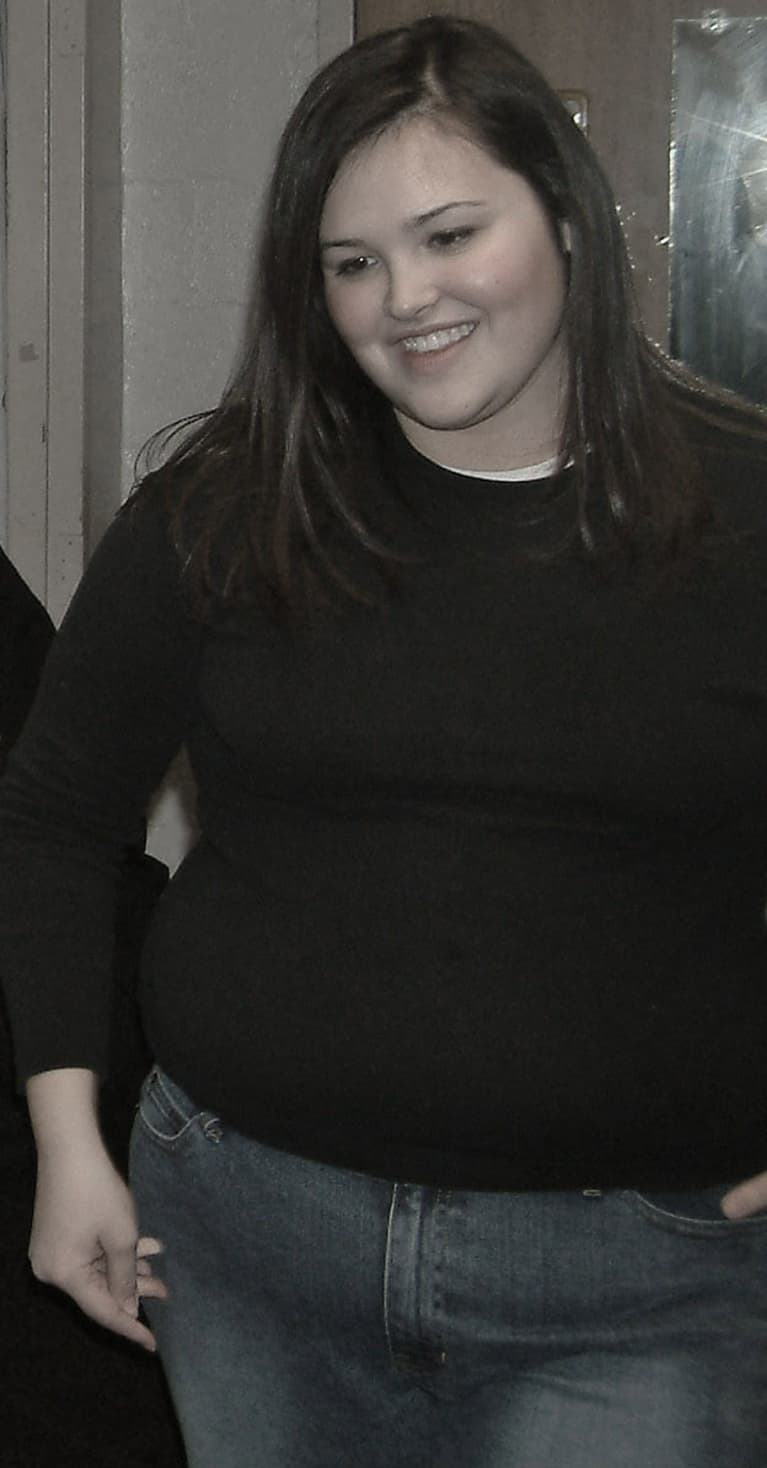 3. Has this journey changed your expectations for yourself?
I have always struggled with a desire for perfection and have had this feeling that no matter how good something is, it could be better. The process of writing books and making a public record of my life has made me realize how silly that is. I can spend hours or even days going over a single blog post and stressing about every word, but at some point, I'm going to have to hit publish and live with the result. It's freeing somehow.
I have also realized that no amount of success, or time, or self-awareness can make me immune to struggling with emotional eating. These issues are deeply ingrained in me and will probably always be present, but I wake up every day and choose to practice mindfulness. I aim for balance. And when I can't be mindful or balanced, I'm compassionate and quick to start again.
4. Through your own weight loss journey and the process of turning it into a book, what has been your most profound revelation?
When I was starting out I would have said my issues with emotional eating and food addiction were unique in their severity. I couldn't imagine other people dealing with the same intense pain and functioning in the world. But ever since I started the blog, and especially after I wrote the memoir, I get messages every single day from women who are going through the exact same thing.
Happiness can't be tied to your weight, and your worth can't be measured by a scale.
So many young women develop eating disorders and unhealthy attachments to food. Because of the intense shame, people do their best to hide their problems in public, but after corresponding with countless people, I think this problem is much more widespread than I previously did. I think my story has resonated with people not because it's extraordinary but because it's relatable.
5. You also wrote a cookbook, with your own fabulous, "mostly healthy" recipes. Which one is your favorite?
Probably something from the more indulgent desserts section, because even though I try to eat in the middle, my heart still belongs to cake. My favorite main dish currently is the Lemon-Herb Fish with Crispy Oven Fries, because we had it the other night and it was really satisfying. You can't go wrong with fish and chips.
6. What is your idea of a perfect meal?
My preferences always default to comfort food over fancier modern fare. Whenever I picture a perfect meal, I invariably think of my stepdad PJ's spaghetti and meatballs. He makes this incredibly flavorful sweet sauce and the most tender, delicious meatballs. On Sundays, I could already smell the sauce simmering when I woke up in the morning. It's just the most satisfying dinner imaginable. It is the most meaningful recipe in my cookbook.
(Get the recipes for Lemon-Herb Fish with Crispy Oven Fries and PJ's Spaghetti and Meatballs at the end of this post.)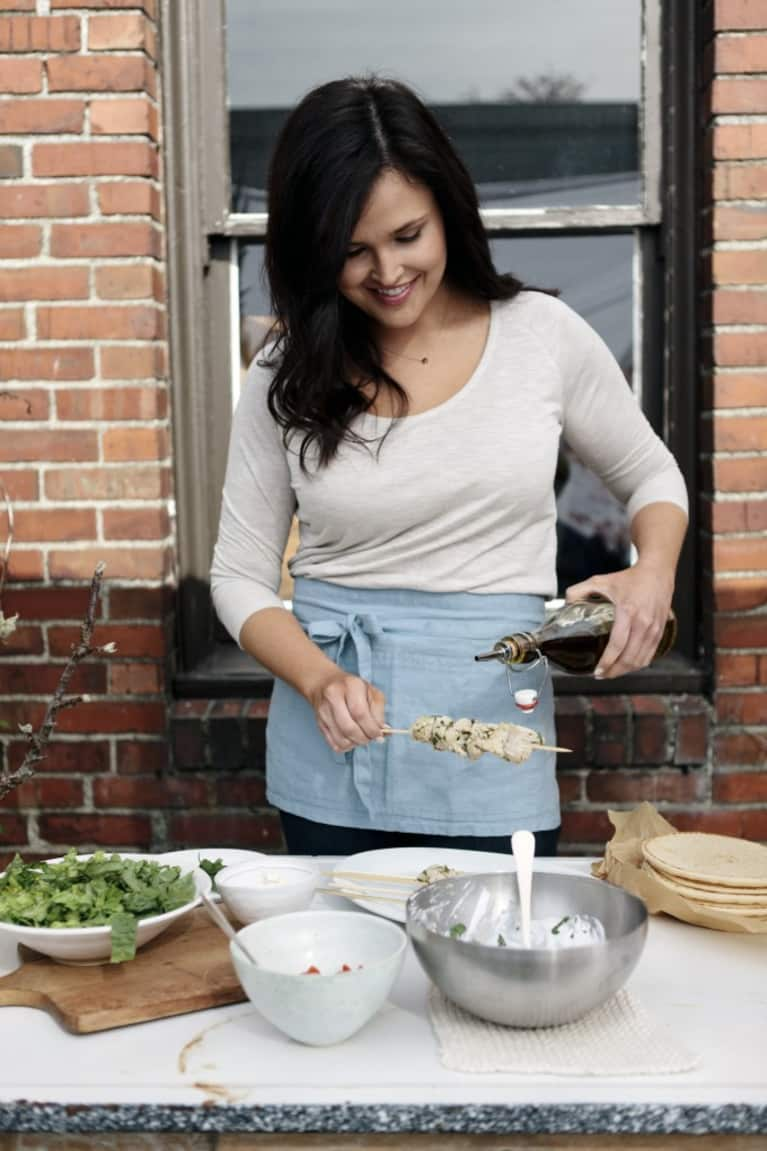 7. Do you feel differently about cooking now that it's become part of your "job"?
Yeah, it's funny because I might spend a whole afternoon meticulously cooking and photographing a beautiful and involved recipe to share but then when I cook for myself I just do something really quick and simple that most people would find incredibly boring. I wouldn't say I view cooking as a way for me to relax anymore since it's such a big part of my work time, but I still enjoy creating new recipes and I do love the finished product.
8. If you weren't a writer and recipe genius, what would you be doing?
I have had an eclectic work history. I was a waitress, worked in film production, worked for a nonprofit, was a copywriter, and briefly pursued a career as a teacher. But ever since I was a child, I wanted desperately to be a performer of some kind. I mostly just like talking to people, so my dream would be to have a talk show.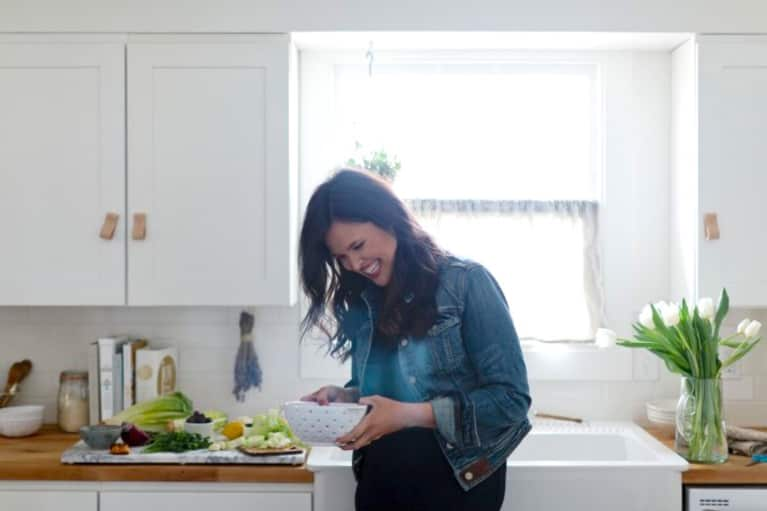 9. What advice would you give to people who have had similar struggles finding a happy weight?
First, try to realize that happiness can't be tied to your weight, and your worth can't be measured by a scale. When you rely on your weight for your emotional well-being, you're setting yourself up for a lifetime of struggle. When I was overweight, I connected every problem to my size. In my mind, my weight was always the problem—not my mindset, not my relationship with food, not my habits—my scale weight. And because I believed my fatness to be such a burden, I was scared to put myself out there and do things that made me uncomfortable.
I put my life on hold, thinking I would start living once I lost the weight. But before I knew it, years would go by and I was still no closer to my goals. I regret just how much stuff I didn't do, or waited to do, because I either believed I couldn't or didn't deserve to do it because I was fat.
You can't let your weight control your entire life. Many of us are overweight and unhappy and we assume that resolving the overweight part will automatically resolve the unhappy part. I know from experience that isn't true. Finding a happy weight is about finding a way of eating and living that is healthy and comfortable for you, but finding a happy weight doesn't mean finding happiness.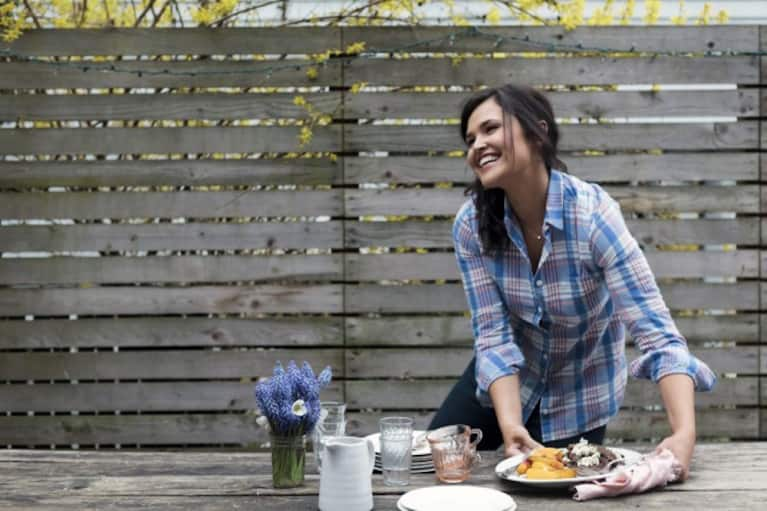 Lemon-Herb Fish With Crispy Oven Fries
Serves 4
Ingredients
Oven Fries
1½ pounds (about 2 large) russet potatoes, cut lengthwise into ½-inch-thick sticks
1 tablespoon olive oil
½ teaspoon salt
¾ cup panko breadcrumbs
3 garlic cloves
¼ cup packed fresh flat-leaf parsley
Zest of 1 lemon (about 1 tablespoon)
½ teaspoon freshly ground black pepper
2 large eggs
1½ pounds cod or haddock filets, cut into 4 equal pieces
1 tablespoon unsalted butter
Preparation
1. For the oven fries, preheat the oven to 450°F.
2. Put the potato sticks into a large bowl, fill with enough hot tap water just to cover them, and let stand for 10 minutes.
3. Drain the potatoes, spread them out on a large kitchen towel, and dry them well. Put the potatoes in a large bowl, add the oil, toss well, and spread them out on a wire rack set inside a large rimmed baking sheet. Season with the salt. Bake until golden brown and crispy, about 40 minutes.
4. About 20 minutes before the fries are done, prepare the fish. In the bowl of a food processor, combine the panko, garlic, parsley, lemon zest, salt, and pepper. Pulse until you have fine crumbs. Pour into a wide, shallow bowl.
5. In a separate shallow bowl, lightly beat the eggs. Dip both sides of 1 piece of fish first in the egg mixture, letting any excess drip off, and then dredge in the breadcrumb mix, pressing to coat. Transfer the fish to a plate and repeat the process with the remaining 3 pieces of fish.
6. In a 12-inch nonstick skillet set over medium-high heat, heat ½ tablespoon of the butter. Add 2 of the pieces of fish and cook, undisturbed, until their undersides are crisp and lightly golden, 3 to 4 minutes. Flip and cook until the second side is crisp and lightly golden, 3 minutes more. Transfer to a warm plate. Add the remaining ½ tablespoon of butter, and repeat the cooking process with the remaining 2 pieces of fish.
7. Divide the fish and chips among 4 plates and serve immediately.
PJ's Spaghetti and Meatballs
3 tablespoons olive oil
1 small onion, finely chopped (about ½ cup)
4 garlic cloves, minced
1 28-ounce can crushed or puréed tomatoes
1 6-ounce can tomato paste
2 tablespoons sugar
1 tablespoon dried oregano
¼ teaspoon salt
1 teaspoon freshly ground black pepper
1 pound ground beef (preferably 85 percent lean)
1 large egg, lightly beaten
⅓ cup Italian-seasoned bread crumbs
2 teaspoons dried oregano
1½ teaspoons dried mint
½ teaspoon salt
½ teaspoon freshly ground black pepper
12 ounces dry penne or ziti
½ cup grated Parmesan cheese, for serving
Preparation
1. For the sauce, in a large pot, heat the oil over medium heat. Add the onion and cook, stirring occasionally, until it begins to brown, about 12 minutes. Lower the heat to medium-low and if the onion starts to burn, add a tablespoon of water.
2. Add the garlic and cook, stirring constantly, until golden and fragrant, about 1 minute. The more color that develops on the onion and garlic, the more flavor they'll add to the finished sauce.
3. Add the crushed tomatoes and tomato paste and stir well. Add the sugar, oregano, salt, and pepper. Bring the mixture to a simmer, reduce the heat to low, cover, and cook, stirring occasionally so that the bottom does not burn, for at least 30 minutes.
4. Meanwhile, for the meatballs, break the beef apart into a large bowl. Add the egg, breadcrumbs, oregano, mint, salt, and pepper. Using your hands, mix until well-blended. Do not overwork the beef or the meatballs will be tough.
5. Shape the mixture into about 12 1½-inch balls. Drop them into the sauce and stir gently to cover the meatballs in sauce. Cover the pan and cook, stirring occasionally to prevent burning, until the meatballs are cooked through, about 1 hour.
6. Boil the pasta according to the package directions. Drain.
7. To serve, divide the pasta among 4 plates or bowls. Put 3 meatballs on top of each plate of pasta, and pour ½ cup of the sauce over the meatballs and pasta. Sprinkle with the grated Parmesan cheese.