The Tampon Of The Future Will Be Able To Detect Disease In Your Blood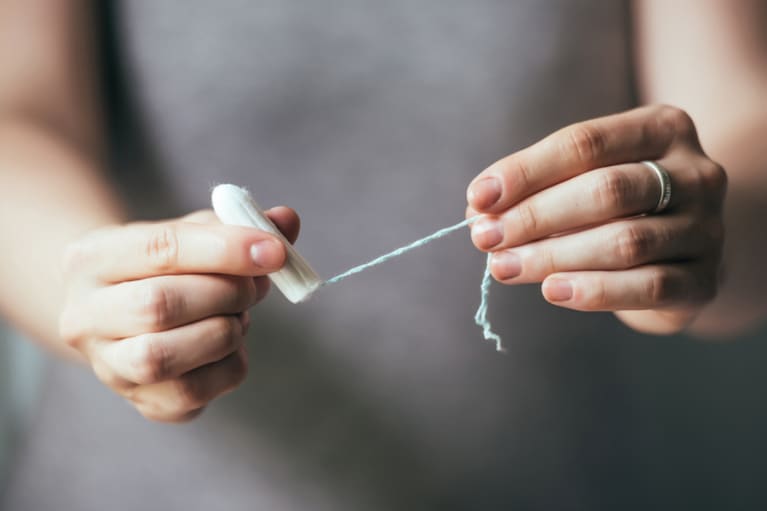 Tampons were invented in 1931 and, aside from adhesive strips and wings on pads, the products have essentially remained unchanged. We have menstrual cups that text you about your flow and period-absorbing underwear, but nothing new in the tampon department other than organic cotton tampons.
But that could finally be changing.
A tampon able to test to for STIs and cancer might be on the way, according to updates from NextGen Jane, a start-up focused on putting women's health in their own hands—erm, vaginas—starting with so-called "smart" tampons.
NextGen Jane founders Ridhi Tariyal and Stephen Gire were working at an infectious disease lab at Harvard University and realized the blood and cells collected by menstrual products could be used to diagnose health problems. The tampons have been in development there ever since.
Their hope is that their tampon will not only test for biomarkers that help diagnose medical conditions like endometriosis, cervical cancer, and fertility, but empower those using the product to take control of their health instead of relying on a doctor.
For now, the "smart" tampons will only work for cisgender women, but hopefully future advancements will allow the device to work for nonbinary people and transgender men.
"We had to come up with something that would allow women to find out about these conditions sooner than every year," Tariual told Fast Company. "You can pick up a disease any time, and letting it sit there for a year until your next visit can have consequences downstream that you don't want. The system has to change."
Indeed it does. But at least over the past year or so, women have really begun standing up for their periods. Menstrual activism is now on people's radar. And, as the development of this tampon shows, people are starting to listen. New York City Council even passed a bill this week that will make tampons and pads available for free at public schools, homeless shelters, and jails.
We can't wait to see what's next.