Why Having A Baby Was The Best Thing That Ever Happened To My Sleep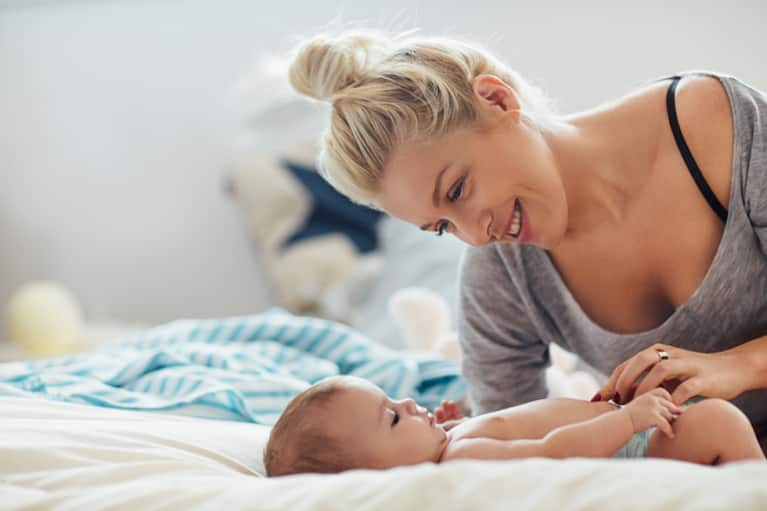 Ellen Vora, M.D., is a holistic psychiatrist practicing with Frank Lipman, M.D., at the Eleven Eleven Wellness Center in NYC. This week, we're sharing Dr. Vora's expertise in a new series on natural techniques for better sleep. To learn more, check out her mindbodygreen course, The Doctor's Guide to Falling Asleep Naturally + Getting the Best Rest of Your Life.
Once upon a time I had a fabulous life, complete with late-night dancing and midafternoon brunches. Now I have a baby, and those days are gone.
The expectation is that having a baby wrecks your sleep, and you feel exhausted and sleep-deprived for 18 years until they fly the coop for college. But I'd argue that having a baby was actually the best thing to ever happen to my sleep.
My cuddly, 15-pound alarm clock taught me that going to sleep earlier and sleeping on a consistent schedule creates the deepest sleep.
Why? Because my baby, with her healthy brain and intact circadian rhythm, wakes up at 6:45 a.m. like clockwork. And there's no snooze button on a baby (believe me, I've searched high and low). Her adorable cries have forced a rigid sleep schedule on the whole household in a way that no alarm clock ever could have. And it has been amazing.
Major caveat: My baby sleeps through the night. If that were not the case, this would be a very different article. To all the families out there with middle-of-the-night awakenings: My heart goes out to you.
What I've learned from my cuddly 15-pound alarm clock is that going to sleep earlier and sleeping on a consistent schedule creates the deepest sleep at night. You could never have convinced me of this when I was still free to stay up late and sleep in the next day—so I don't expect everybody to jump on board with this idea. But I wish somebody had told me. Now that I think about it, I think several people did. I wish I had listened.
So here's how to sleep like a person with a baby, whether you have one or not:
Step 1: Assume your wake-up time is not long after sunrise. Aim for something in the range of 6 to 7 a.m.
Step 2: Accept that this wake-up time is seven days a week, nonnegotiable, and as certain as death and taxes. Live by this. If you have kids, they'll take care of this for you. If you don't, it's the honor system. This is a relationship between you and your alarm clock. With each snooze, you're only cheating yourself.
Step 3: You need to get in bed early enough that you get enough sleep, even though the alarm is going off at the crack of dawn. If you need eight hours of sleep, then count back about eight and a half hours from your wake-up time, and that's when you need to be in bed.
Bottom line: If you have an infant enforcing an early wake-up time in your household, embrace it and plan your bedtime accordingly. If you still have the freedom to have a helter-skelter sleep schedule, consider living as though you don't. Stick to a consistent sleep schedule with an early bedtime and an early wake-up time.
You may miss out on some late-night fun, but you'll experience remarkably better sleep, energy, mood, and health. I had no idea how good it could be until I had a baby.