My Husband Battled Early-Onset Alzheimer's For 10 Years. Here's What It Was Really Like To Be His Caregiver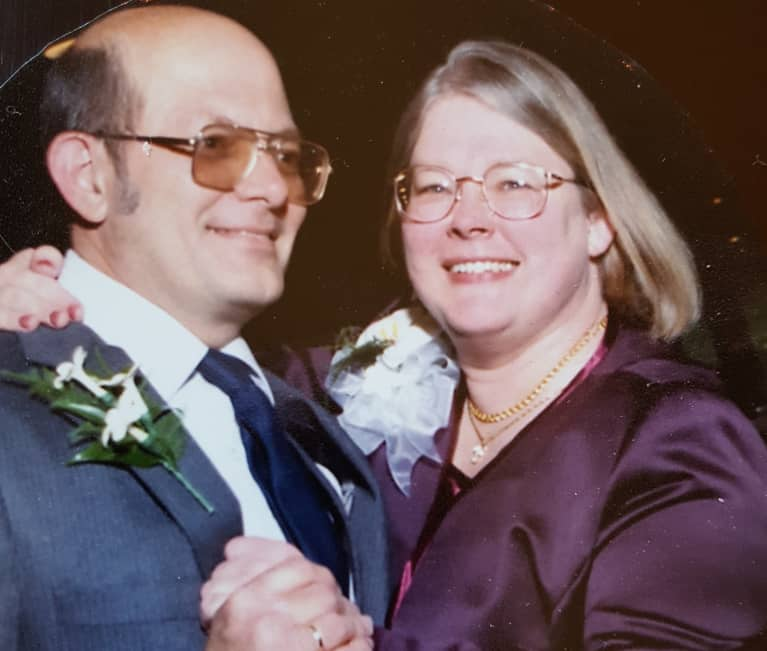 Editor's Note: In the wake of Pat Summitt's untimely death, our hearts go out to Alzheimer's sufferers and caregivers everywhere. This is the story of one man's struggle with the disease, and the woman who cared for him until the end.
Recently, my kids and I were sitting together in the living room and I said, "I never want to live in a vegetative state, dependent on a machine or fluids from a bottle. If that ever happens, just pull the plug." They got up, unplugged the computer and threw out my wine!
This joke certainly made me laugh, but it also made me recall my years as an Alzheimer's caregiver, and how important it was for me to have people by my side who not only understood my needs and wishes, but also had humor and the courage to see the positive side of things. This is the kind of support every Alzheimer's caregiver needs.
My husband, Dennis, was already in the mid-stages of the disease when he was diagnosed at age 56. I couldn't have ever prepared myself for how exhausting and all-encompassing caregiving would be – no one can really. I was unprepared because I never expected to find myself in this situation. But the truth is that caregiving can become anyone's reality.
Alzheimer's is not a not a normal part of aging. It's a progressive and fatal disease that attacks the brain and affects one's ability to remember, think, plan and, ultimately, function. When my husband was finally diagnosed, I was angry that I had not done more to help him during the early stages of the disease. I simply thought our relationship had "hit a bump in the road"–Alzheimer's was not even on the radar.
Following his diagnosis, the first thing I did was forgive him for every misstep we had and put past grievances aside. He was not to blame for his behavior and his Alzheimer's was certainly not his fault. The second thing I did was to immediately contact the Alzheimer's Association. I read everything on the website, attended two support groups, and learned everything I could about the disease through several education programs.
As time went on, I realized that having Alzheimer's or being a caregiver can be a lonely life. Friends and relatives often fall away. As the disease progressed, my anger changed. Early on, the anger was for the loss of what was supposed to be our golden years. Then I became angry toward all the unknowns of the disease. Managing my emotions was important, as Dennis would become agitated in response to my anger. Alzheimer's is shrouded in myths and stigmas, and it becomes pretty frustrating at times.
After Dennis's diagnosis, I took care of him 24/7. It was difficult for me to keep up with how quickly the disease was progressing. Not only was he losing his memory, but he was experiencing other symptoms. Many only associate the disease with memory loss, but there are other signs and symptoms, including an inability to communicate, concentrate and solve problems.
One of the most difficult symptoms my husband experienced was hallucinations. Dennis saw people living in his garden and said they were tunneling into our house. He also thought the left half of his body was someone else's. He would get frustrated and start pounding on his left hand and wrist trying to kill "this other person." It was incredibly painful to witness.
By the sixth year of caregiving, I began having my own health issues. It was then that our son, Dan, who helped me care for his father, decided we needed extra help. I agreed, but it was not a decision I could have made on my own. Several family members stepped in to help take care of Dennis and me, but I was the primary caregiver until Dennis passed away from Alzheimer's disease at age 65.
He did not have a heart attack, stroke, or pneumonia. Alzheimer's spread through his brain, robbing him of his normal function until he stopped swallowing, breathing and his heart just stopped. The autopsy confirmed what we already knew—Dennis passed away from Alzheimer's. We donated his brain to researchers and are hopeful that it will be able to get them one step closer to a cure.
More than five million Americans are living with Alzheimer's disease, and by 2050, that number is projected to reach as many as 16 million. As of now, there are no survivors because the disease is fatal. While we've got a long road ahead of us, I'm confident that with everyone's help, we will find a way to end Alzheimer's.
I've joined the fight by volunteering for the Alzheimer's Association Greater Indiana Chapter. I advocate, provide resources to physician offices and participate in fundraising events, including the annual Alzheimer's Association Walk to End Alzheimer's. I tell my story. I educate people about the 10 warning signs of Alzheimer's, so they won't go through what I did with Dennis.
I urge people to educate themselves on how to interact with those living with the disease as well as caregivers. There's still no cure or effective means of treatment for Alzheimer's, but with education, love and forgiveness, I'm hopeful families battling this monster can still live rewarding and fulfilling lives.
Related Reads: