The Juicy Fruit Your Summer Salads Have Been Missing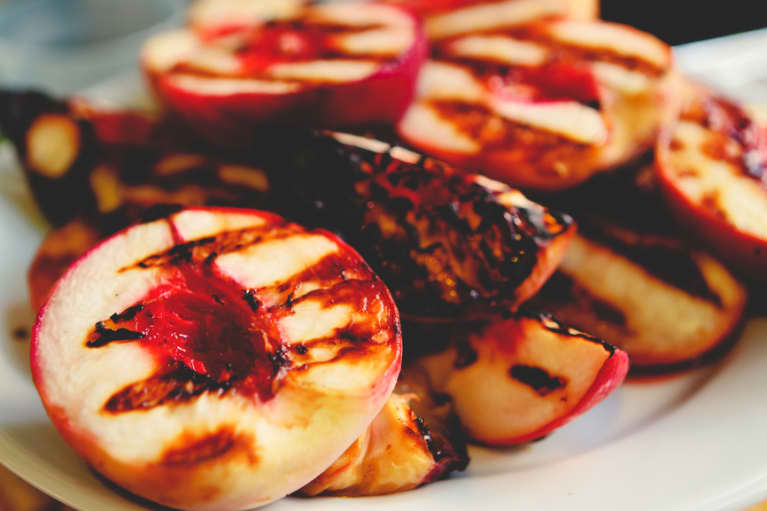 What better way to celebrate summer than with a fresh and vibrant salad!
What I love about this salad is how the grilled peach and lemon balsamic dressing combine to add a sweet and tangy pop of flavor to the dish.
Although I totally could have eaten this entire bowl myself, I shared it with my 2½-year-old, who devoured her share (much like I did). Not a fan of peaches? I'm certain fresh strawberries would pair just as well.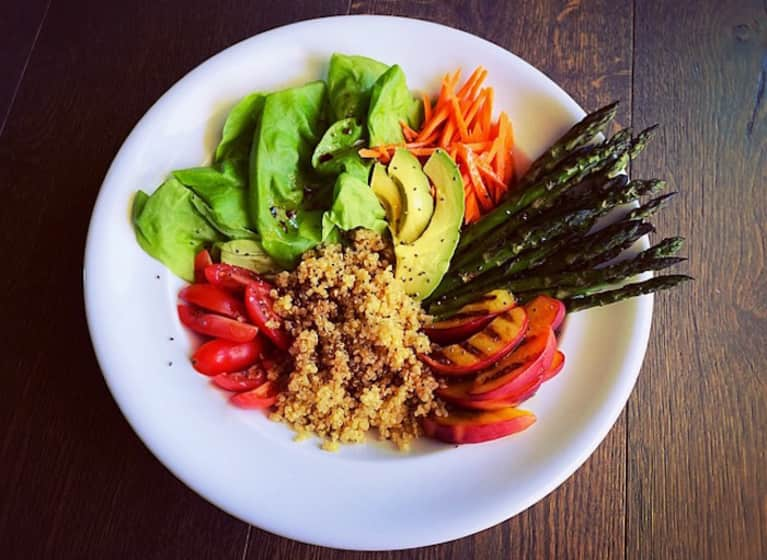 ½ cup uncooked quinoa
1 cup low-sodium vegetable stock
1 large peach
18 medium stalks asparagus
4 large leaves butter lettuce, washed and torn
½ cup shredded/matchstick carrot
4 grape tomatoes, quartered
½ avocado, sliced
2 tablespoons extra-virgin olive oil
1 tablespoons balsamic vinegar
½ lemon, juiced and zested
sea salt and freshly ground pepper
1 teaspoon chia seeds
Preparation
1. In a small saucepan, bring vegetable stock to a boil over high heat; add quinoa, reduce heat to low, and cover. Cook for 15 to 20 minutes. Once cooked, fluff with fork and set aside.
2. While quinoa is cooking, wash the peach and asparagus. Trim asparagus stalks and roughly peel off skin on bottom (makes it easier to chew). Cut peach into about ½-inch-thick slices.
3. Brush grill with 1 tablespoon olive oil and heat to high. Arrange asparagus and peach slices on grill and grill for approximately 5 minutes. Flip over and grill for another 4 to 5 minutes until brown grill marks appear. Remove from grill and put aside.
4. To make the dressing for this dish, whisk together 1 tablespoon olive oil, balsamic vinegar, lemon juice, lemon zest, salt, and pepper until emulsified.
5. Assemble salad: butter lettuce, tomatoes, carrots, quinoa, asparagus, peach slices, avocado. Top with dressing and sprinkle with chia seeds.