12 Things You Need To Know Today (June 24)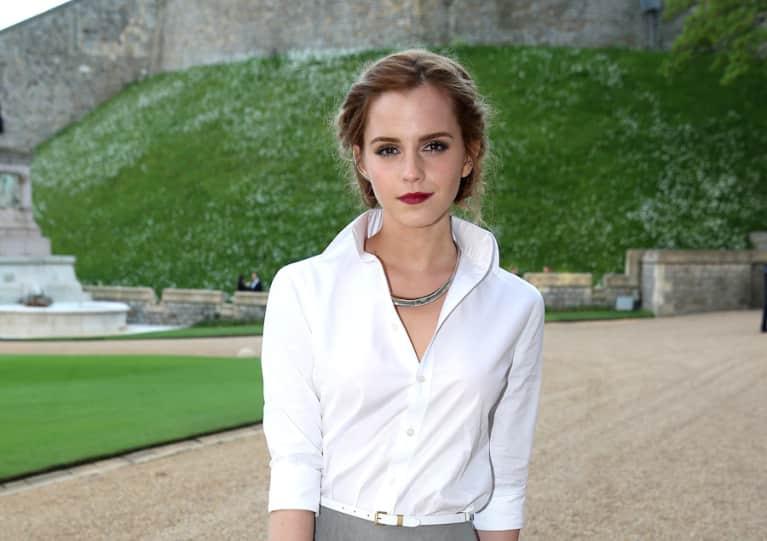 1. Emma Watson, Lena Dunham, and Serena Williams are joining forces for an important cause.
They're just a few of the powerful female celebrities who appear in a new video campaign called Together Women Can. Spearheaded by Facebook COO Sheryl Sandberg, the campaign is a statement about the positive influence women have when they encourage one another. (Huffington Post)
2. The Terminator wants you to eat less meat.
Yup, Arnold Schwarzenegger and Terminator director James Cameron collaborated again for a video asking the people of America and China to cut back on their meat consumption to help lower greenhouse gas emissions. Perhaps an unlikely Meatless Monday spokesperson, Arnold says, "I'm slowly getting off meat and I tell you: I feel fantastic." (The Guardian)
3. Disney princesses might be sabotaging your daughter's self-esteem.
A new study suggests that children who buy into Disney princess culture—through movies, toys, and merchandise—are more susceptible to gender stereotypes. While this might encourage young boys to be more helpful, the researchers found that it had a harmful effect on girls and could harm their body image and confidence. (TIME)
4. Apparently, cats are really into nutrition too.
In a study published online last week, researchers found that cats' pickiness with food is not based on smell, taste, or texture. What matters most, apparently, is nutrition. Cats are driven to eat foods with a preferred ratio of protein to fat: 1 to 0.4—which translates to about 50:50 in terms of percentage of energy from protein and fat. So, when you eat poorly, have no doubt that your cat is secretly judging you from the corner of the room. (mindbodygreen)
5. Katherine Heigl finally got "Knocked Up"—and she's shocked.
The 37-year-old actress and her husband Josh Kelley are already parents to their two adopted children, and they were considering adopting again to add to their family, but she just got pregnant for her first time. "I'm of advanced maternal age; I wasn't sure pregnancy was even in the cards for us," she wrote in a blog post. "Turns out it was very much in the cards!" (Those Heavenly Days)
6. Could pineapples really be an alternative to antibiotics?
A study on pigs in Australia found that enzymes taken from pineapple stems and roots were able to help animals with stomach issues. The researchers are optimistic that a similar solution could work for humans—which is great news considering some antibiotics are becoming less effective for certain dangerous strains of bacteria. This makes us want to celebrate with a piña colada. (Sydney Morning Herald)
7. Family time is even greater in the great outdoors.
A new study found that families who spend time together outside share a stronger bond and are able to better relate to one another. Scientists attribute this phenomenon to the fact that time in nature, away from distractions and technology, encourages family members to relax and recover, which creates a sense of mutual belonging and respect. (TreeHugger)
8. Smoking can also damage sperm.
It's not just the woman smoking that could put the baby at risk. A new study found that in men who smoked, sperm was damaged in ways that could both reduce fertility and possibly even lead to future health problems in their babies. Consider it just one more reason to quit. (NYT)
9. Narcissists are extremely attractive to other people.
As much as we might try to fight it, we can't really help falling for narcissists, according to science. A new Austrian study of speed dating finds that people rate them as more attractive and more datable. For women, narcissism correlated with mate-ability, flings, and long-term relationships, while for guys it was associated strongly with short-term and long-term relationships. Probably because they're extraordinarily charming and self-confident. Ugh. (Science Of Us)
10. Another day, another oil spill.
A spill in Ventura County, California, released more than 29,000 gallons of oil into a grassy canyon yesterday. While the spill did not reach nearby beaches or storm drain systems, its effect on terrestrial ecosystems is still unclear. (LA Times)
11. Sleeping in late might be wrecking your diet.
A new Northwestern University study finds that night owls tend to favor fast food over vegetables and also exercise less than their early-bird counterparts. Interestingly, though, they didn't eat more calories or weigh more—they just ate junkier. Researchers say it might be because of differences in their metabolism. (TIME)
12. Whole grains might be the key to a long life—and yeah, that includes popcorn.
An analysis of several studies concluded that eating three servings of whole grains (as opposed to processed grains) a day could lead to good health and longevity with a reduced risk of cardiovascular problems and cancer. Just make sure that popcorn isn't doused in a movie theater butter-like substance, and go for the homemade stuff. (CNN)