12 Women Changing The Face Of Natural Beauty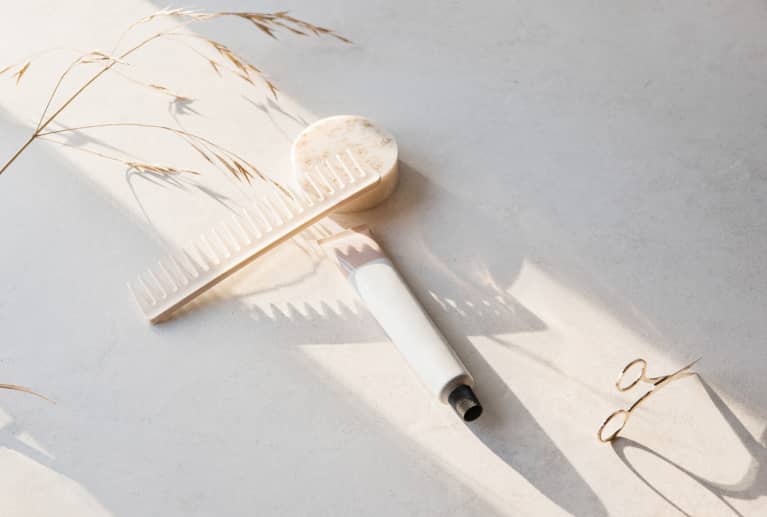 Our editors have independently chosen the products listed on this page. If you purchase something mentioned in this article, we may
earn a small commission
.
There's a lot to love about natural beauty: When it's done right, it's better for your body, better for the environment, and frankly, it's the wave of the future. One thing that we particularly love about the industry? It's made up of a bunch of rad women who are doing extraordinary things and supporting each other, and the world, in the process. Here, we've rounded up 12 of the most inspiring, innovative women out there who are rocking the natural beauty world—and looking good while they do it.
1. The Inside-Out Facialist
Stephanie Lauren Brown, Holistic Skin Therapist
As someone who suffered from severe cystic acne most of her life, Stephanie Lauren Brown understands problem skin. She spent years using antibiotics, prescription creams, and harsh facial treatments before discovering the ancient healing science of Ayurveda. "Not only did my skin completely clear up, but I felt more energetic than ever," she says. "I wanted to find a way to help others achieve that same life-changing experience and confidence." So she completed training in Ayurvedic Health Education and became a licensed aesthetician. Now, she supports her clients in solving their skin issues from the inside out through in-depth facials, coaching, and healing practices. Starting with an extensive questionnaire, a typical session with Brown might include marma point work (the Ayurvedic version of acupressure), a traditional facial (using all-natural ingredients and Marie Veronique products), lymphatic massage, crystal therapy, aromatherapy, mantras, and more. The day after treatment, Brown will send you a personalized guide detailing lifestyle and skin care tips for maximizing your glow. "You'll leave looking and feeling refreshed and deeply relaxed," she promises. "And you'll have the tools to maintain it, too."
"Your skin is the outer reflection of your inner state of health."
Her great-skin secret: "I am a pretty religious water drinker. I guzzle at least one full liter first thing in the morning on an empty stomach, sometimes adding a squeeze of lemon for alkalinity. Then I aim to drink two more liters during the day."
2. The Retail Change-Maker
Desiree Verdejo, Owner of Vivrant Beauty
For this lifelong beauty enthusiast, it wasn't until last year that Desiree Verdejo made the leap to a full-time beauty career. "As a woman with brown skin and kinky hair, I would often have to shop somewhere like the ethnic aisle of the drugstore or a no-frills beauty supply chain," she recalls. "There were a lot of beauty outlets where a woman of color could shop, but I couldn't think of many that catered to her." So she began to conceptualize the kind of boutique she'd want in her own Harlem neighborhood, and pretty soon, Vivrant Beauty was born. Now, the shop stocks a selection of high-end beauty lines (Juara, Briogeo, and Indie Lee, to name a few) with a focus on independent female- and person-of-color-owned businesses. As often as possible, the products on her shelves are natural and organic, too. "Years ago, I recall thinking that natural makeup was not pigmented enough for my skin tone," says Verdejo. "These days, one of my favorite lines—and a best-seller among our clients!—is Rituel de Fille, which has a wonderfully clean formula and the best lip colors out there."
"I don't believe in miracle beauty cures. You've got to put in the work—and that starts with self-acceptance!"
Her great-skin secret: "Double cleansing has changed the state of my skin! Use an oil cleanser or cleansing balm to break down the oil in your makeup and SPF, then follow up with a gentle cleanser, like Yuli's Halcyon Cleanser, for a deep clean."
3. The Do-Good Brand Founder
Rikita Kapadia, Founder of Cocovit
For generations, the ladies of Rikita Kapadia's family have credited coconut oil for their beautiful skin. Living in the U.S., Kapadia found raw coconut oils sourced from her family's native India, but she knew that the oils available to her weren't the purest, most potent stuff available. So, on a trip to India, she purchased a coconut farm outside Chennai and began producing her own products. First, there was oil made from fresh-harvested organic coconuts and extracted with a heatless process that maximizes nutrient and enzyme potency. Then she branched out to other offerings, from a lip balm to a coconut charcoal face mask, and most recently a face mist (all of which have become cult favorites among the natural beauty set). And while the products are exceptional, it's Cocovit's social mission that really sets the brand apart. "By purchasing our farm, we were not only able to ensure that our proprietary extraction process was in place—we were also able to provide employment for the area's local villagers, many of whom were living in poverty," Kapadia says. "Now, the farm employs over 150 villagers, and their children can attend school."
"When it comes to skin care and beauty, I truly believe that simpler products tend to make me look and feel better."
Her great-skin secret: "For as long as I can remember, I have been using chickpea flour as a face mask and exfoliator. The simple formula has been passed down for generations in my family: 1 tablespoon besan flour, which can be found at Whole Foods, ¼ teaspoon turmeric powder, 2 teaspoons honey, plus yogurt, milk, or water."
4. The Clean-Ingredients Advocate
Hillary Peterson, Founder of True Botanicals
When it comes to natural beauty product formulation, there are few people more passionate (and knowledgeable) than Hillary Peterson. A thyroid cancer and melanoma survivor, she is uncompromising in her search for the highest quality, least harmful ingredients. In fact, she has spent most of the past decade studying botanicals and consulting with green chemists and other experts to ensure that her line, True Botanicals, is as safe and effective as possible. "When it comes to creating transformative products, ingredients matter," she says. "I think that many people still have the false perception that if products are made with natural ingredients, they aren't as effective. But nature is amazing, and a carefully curated combination of bioactive ingredients can be transformative." And she's got the clinical trials (comparing True Botanicals face oil to Crème de la Mer) to back up her claims. Spoiler alert: True Botanicals beats the chemical-filled stuff every time. And it's just as luxe, too. Her goal for the future? "We are putting a lot of energy into education to help our customers become skin care connoisseurs," she says.
"It's really rewarding to be setting a higher bar for beauty."
Her great-skin secret: "Most weekends, I have a ritual where I take a bath, apply a peel to exfoliate, and then follow with a whole-milk yogurt mask. It makes my skin feel amazingly soft and prepared to absorb all of the great skin nourishing products that follow."
5 & 6. The Global Beauty Champions
Christine Chang and Sarah Lee, Co-Founders of Glow Recipe
With a combined 20-plus years working in the beauty industry (in both marketing and product development), longtime friends Christine Chang and Sarah Lee certainly know a thing or two about beauty products. Their favorite innovations were always coming out of Korea, but there wasn't a great source to buy these products stateside. "Every time that we went back to Korea, we found ourselves lugging suitcases of the latest beauty buys for our friends," Chang recalls. So they decided to launch Glow Recipe, an online marketplace for best-in-class Korean beauty products. "The K-beauty offerings that were originally available in the U.S. were a very small portion of the Korean product landscape and were mostly chosen for their kitschy packaging," Lee says. "Korea actually has a long heritage of using natural ingredients for beauty and has a very holistic approach to skin care overall." In other words, we're not saying that you'll never find snail moisturizers on the site, but you're super likely to find cool mushroom-based serums and sea kelp sheet masks ripe for the trying.
"If you respect your skin, it will reward you with a beautiful complexion for your whole life!"
Their great-skin secrets:
"I honestly haven't towel-dried my face in a decade! I always take the time after cleansing to gently pat the skin until it's damp, which takes a few seconds. Then I immediately apply my skin care to seal in moisture." —Christine Chang
"I truly believe hydration is the key to youthful, glowing skin. Whether I'm at home or on the plane or at a hotel, I'm always piling on hydrating essence and moisturizer. And I always carry a face mist. They're an essential product in K-beauty, but I think every woman should carry one in her purse, just like lipstick!" —Sarah Lee
7. The Natural Makeup Mastermind
Shirley Pinkson, Makeup Artist and Co-Founder of W3ll People
There's a long-held myth that natural makeup can't possibly work as well or last as long as its less-than-green counterparts. But when you've got a makeup artist with nearly 30 years of experience under her belt (much of it with high-end brands like NARS) cooking up the natural product, you take a second look. "My mission with W3ll People is to create high-performance products built with premium, organic, good-for-you ingredients," Pinkson says. "Not just because it's the right thing to do but because they're actually better." Since its launch, the brand has done just that, launching cult-favorite products (like its Expressionist Mascara) that have gone on to win countless beauty awards fair and square against non-natural competitors. Last year, the brand launched with Target stores (and online), too, bringing their sustainable, clean beauty mission to even more faces. "I'm all about empowering people to choose products they can feel good about," says Pinkson. "Once you're mindful about the products you buy, you'll feel more confident, more in control, and more beautiful. And really, isn't that what makeup should be all about?"
"Makeup is 50 percent skin, so let's start there."
Her great-skin secret: "I drink a healthy dose of matcha tea every morning in lieu of coffee. And at least 8 ounces of lemon water the moment I wake!"
8. The One-Product Wonder
April Gargiulo, Founder of Vintner's Daughter
April Gargiulo made her way to the beauty world several years ago, during her first pregnancy. "I couldn't find skin care that was both performance-focused and toxin-free," she says. "I'm a girl who wants it all, and I didn't think I should have to compromise results for a safe product." So she set out to make what she calls her "desert island" product, one that addressed all of her skin care needs: acne, pigmentation, clarity, fine lines, elasticity, and brightness, to name a few. Gargiulo brought her background in winemaking (her family owns a Napa vineyard) to the process. "I was schooled in a world that does not accept shortcuts or second best, so I applied that same philosophy to skin care," she explains. She researched and sourced the best of the best ingredients, and it wasn't long before her serum, a combination of 22 high-quality active botanicals and essential oils, was born. Now, all it takes is a quick Google search to reveal the army of devoted fans who swear by her hero product (even with its steep $185-per-bottle price tag), which is bringing a new level of luxury to natural beauty. And, to be fair, just one look at Gargiulo's skin will make a convert of you, too. Now the only question is: When can we expect product number two?
"Everyone comes to natural beauty in their own time and according to their own circumstances, but that's OK. The shift is happening!"
Her great-skin secret: "My apple cider skin tonic is my go-to beautifying drink. It's full of antioxidants and probiotics, and it's delicious. Combine 1 shot of apple cider vinegar, 2 shots of pomegranate juice, and some sparkling water to fill the glass. Add a sprig of mint for garnish!"
9. The Natural Fragrance Rebel
Bee Shapiro, Founder of Ellis Brooklyn
A lover of fine fragrances and a longtime beauty writer, Bee Shapiro has spent years testing beauty products (including many perfumes) for publications like Vogue and the New York Times. "When I was pregnant with my first child, I sought out a beautifully scented product that was safe—in other words, paraben- and phthalate-free—but still luxury," she says. When she couldn't find anything that fit the bill, she teamed up with master perfumer Jerome Epinette, the guy behind brands like Byredo, to create scented body milks, which, according to Shapiro, are a more effective, longer-lasting format for fragrances, that were 98 percent natural and totally toxin-free. Now, her ever-expanding line of gorgeous scents (and candles, too!) can be found alongside high-end brands like Le Labo or Tom Ford at major retailers.
"The rise of natural beauty has brought on this whole movement toward greater responsibility in the industry, and that's a truly beautiful thing."
Her great-skin secret: "Whenever my skin is on the fritz, I'll drink some aloe water. But not the one that's sweet and delicious from the Asian grocery aisle; it has to be the straight-from-the-health-food-store stuff that's pretty tart. I do it like a shot and I swear it calms things down right away."
10. The Unorthodox Skin Healer
Britta Plug, Holistic Esthetician
At age 11, Britta Plug used an aromatherapy book to teach herself pressure-point facial massage techniques. She practiced her new skill on friends at sleepover parties, and she's been dedicated to healing skin care work pretty much ever since. Today, you can find Plug at Brooklyn's holistic healing studio Treatment by Lanshin, where she helps clients "explore deep and sustainable skin transformation." A typical session with Plug includes a combination of traditional Chinese techniques like Jade gua sha, pressure-point stimulation, and cupping, paired with Ayurvedic face-lifting techniques, lymphatic drainage, and customized skin treatments with all-natural products from brands like Laurel Whole Plant Organics and De Mamiel. "I'm drawn to holistic practices that work with the body's systems and healing mechanisms to restore health and balance to the skin," she says. "I go for deep shifts and long-lasting changes." Because in a world filled with fad beauty trends and quick fix products, there's something truly revolutionary about actually taking the time to care for your skin from the inside out.
"In an industry known to deflate self-esteem, I practice loving kindness to myself and encourage the same for all of my clients."
Her great skin-secret: "I swear by three-step moisturizing. First, skin must be saturated with a water base in the form of a hydrosol or non-alcohol-based toner. Apply an oil while the skin's still damp. Then a third layer in the form of a balm seals in all that hydration."
11. The Unexpected Beauty Virtuoso
Angela Jia Kim, Founder of Savor Spa and Om Aroma & Co.
Angela Jia Kim's passion for beauty began with her mom. "Koreans are obsessed with their skin, and my mom always had something new sent over from her sisters in Korea," she says. "I would play with her creams that were filled with ingredients like gold and silkworm cocoons." Kim spent her early career as a concert pianist, until one day, onstage in front of hundreds of people, a so-called natural lotion she had applied made her break out in hives. Horrified, she began to study ingredients and craft her own skin care products in her kitchen. "I added luxury ingredients with tremendous benefits like champagne, caviar, and truffle," she says. "And I infused them with organic extracts for anti-aging results." She started gifting these products to friends, and, as she explains it, they became so popular that she was suddenly an "accidental entrepreneur." Now Kim runs a group of holistic spas in New York City and upstate New York and continues to craft her luxe organic products (currently called Om Aroma & Co, but soon to be renamed Savor Beauty). "Our products are locally produced in the Hudson Valley by women we hire through the Dollars & Scents program," she says. "They're re-transitioning into the workforce after taking time to raise their children." Her goal? To teach the next generation, including her own 6-year-old daughter, the importance of conscious decision-making—not to mention the possibility of realizing your dreams. "I want her to see how I manifest my own dreams and for her to feel excited to create her own!"
"Women who live their dreams have an inner gorgeous glow that is reflected back into the world."
Her great-skin secret: "I love making beauty-food smoothies and soups. My go-to ingredients are sweet potatoes, blueberries, ginger, and almond butter. They also double as amazing face masks!"
12. The Manicure Maverick
Ruth Kallens, Founder and Partner at Van Court Studio
With a lifelong love of manicures (she started hitting up the nail salon with her mom at around age 5) and a background in marketing and PR, it wasn't hard for Ruth Kallens to spot a major hole in the nail care market. "I was never pleased with the results at other nail studios," she says. "I wanted to get my mani and pedi in a clean, healthy environment. I wanted the purest of products available on my nails. And I believe in fair wages and women's empowerment, so I wanted technicians who were being treated properly." So she partnered with some of the best nail techs in the industry and opened up her own space in downtown NYC. At Van Court, you'll find only 5-, 7-, or 9-free nail polishes, plus organic products for the rest of the manicure treatment. Kallens has even gone so far as to ensure that the brands she carries (like Jin Soon, RMS, and Floss Gloss) are all owned by female entrepreneurs, too: "We need to support each other, amiright?!"
"I realized that I knew the best technicians in the industry, so I could create a collective in an ethical environment."
Her great-skin secret: "I love finishing my day with a warm mug of ginger root, coconut oil, and turmeric tea. These ingredients are known to improve hair and skin, relieve stress, aid in digestion, and promote weight loss."