11 Things You Need To Know Today (June 23)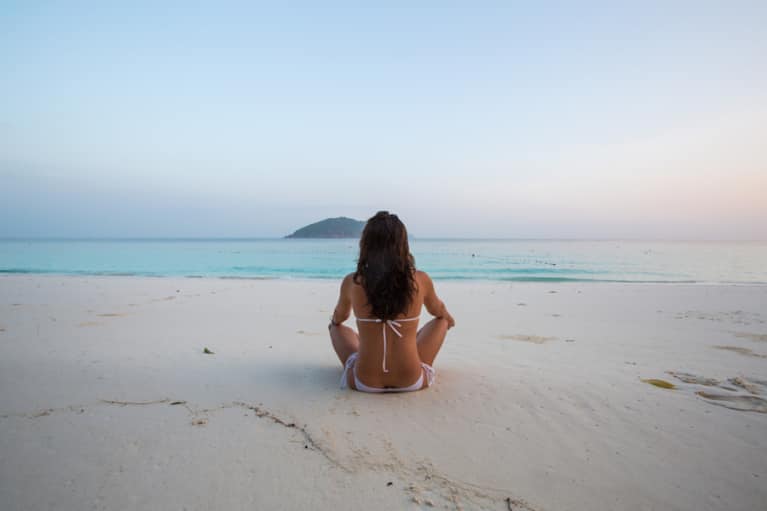 1. OK, ladies, now let's do some meditation.
Research shows that women multitask more often than men do, and they may even be a little better at it than the guys. But multitasking isn't great for mental health or stress levels—which is why practicing mindfulness (through meditation or other forms of intentional reflection) are even more important to the ladies. (Harvard Business Review)
2. Walking—not your standing desk—is key to weight control at work.
Standing while working only burns about eight or nine extra calories an hour, compared to sitting, finds a new University of Pittsburgh study. (No, that's not enough to justify a 3 p.m. sugar binge.) If your goal is weight loss or weight management, the study authors say, aim to walk more throughout the day rather than just standing at your desk. (NYT)
3. The good news: Most Americans are eating healthier.
A study found that 56 percent of Americans were eating better in 2012 than they were in 1999. The bad news: Only 1.5 people are eating the "ideal" healthy diet, and, of those who are eating better generally, most are white and middle to upper class. There are still big strides to be made in making healthy food accessible to everyone, but we'll take this as good progress along the way. (Health Day)
4. How much does it cost to leave your career to care for a child?
Probably more than you think. Even though staying home may cut back on immediate child care costs, a new calculator from the Center for American Progress shows that not working is usually more costly in the long run, since opting out of the workforce for a while can stall wage growth. (PBS)
5. Herbal remedies might keep early menopause symptoms at bay.
The phytoestrogens in plant-based supplements can help alleviate the hot flashes and vaginal dryness associated with menopause, without the negative side effects that often come with using hormonal treatment. (CNN)
6. Father of the Year gets tattoo to match his son's surgery scar.
When Josh Marshall's 6-year-old son Gabriel was diagnosed with a brain tumor in March of 2015, Josh did everything he could to make Gabriel feel better. When the tumor-removal surgery left Gabriel with a massive scar on the side of his head, Gabriel told his dad that it made him feel like a "monster," so Josh got a tattoo to match his scar. Seriously, where is this guy's trophy? (mindbodygreen)
7. Looks like fracking regulations aren't getting stricter anytime soon.
A judge in Wyoming just made an important ruling about fracking in claiming that the federal government didn't have the right to regulate fracking. This is the latest in a series of decisions that undermines federal authority over environmental issues. (WSJ)
8. New NYC law rules tampons and pads free for all.
NYC just became the first American city to pass a "menstrual equity" law. All of its public schools, prisons, and shelters will now house free menstrual-hygiene products. "Providing menstrual hygiene products privately, immediately and for free is also about sending a body-positive message by not perpetuating shame and humiliation, and acknowledging that women's bodies, even those of women serving time in prison, deserve some dignity during their periods," NYC council member Julissa Ferreras-Copeland says. (AP)
9. People in the U.S. spend $30 billion a year on complementary medicine.
Sixty million Americans spend money on "complementary medicine" each year. We don't know how much was spent on each, but acupuncture, homeopathy, natural supplements, and mind-body therapies were all listed. (TIME)
10. Plant-based burgers are making waves because of what aisle they're sold in.
Beyond Meat burgers, of Whole Foods fame, are getting a lot of recognition for their meatless burger that "bleeds" (thanks to beets). Part of their whole shtick is selling the burgers in the fridge case next to the regular meat burgers—but getting them there is actually a lot harder than you might think. (Fast Co.Exist)
11. Minnesota is the best state to raise children.
A new study deems the Midwestern state to be the top state for those who want to raise a family, based on factors like education, health conditions, and quality of communities. Meanwhile, New Mexico and Mississippi received the lowest scores. (CNN)