Roasted Halibut With Antioxidant-Rich Strawberry-Basil Salsa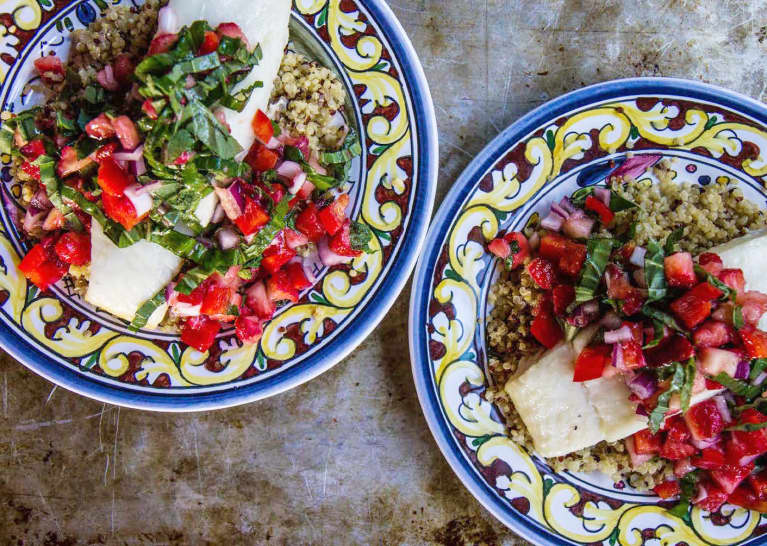 Our editors have independently chosen the products listed on this page. If you purchase something mentioned in this article, we may
earn a small commission
.
Just one cup of strawberries will give you more than 100 percent of your recommended daily amount of vitamin C, and the fruit ranks exceptionally high in terms of antioxidants packed into a small serving.
When you eat strawberries at least three times a week, their anti-inflammatory properties really kick in.
The idea of pairing sweet, juicy berries with fish may seem odd at first, but trust me, it really works. The acid in the strawberries has an effect similar to that of the acid in a lemon. Serve this all summer long; it's easy to scale up to feed a crowd (and it only takes about 10 minutes to prepare!).
Roasted Halibut With Strawberry-Basil Salsa
2 cups strawberries, cut into small dice
1⁄4 cup small-diced red onion
1⁄2 cup loosely packed fresh basil leaves, very finely sliced into ribbons
1⁄4 cup loosely packed fresh mint leaves, very finely sliced into ribbons
1 tablespoon red wine vinegar
1 tablespoon olive oil
Kosher salt
2 (6-ounce) skin-on halibut fillets
Kosher salt
2 tablespoons vegetable oil
Preparation
1. To make the strawberry-basil salsa: In a medium bowl, gently combine the salsa ingredients except the salt and add salt to taste. Set aside.
(If you need to make this ahead, do so by only a few hours and then add the fresh herbs at the last minute or they will discolor and the salsa will become soggy.)
2. Score the skin of the halibut fillets twice with a sharp knife to keep them from curling as they cook. Sprinkle both sides with salt. In a heavy pan or skillet, heat the vegetable oil over medium-high heat.
3. Place the halibut fillets in the pan skin-side down. Cook without moving for about 3 minutes, and then turn the fish skin side up. Cook until the fish is crisp on the outside and just cooked through in the center, about 6 minutes total. Spoon the salsa over the fish and serve immediately.
Reprinted from Pure Delicious by arrangement with Pam Krauss Books, a member of Penguin Group (USA) LLC, A Penguin Random House Company. Copyright © 2016, Heather Christo LLC.