What Types Of Fiber Should You Be Eating & Avoiding? A Holistic Nutritionist Explains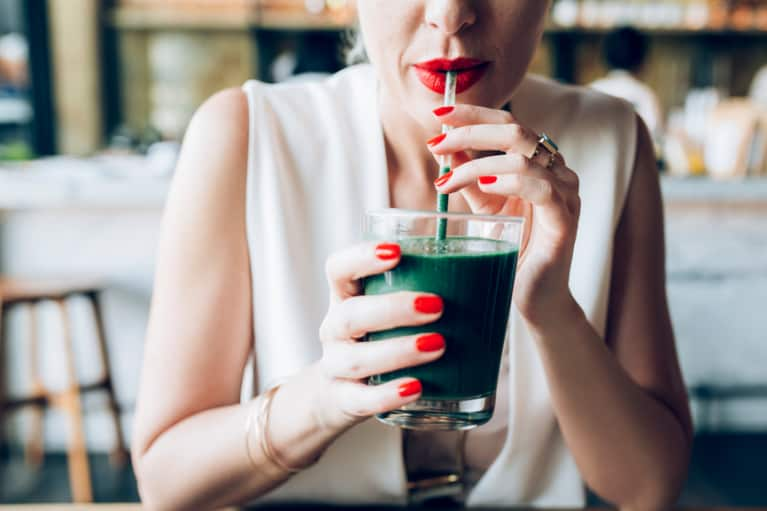 You may think fiber's a dull, overrated topic. Personally, I get quite excited by fiber and what it's capable of.
I also believe most of us don't get enough. If you're wondering why it's so great, check out: "Is Fiber Overrated? A Holistic Nutritionist Explains."
Here's what you need to know and how to get the best kinds of fiber into your diet daily:
Found in some vegetables, fruit, chia seeds, legumes, nuts, oatmeal, and psyllium. Soluble fiber attracts water, swells, and forms a gel. It bypasses digestion in the small intestine and is fermented by bacteria in the large intestine. Soluble fiber can slow down the digestion of food.
Is found in whole grains, seeds, dark green leafy vegetables, green beans, celery, carrots, and fruit skins. It is not water soluble and does not form gels. Insoluble fiber adds roughage, which bulks poop and helps move it through the colon quickly.
How much should you have daily?
Make plant-based fiber your go-to source, with vegetables, fruit (two medium pieces max daily), nuts, and seeds. I like to aim for three cups of raw vegetables per meal. Sounds like a lot, but when cooked, it shrinks.
Don't forget water—make sure you drink at least 1½ liters of water (activity-dependent) daily to support fiber in its role of removing waste.
My favorite fiber sources
Fruits: apples, kiwifruit, pears, berries, cherries, green banana, avocado, lemon
Vegetables: broccoli, Brussels sprouts, cauliflower, cabbage, green beans, sweet potato, zucchini, carrots, asparagus, artichoke, onion, garlic, leek
Nuts and seeds: almonds, pecans, pistachios
Superfoods: chia seeds, ground flaxseeds, cacao, green banana flour, coconut flour, or a good-quality superfood vegan fiber blend with pea protein
Legumes: On the odd occasion I have white or black beans. These contain resistant starch fiber, which feeds friendly bacteria in the gut. Legumes contain "anti-nutrients," which interfere with the absorption of certain vitamins and minerals, and many people do not tolerate them well. Legumes must be soaked and well-cooked.
Bran is the outermost layer of a cereal grain and contains anti-nutrients that prevent you from absorbing things like certain vitamins and minerals.
Wheat or barley contain these anti-nutrients as well and can be inflammatory and damaging to the gut lining (causing leaky gut). Inflammation and leaky gut lead to many digestive and immune related problems.
How do I get fiber in my day?
Fruits such as berries, pear, kiwifruit, green banana, apple, or avocado
Vegetables such as spinach, cucumber, or celery
Superfoods such as green banana flour, cacao, and 180 Nutrition vegan superfood protein blend
Healthy fats that contain fiber such as avocado or creamed coconut
Vegetables such as shredded or sautéed cabbage, carrot, spinach, onion, garlic, broccoli, or cauliflower with a protein source and healthy fats
Nuts, seeds, or avocado, which also contain fiber
Vegetables, baked or sautéed, such as Brussels sprouts, broccoli, cauliflower, cabbage, onion, sweet potato, pumpkin, zucchini
Roasted nuts, seeds, or tahini
Maybe a slow-cooked protein
Every night after dinner, I sit down to my favorite organic digestive tea. One of the ingredients is cayenne, a spice that contains fiber.
On special occasions I will have a healthy dessert such as raw salted-caramel cheesecake, which generally contains nuts, seeds, cacao, and coconut.
I hope this inspires you to start filling your day with loads of quality sources of fiber, so your health can flourish as a result.