The Diet That Helped Lead LeBron James To Victory
mbg Contributor
By Emi Boscamp
mbg Contributor
Emi Boscamp is the former News Editor at mindbodygreen. She received a BA in English and minors in Spanish and Art History from Cornell University.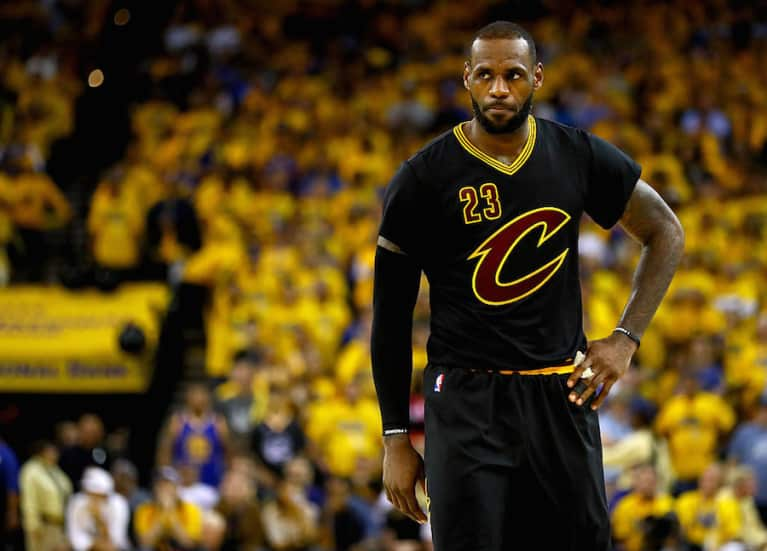 With 27 points, 11 rebounds and 11 assists, LeBron James just led his team, the Cleveland Cavaliers, to its first championship, defeating back-to-back league MVP Steph Curry and the mighty Golden State Warriors. The Cavs also became the very first team in NBA history to erase a 3-1 Finals deficit.
Make no mistake: this wasn't just LeBron's third NBA title—it was a legacy-making win. His status as a living legend was solidified.
So, how did he do it? Other than his obvious innate talent and unwavering determination, it could have something to do with his diet.
Back in 2014, he went on a 67-day no-carb ketosis diet, and his rapid weight loss was very obvious. "I had no sugars, no dairy, I had no carbs," the four-time MVP told a small group of reporters. "All I ate was meat, fish, veggies and fruit. That's it. For 67 straight days."
According to a Sports Illustrated article published then, the science behind James' diet is simple: train the body to rely on fat for fuel. The goal of restricting your daily intake of carbohydrates is to create a metabolic state called ketosis, where the body uses fat as a source of energy instead of glucose (aka carbs) in the blood and liver. When carbs are restricted enough, the body will produce ketones, which can be used as energy.
So, should you try this to become like LeBron? Well, here are some things to consider:
"Many athletes find ketogenic diets improve their athletic performance and the diets are being studied by more scientists for their health benefits—as treatment for cancer, dementia, ALS, metabolic syndrome, obesity diabetes and multiple sclerosis," says Dr. Terry Wahls, clinical professor of medicine at the University of Iowa.
"However, as one goes low carb it is important to maintain nutrient density and have enough fiber to maintain a healthy microbiome," she explained.
If you do plan to complete any ketosis diet, please loop in your doctor. LeBron did it under the supervision of the Cavs' nutritionist. And so it seems, it turned him into a fat-burning, championship-earning machine.